Making her mark: Bowdoin welcomes security officer Kailyn Braley
March 26, 2020
When Kailyn Braley started as a security officer at the College late last August, as with any new job, she had to adjust.
"I know sometimes a uniform can be off-putting, and it was something that was a struggle when I first started working here," Braley said. "People see you differently, and some people see you through the uniform."
Not only did Braley have to get used to wearing her new uniform, but as the only female security officer currently patrolling the main campus, her uniform needed physical adjustments as well.
"It's not quite formulated for a woman's body. I had to get a lot of adjustments. Plus I'm so much shorter than everyone else. I still usually roll [my sleeves]," Braley said.
"But they changed the dress code for me," Braley added with a smile. "They let me keep my nose ring."
Though there have been female security staff members in the past, Braley is the first female security officer at the College in recent years. She said, however, that she has been welcomed by the rest of the security staff.
"All the other officers are super supportive, and they're really kind. They're respectful," Braley said. "It's been awesome being able to be a security officer and being female. I know it's a little out of the norm, but I've always been interested in keeping the peace."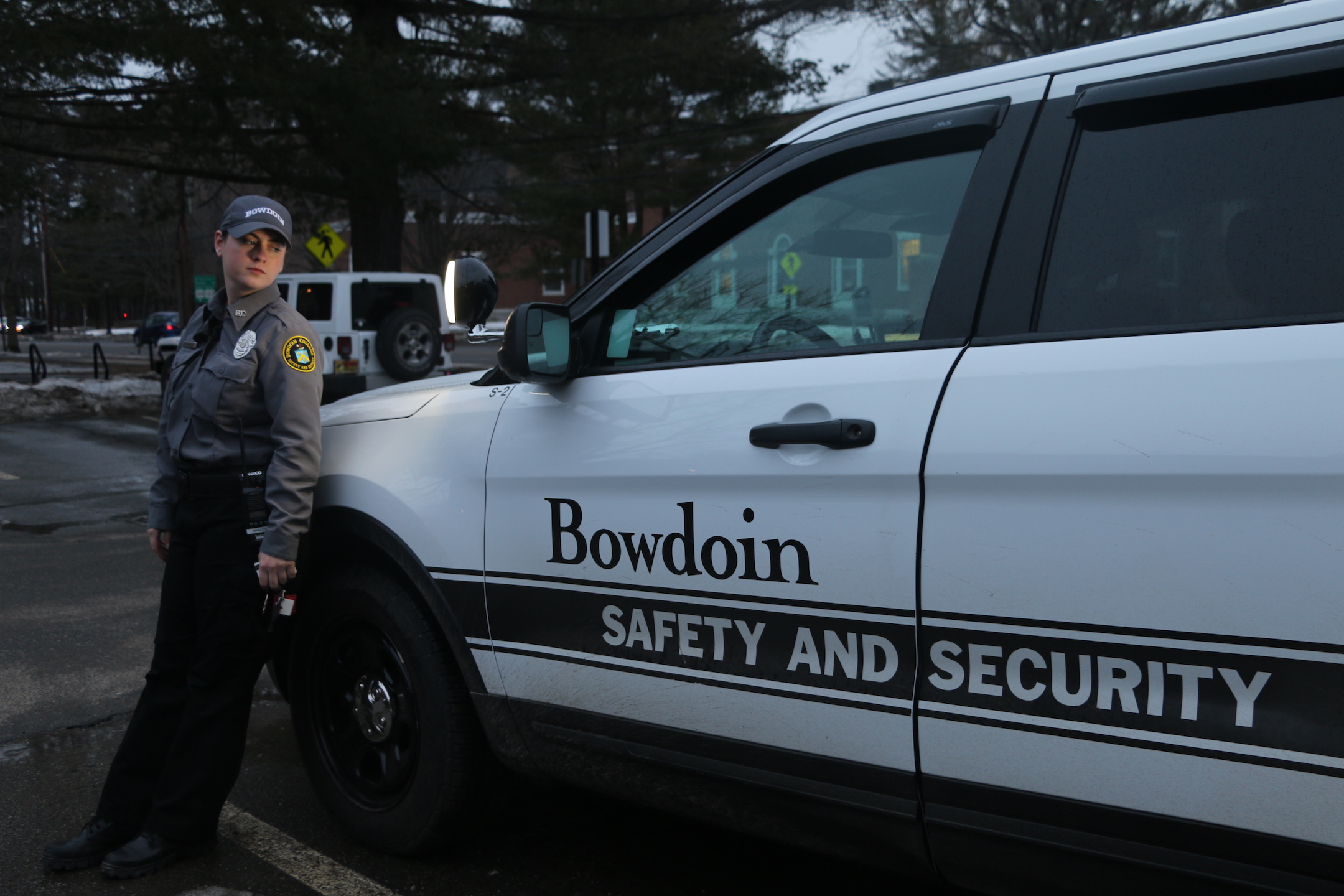 Though she thought it would be easy to learn her way around Bowdoin's campus, Braley, a Brunswick native, is just beginning to adjust to life at the College.
Braley graduated from the University of Southern Maine after studying criminology, sociology and media studies. Though she did not consider a career as a security officer prior to attending school, she had been interested in criminology from a young age.
"When I was younger I watched a lot of crime shows that I … was too young to be watching. And that's what got me interested in criminology, and my dad was a police officer," she said.
Because she was recently a college student herself, Braley knew her experience would bring a valuable perspective to the Bowdoin security team.
"I like helping people," Braley said. "I like making connections, I like meeting students … I think they feel like they can connect with me because I'm a couple years older, and I've been through school …  and the hardships."
Braley works with the rest of the security team to cover campus events, check all buildings and residences, provide health and wellness checks, answer phones in the security office and, most importantly, help students.
"Randy's model, which is always my favorite, is 'do for, not to,'" she said, referring to her boss, Executive Director of Safety and Security Randy Nichols. "I think that's something that always goes through our minds and something you just replay over. We're not trying to catch anyone—we're trying to keep people safe. That's the whole deal."
At the end of the day, Braley takes pride in keeping students safe and in her position as a female role model on campus.
"The other day I was driving, I was leaving Smith Union, and there was this little girl with her dad. I had my window down, and I heard her say, 'Look, Daddy, it's a female cop!'" Braley said, smiling herself. "It put a smile on my face. You see more and more females in law enforcement nowadays, but you didn't used to before. It's nice for me to be here as a female officer, and the fact that Bowdoin's so supportive, it's great."