Fort Andross luthier Joel Amsden strikes a chord
November 22, 2019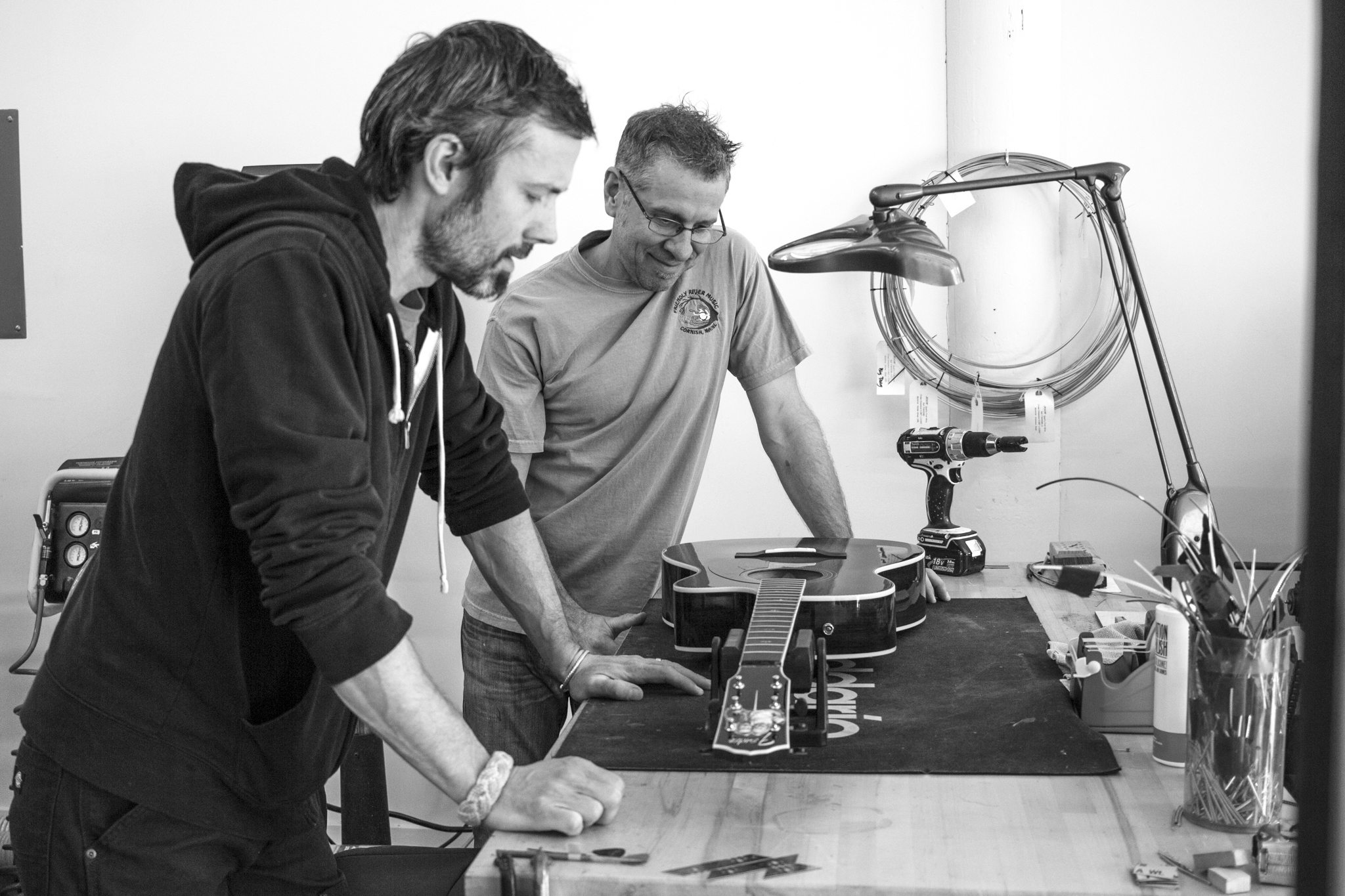 "We fix catastrophic mistakes," Joel Amsden said, pulling a replica of a 1959 Gibson Les Paul electric guitar out of its case. The neck was unfinished and barren. The guitar, worth around $5,000 according to Amsden's off-the-cuff estimate, needed extensive repair. Its owner had attempted to reshape the neck himself, but he carved off too much material, exposing the truss rod (a steel bar running down the length of the neck for stability and playability). Amsden filled the old truss rod channel, routed a new one and is currently in the process of refinishing the neck.
Amsden specializes in extensive guitar repair. He opened Kennebec Instrument & Amplifier in Augusta, Maine over 10 years ago, and he moved to the Fort Andross Mill Complex in August. He now has three part-time employees.
The shop's most popular service is fret replacement—it does about 100 per year—which requires a luthier to remove the worn-out frets from an instrument's fingerboard, resurface the fingerboard, then trim, set and dress new frets. This labor-intensive work must be done perfectly in order for the guitar to play correctly.
"It's something I feel we do at a world-class level," Amsden said.
The walls of Amsden's shop are lined with amplifiers and guitar cases. One contains a Gibson ES 335—a semi-acoustic archtop guitar—which hasn't been touched since it was made in the late 1960s and now needs extensive fretwork. An original 1950s Gibson archtop sits against the wall. Amsden seemed unphased by the large crack running down the back of its body, "We should get to that sooner rather than later," he commented.
Gesturing to a low-quality electric guitar on the floor by the row of cases containing guitars worth several thousand dollars each, Amsden said, "We'll work on anything."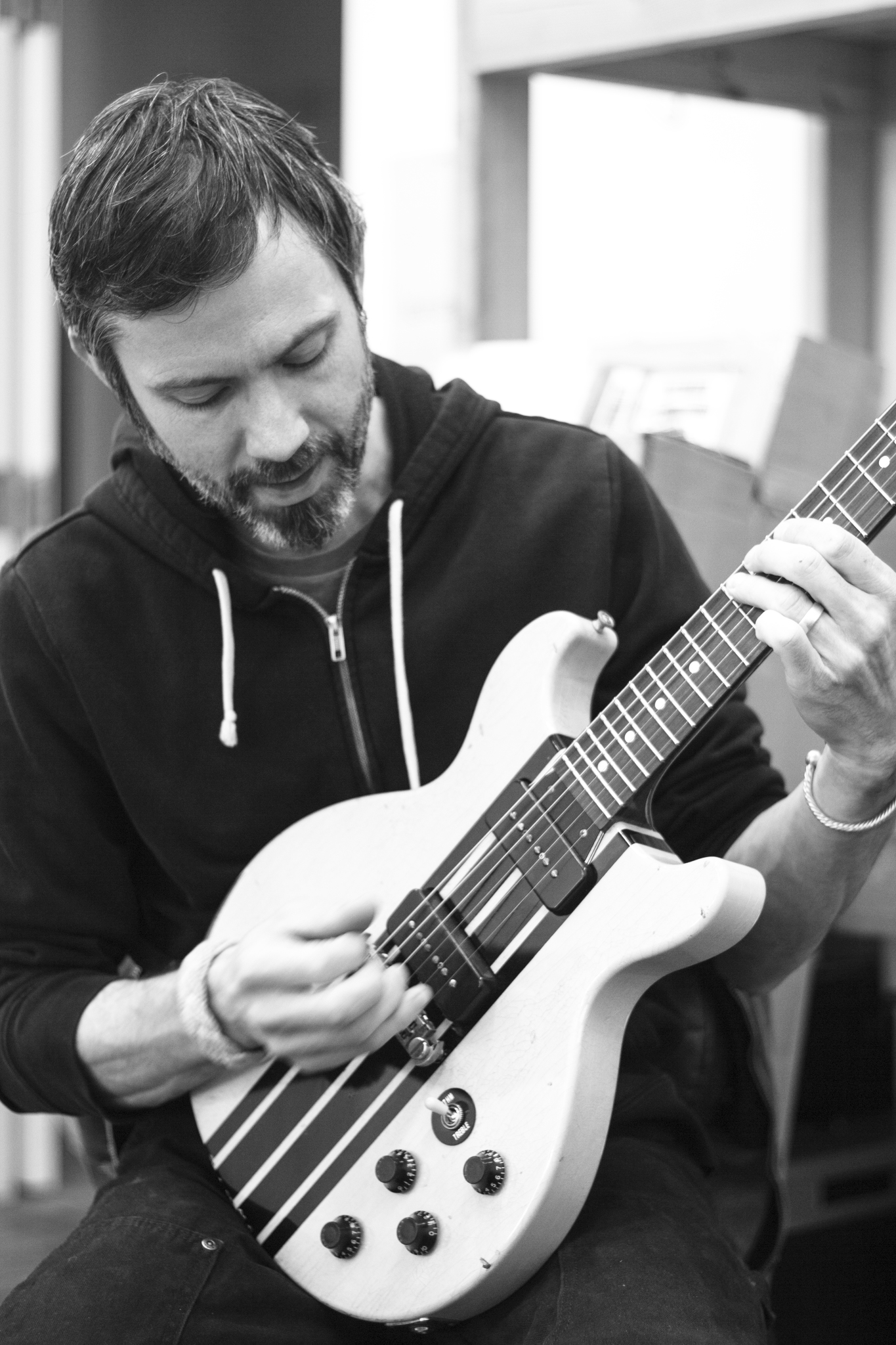 Amsden explained that as an authorized service center for many of the top guitar manufacturers, such as Martin, Taylor and Fender, about 20 percent of the shop's workload is warranty-related. Though warranty repair costs are regulated by the manufacturer and don't pay as well, Amsden said it brings visibility to the shop on a national level, as manufacturers who don't have their own shops in the area refer customers to Kennebec Instrument & Amplifier.
In order to further increase visibility, one of the employees maintains a robust social media presence for the shop as well as a blog titled "On the Bench," where they post detailed accounts of their work. Most of the guitars that end up on the blog are owned by high-profile customers, like Bob Thompson, who are popular in Maine and whose fans might be inclined to bring their own work to the shop.
These days Amsden seems as busy as ever and is looking to expand. He hired two of his employees at the time of the move, and he will move the shop again next week to a larger space across the hall from his current location.
Amsden began as a musician and gradually spent more time repairing his own equipment and then his friends'. Soon, he began rejecting gigs so he could spend more time on repair.
Now, Amsden will train one of his employees to build guitars under his own brand name, Soma. Soma has grown gradually, from building amplifiers to electric guitars as well and makes 10 custom-ordered guitars in a good year. 2020, however, will be different.
"For the first time ever, I'm going to make [Soma] more of a priority," Amsden said. He is hoping to produce a couple dozen guitars next year.
Amsden showed me one of his interpretations of a Gibson 1959 Les Paul Special. The guitar has an aged yellowed finish, black racing stripes down the center of the body and chips along the edges; a section of the wooden body is polished and exposed where the player's arm would rub against it. All these details, Amsden told me, are intentional.
"When you pick up a really expensive guitar that's perfect in every way, you handle it as though it's a really expensive guitar that's perfect in every way," Amsden said.  "We have to be comfortable with an instrument to get the most out of it."
Amsden takes as much pride in building his own guitars as he does fixing those of other brands.
"It's very important to me that people have a good experience here and get exactly what they want and then some. There's a lot to be said for that, and that's how I've run the business since day one," he said. "It can be difficult because I take a big hit sometimes both in repairs and guitar building because if I'm not totally happy with it, I can't live with it. I gotta do it again."