Banding together: Bowdoin housekeepers share their story
October 4, 2019
This piece represents the opinion of the author.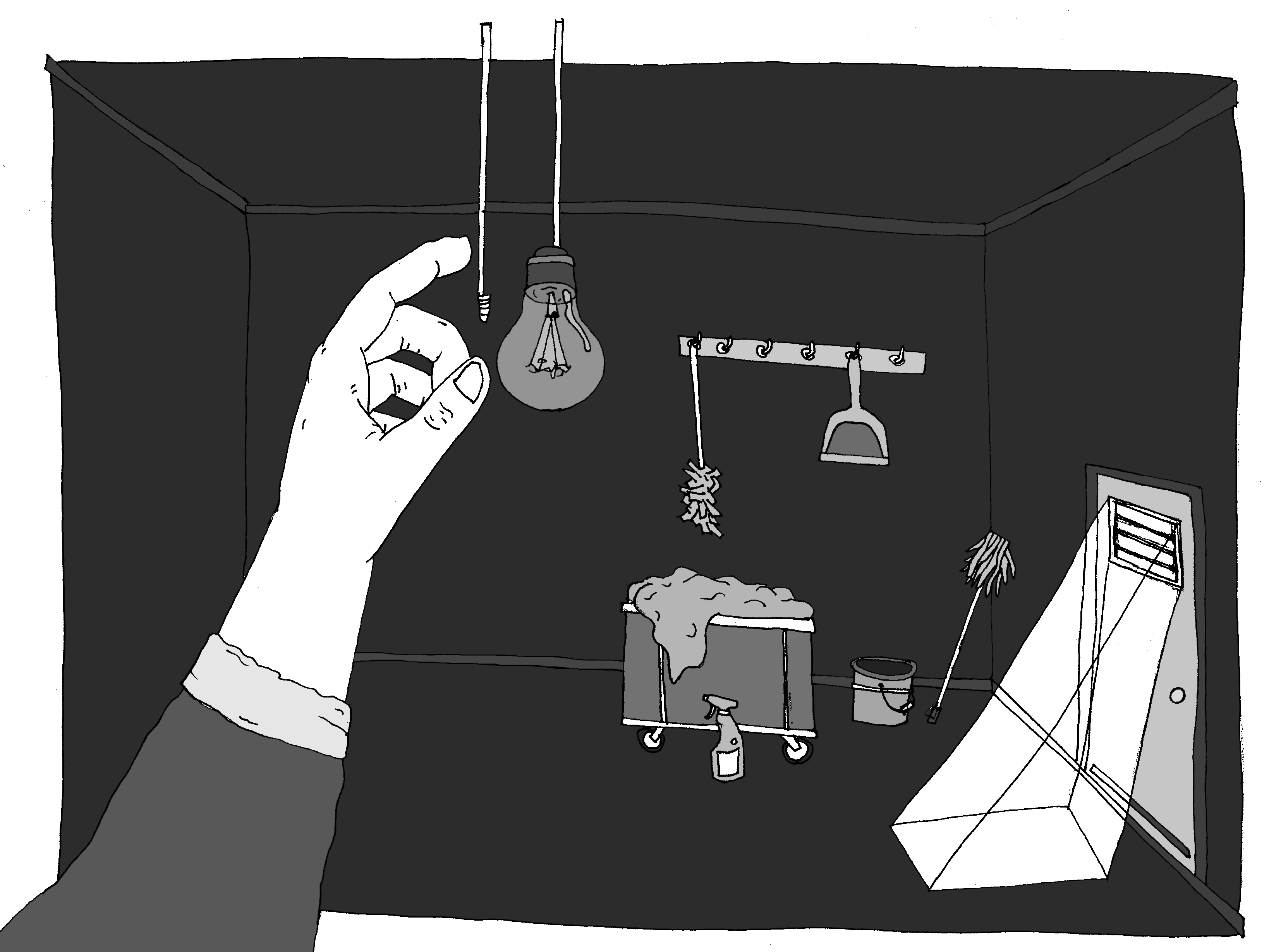 Things have changed. The housekeeping department isn't like it used to be. I have to struggle to get out of bed to come to work. I loved coming to work. But now everything is so different. Bowdoin prides itself on being a great community in the public eye, but behind closed doors it's quite a different story.
To be clear, I am not writing this to hurt anyone. I love my job and the students, and have a good relationship with the staff I have met. I just wish the Bowdoin community could be in our shoes for a day and see what it's like.
On my first day, I was very open about not knowing how to do things yet. I never got training, and then I get reprimanded. I'm even expected to train others now. My first month at Bowdoin, I was called to the child care center, told to put my hair in a ponytail, start bagging up everything that was made of soft fabric and throw it in a truck. Later they told me it was a lice infestation. This was just the first of many infestations I would later take care of with no official training on pest removal or any equipment suitable to do the job well.
We have to go to Mayflower Apartments, Pine Street and Stowe Inn. We have to use our personal vehicles, or we're supposed to walk to our buildings and tear our shoulders out carrying things. These are all off campus, miles away, and we're not reimbursed for gas. If we can't make it in time, we're told we're taking too long and asked why we're late.
How many housekeepers or even custodians have to walk with their supplies a mile down the road? How many schools call their cleaning staff housekeepers? How many housekeepers have to start work at 5 a.m.? How many housekeepers have to clean sticky, beer-stained floors after parties, or wax and buff floors with large machinery?
When we're working overtime and big jobs like graduation, newer housekeepers will ask me for guidance. I'm given all this responsibility but management still won't promote me to "Senior Housekeeper."
When the events setup crew is swamped, we are also called upon as back ups. We get paid housekeeping wages but are expected to work harder than two job titles combined.
Housekeepers even have to clean President Clayton Rose's house—and his second house! And you don't get any more money. In how many companies do you clean the boss's house?
Parts of this campus have a serious mold problem. It's in the walls and ventilation systems. This is happening all over the place, but we're not warned. We have to deal with bedbugs, lice, vomit, blood and asbestos. There are no precautions for us. They don't care. At Bowdoin there's no "maximum" level of work. They can just keep going if they want. I'm doing three buildings, and more if someone calls in sick, all in the same eight hours. And the buildings just keep popping up. We're expected to hear "this is how it's done," period—no talking, no input. This is physical work that will break you down and wear out even the most physically fit person, with continual stress on the muscles and repetition of the same movements.
I've worked in many places since I was 15. But here I feel so discouraged and disappointed. Is this how Bowdoin wants their employees to feel? This is what I've felt like since day one. Do I feel respected? Nope. If we were respected the way we should be, instead of being treated like children, maybe we would have respect for management. We are afraid to smile. If we say or do the wrong thing we could be sent to HR. Management encourages hostility and divisiveness between us. They encourage us to tell on each other, and it's contagious. They even want us to take pictures if someone hasn't gotten to clean something.
I feel like I am in lock down. We are constantly being checked on. If we are sitting down we are asked what we are doing, all the time. We are always being watched to see what time we get to the time clock to punch out. A lot of us are upset and frustrated and have no one in management anymore that we can go to, but when you ask people to go to the Bowdoin Labor Alliance meeting they choose not to or are afraid.
So many people are looking for other jobs. If the position of housekeeper at Bowdoin is so desirable, why have there been four vacant positions since last November? We're so understaffed that we can't take vacations––they have them blocked off so you can't take a day off. And the only way we are going to get new employees to join Bowdoin is to increase the starting pay.
It makes me laugh when I meet people and I tell them "I'm a housekeeper at Bowdoin" and they say, "Oh, you must make good money." My pay shows how much I am respected. We're supposed to be so grateful for whatever they give us, like the pay raise this summer of a few cents. Now some of us who've been here a long time are making the same or just a few cents more than someone who's been here a lot less time. What they did by giving everybody "raises" was to shut everybody up. To make everyone go away.
Bowdoin can't see how wrong they are when they say "We don't have the money to pay you more.'' It's disturbing to me that the college would rather hire lawyers and pay legal fees to fight against housekeepers than pay us a living wage.
We had this whole meeting last year with administration, where they talked about us being at the "top of the competitive market." Brunswick High School is right down the road, paying their custodians 21 bucks an hour. We have housekeepers that have been here 20 years and more not making that. It's a disgrace.
It's disturbing to see all my coworkers afraid for their jobs, afraid to speak up about being overworked and underpaid.
I am sick and tired of the bosses saying to us, "you chose to be a housekeeper." To me that is so disrespectful. I fell in love and had my own family. I put my family over finishing college. But I am proud to be a housekeeper and feel it's rewarding. Bowdoin should respect us housekeepers and dining and facilities staff as much as they do everyone else that makes this college run. We are just as important.
They don't make penny candy anymore. Those days are long gone. I can't live on what my husband and I bring home monthly. I feel like we should have a living wage so that we can afford to buy steak sometimes and so we can pay our mortgages and everyday bills. I don't feel like we are asking a lot.
Bonnie Perkins, Beth Icangelo, Jane Davis, Laura Leonard, Melanie Craig, Michael Gilman, Mickey Brockett, Pamela Weeks, Sandy Green, Sherry Cousins, Tenaj Ormsby and Tracey Taylor are all currently employed as Bowdoin housekeepers. 
Editor's Note, 10/7/19: Matt Orlando, senior vice president for finance and administration and treasurer of the College, responded to claims made in this piece.