'Art and Color' seeks to open up white spaces
April 5, 2019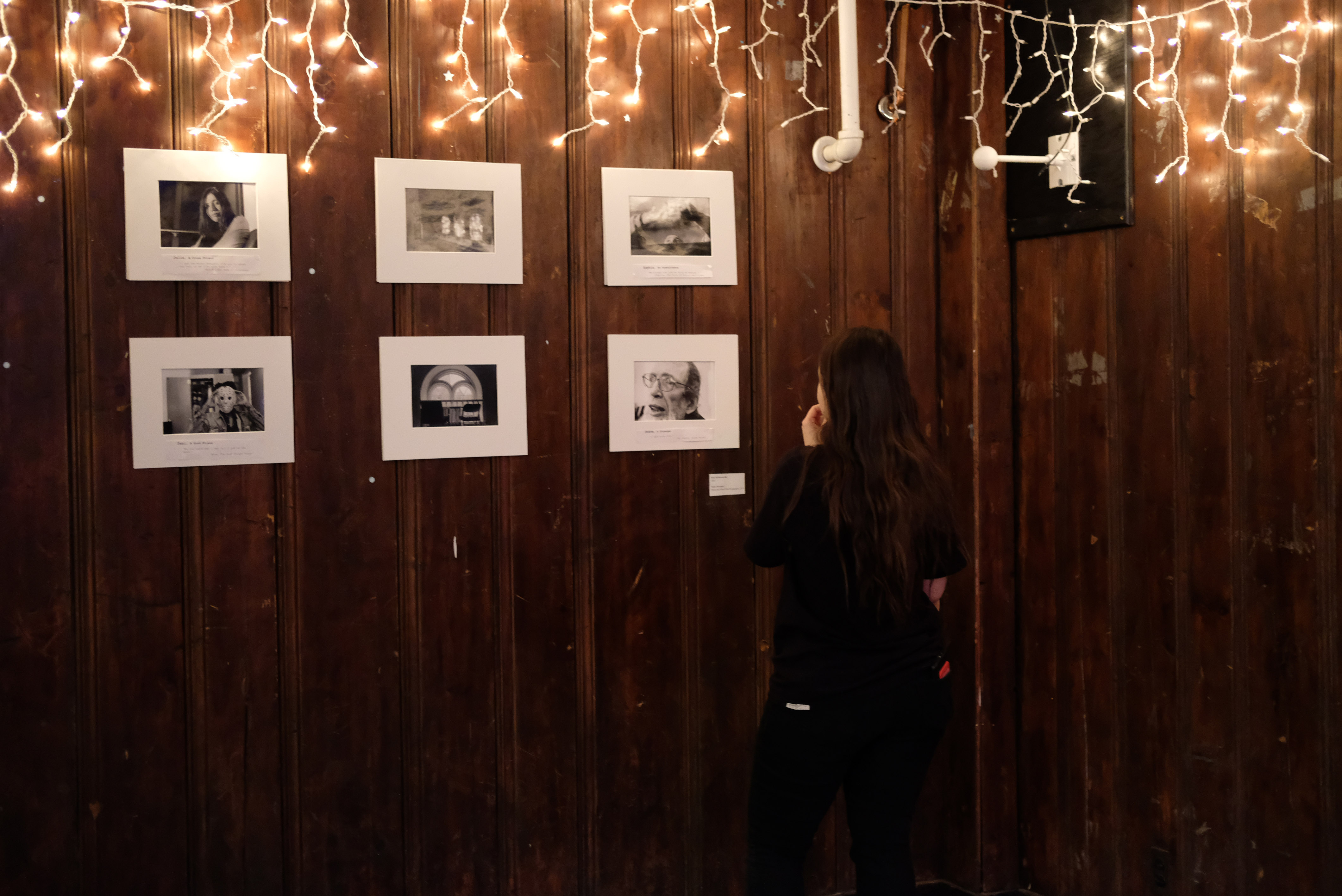 Walking into Reed House basement on Thursday night, you might have been pleasantly surprised—gone are the toppled red solo cups and sticky beer pong table. The space has been scrubbed anew, with colored lights and works of art adorning the walls. The third installment of Reed House's annual "Art and Color" exhibit opens with a night of spoken word, music and visual arts, all with the intent to highlight talents of artists of color traditionally underrepresented in the College House environment.
College Houses have long been criticized for being exclusive spaces and contributing to the monolithic nature of Bowdoin's party scene. This year's organizer, Kevin Chi '21, recognizes the stereotypes conventionally associated with Reed House and expressed the house's wish to create a friendly space for people of color within the College House system.
"The goal of the show is to allow POC members in the community to feel vulnerable in a space that they couldn't previously," Chi said.
In planning for the show, Chi and fellow Reed members sent out numerous emails to affinity groups, clubs and the student body at large. Initially, they struggled to get enough submissions, so they instead began to reach out to potential participants individually.
"We made a point that individually reaching out adds meaning to this event, because we are individually making a gesture of welcoming everyone," said Chi. "Spaces like Reed, where the stereotype is [of a] very outdoorsy, white House, I think it's really important that every member of the House reaches out to one person."
They eventually received around 20 submissions, ranging from poetry and video to live performances of spoken word and music, spanning the living room, hallway and basement. Chi explains that members did not factor in curatorial decisions with the selection of artworks; instead, all submissions were accepted in the hopes of being as inclusive as possible.
"We kind of just accepted everything that [was] submitted, because we didn't really want to exclude anything," Chi said. "We aren't trying to set standards for anything—we're trying to make Reed as inclusive as possible."
The show's curators hope to create an inclusive environment set apart from Bowdoin's general art scene and bring in artists who might not have previously had opportunity to showcase their work.
"There's something about the art of Bowdoin in the more formal setting that is just a little more white. If you go to the more formal shows you will see that there are a lot of artists that are white and very few artists of color," said Ural Mishra '20, who curated the show last year while living in Reed.
The show was founded two years ago by Senay Yibrah '19, who was a Reed resident and felt prompted by his own experience as a person of color in a predominantly white House.
"I kind of expected—coming into to Reed—to be the one to change [the social environment], and I was doing that through the music scene," said Yibrah. "I designed this art show for artists of color only … [and it has] kind of evolved into a bigger thing than I thought it would, which is really cool."
The opening of "Art and Color" in 2017 was significant, as it marked Reed House's first ever party in collaboration with the African American Society (AfAm). It also coincided with a tense period on Bowdoin's campus following a series of bias incidents, when issues of race were constantly on everyone's mind.
Now in its third iteration, the show continues to mark this important legacy. At the same time, issues of how to properly approach "diversity" come into question. Despite the organizers' best intentions, they unavoidably fall short in certain aspects.
"Musicians—wise it was kind of difficult to find bands that are composed of [just] POC[s]," Chi said. "I definitely hear a lot about it from my friends about how jazz at Bowdoin is so white, how they don't feel like they can be part of it … so I definitely feel like that kind of speaks to the [general] music scene at Bowdoin as well."
Indeed, College Houses still have a long way to go in their pursuit of more representation and diversity. As the show's original founder, Yibrah urges organizers to engage with diverse groups of campus in the long term.
"Now it feels a little more like white College House residents are just reaching out to affinity groups to make their House less white," he said.
"[They should work on] committing to working with affinity groups, as opposed to just sending an email out to them," he continued. "Just being more passionate or direct about working with different groups—that's how you get to meet people."
Editor's note: Senay Yibrah '19 is a member of Orient staff.