'Wind in the Pines' grapples with family history
March 29, 2019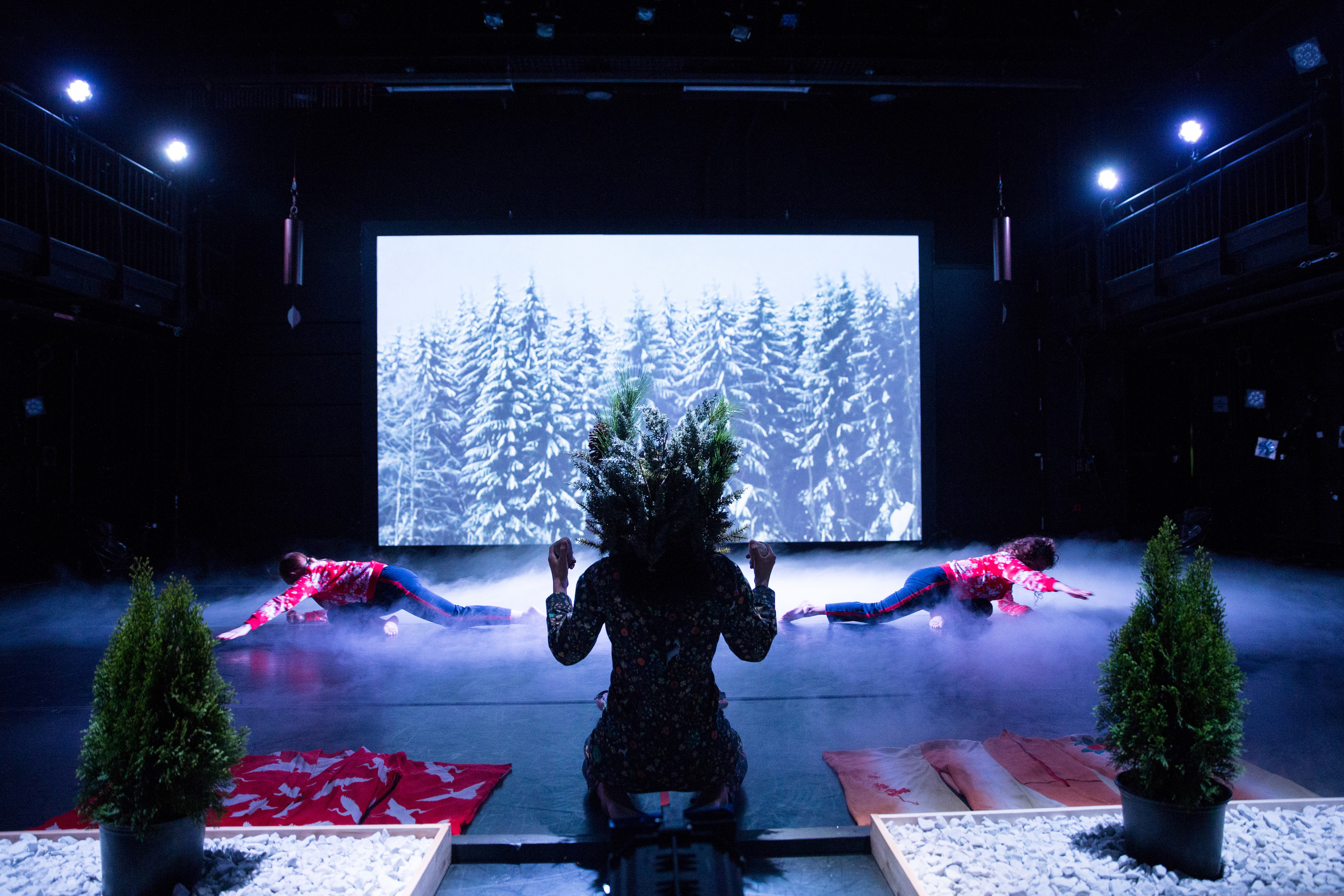 The theater is dark, and nobody is on the stage. The lights are off and the room is quiet until a voice breaks the silence. Assistant Professor of Dance Aretha Aoki's voice is broadcast throughout Wish Theater, but she remains off stage.
"He doesn't remember how many people he killed. He doesn't tell me if they were civilians, children," Aoki begins.
As the performance "Wind in the Pines" commences, she continues the narrative with brief anecdotes about her grandfather's life: growing up in Japan, he listened to college baseball games on his family's radio, he was diagnosed with Tuberculosis in fifth grade but survived and he later went to Shinagawa City Hall to enroll in the army.
Aoki began planning this hour-long interdisciplinary dance performance—which opens tonight in Wish Theater—in 2015. She and her husband and co-collaborator Ryan MacDonald knew they wanted to create a piece about her family's history on her father's side—one which she knew little about and felt disconnected from.
After talking to relatives, traveling to the National Archives and exchanging letters with her grandfather, which had to be translated with each correspondence, Aoki began to uncover a previously unknown aspect of her family's past. Her grandfather was a musician, practiced psychic Reiki and crafted beautiful hand-made flowers. Yet he also fought in World War II on the side of the Japanese and had been abusive.
Translating this story into a performance, Aoki attempted to grapple with the paradoxes of her grandfather's life. She crafted the initial narrative, and then proceeded to experiment with ways to translate the contradictions she encountered into dance.
"I started with questions about my family history, but then I became more interested in the tensions within his story and his life that he embodies," she said. "It became less about literally depicting something and more about how the story lives in my body and my imagination and how I can express it in this way."
The performance continues with the two accompanying dancers mirroring each other's every move and Aoki squatting in the center, cueing each movement by banging two rocks against one another.
"It's been interesting to feel what it's like to inhabit a set with imagery and know that I am part of that imagery, with the masks and the different outfits that we have on. It has a really journey-like progression from beginning to end, starting with this story evolving in an abstract way," said Shaina Cantino, one of the dancers who has been a part of the piece since its first iteration in 2015.
The remainder of the performance consists of dance without narration, accompanied by animation, fog, music and wind from two portable fans. The back of the stage is covered in a screen which depicts Aoki's family photos with animated images within the photographs. While Aoki focuses on the spoken and physical components, MacDonald, who is a visual artist, creates the superimposed images that serve as a backdrop for the performance, along with the set he designed.
"I love those unexpected surprising meanings that can come from juxtaposing different mediums together," Aoki said. "The personal gets transformed through the relationship [of the mediums] and sometimes tension between the mediums and things that you don't quite expect to come together."
The interaction of the various media is designed to enhance the impact of the performance; Aoki explains that the various elements are meant to further the story's narrative without explicitly divulging details of her family's story.
"It can be very vulnerable to expose personal information, but I think there should be an element of the personal no matter what in artwork … you can feel the personal in so many ways," said Aoki.
"Wind in the Pines" will be performed at 7:30 p.m. tonight in the Wish Theater.