Investigating the Virgin Mary's sexuality in the Middle Ages
February 1, 2019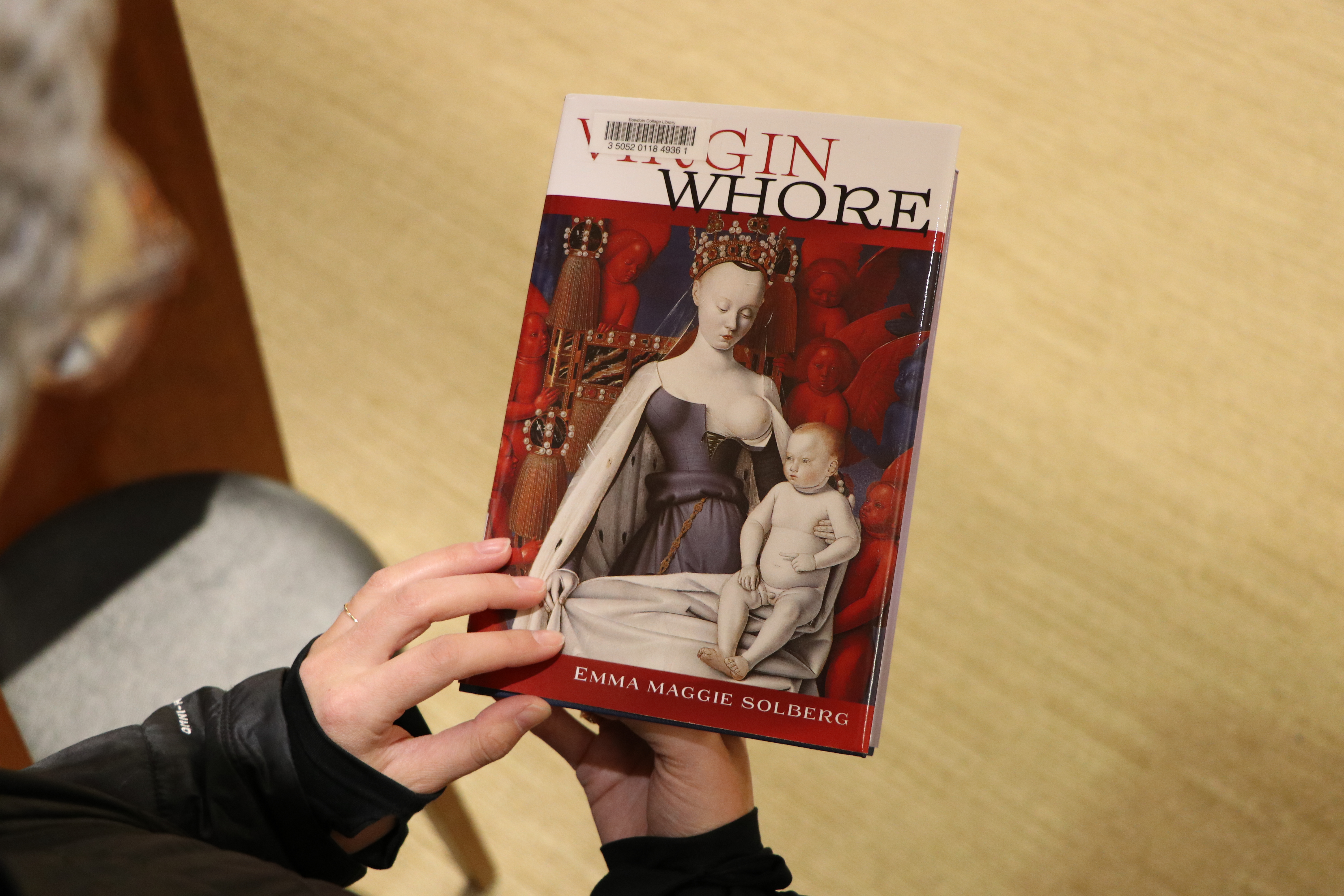 In its first of three book launches this semester, the Bowdoin library hosted Associate Professor of English Maggie Solberg on Thursday to present her new book, "Virgin Whore," a study of literary representations of the Virgin Mary's sexuality in late medieval culture.
"We think of her as being a perfect virgin, but if you look at late medieval culture, there are alternatives that go so far as to represent her as a promiscuous adulteress," said Solberg. "You might think they would mean that as an insult—and sometimes they do—but they also mean it as a compliment and a joke."
"Virgin Whore," which is Solberg's first full-length book, is the product of continued work on her graduate dissertation completed at the University of Virginia, where she researched ideas of virginity in early modern drama.
"The more I dug into [the topic], the more lost I got. It's such a big topic. So my advisor told me to focus, pick a text and do close readings," Solberg said. "It became not a study of virginity in all drama, but a study of the Virgin Mary in one manuscript."
Solberg described the research and drafting process as "nothing but challenges."
"I remember transitioning from the undergraduate model of writing, which was to do everything in a panic the night before, stay up all night and eat espresso beans alone in the computer lab—which does not work—to the academic model, where you chip away at it every day for years. That's the only way to write this kind of book," Solberg said. "I changed my mind many times. I was wrong many, many times."
Despite its challenges, Solberg's book is also full of farces and jokes.
"There were some dirty jokes that I thought about for years," Solberg said. "They were the gift that just kept on giving because they just kept getting funnier and funnier."
Following graduate school, Solberg joined reading groups of professors at Bowdoin who gather to read and critique each other's work. One such group—the Medieval and Early Modern Studies group—focuses on the Middle Ages and the Renaissance.
In addition to this group, Solberg meets with other faculty members who study feminism and the pre-modern.
Although Solberg teaches drama and medieval literature courses at Bowdoin, including courses on Beowulf and Early Renaissance drama this semester, she's never taught the exact subject of her research, though she tries to incorporate elements of it into her courses.
"I try to give the people what they want. I've thought about teaching a first year seminar on the Virgin Mary, but can you imagine that filling up? Maybe I'll just go for it sometime—I'll [call it] 'The Virgin Mary' and see who shows up," Solberg said. "It's all in the title. I'd have to find some really jazzy way to sell the title."
Now, Solberg is busy studying literal book worms in medieval manuscripts.
According to Solberg, this field is relatively new. The development of DNA and protein analysis has aided the studies of manuscripts and contributed to the rise of this type of research.
"A lot of protein analysis is being done on animals whose skins are used to make vellum. But I'm interested in the bugs," Solberg said. "I asked [Special Collections Librarian Marieke Van Der Steenhoven] to show me the most messed-up book in our special collections. This thing look[ed] like a sieve. [The bugs] just really destroyed it."
Jon Luke Tittman '19, who has taken a number of courses taught by Solberg, said her project inspired him to consider how the materiality of the texts contain meaning and influence the way readers interpret them.
"It's sort of like a new way of thinking about how to read texts. 'Sir Gawain and the Green Knight' is a super old text and part of it was disfigured, so it's unclear how to translate some of the words," Tittman said.
Tittman, inspired by Solberg's work, experimented with his final essay by burning part of the last page and poking holes in it. It's not often that students find a professor who encourages such bold risk taking, but for Solberg, that's how to create truly unique work—by going about research in new, creative ways.