MisterWives rolls into Bowdoin with flare
October 12, 2018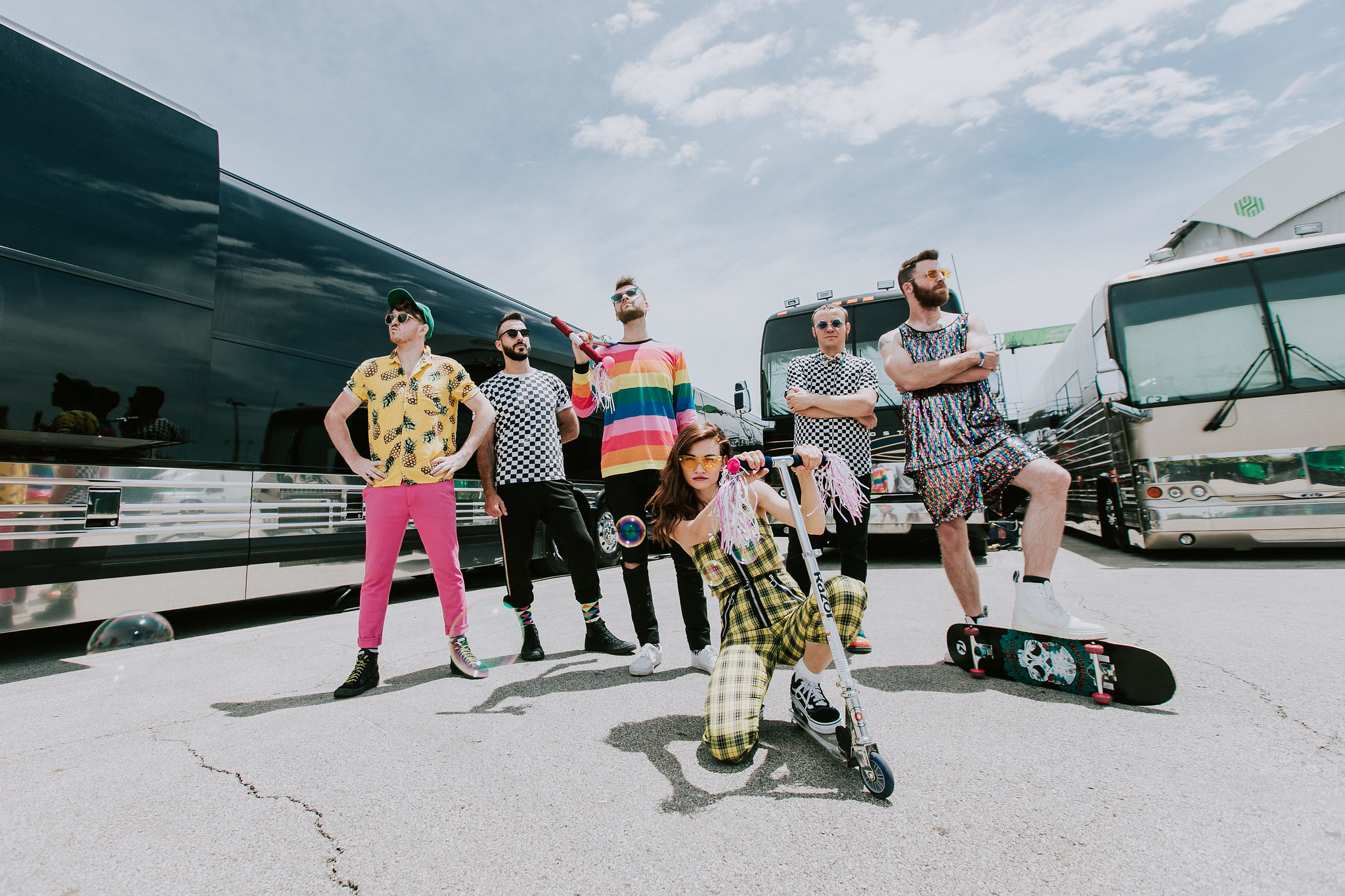 The grand finale of the suite of events celebrating the opening of the Roux Center will be a concert by indie pop band MisterWives in Morrell Gymnasium tonight. As an email from President Clayton Rose noted, the concert was suggested by David and Barbara Roux as a fun way to close out the week's celebrations.
"The donors really wanted to end the week with something really fun for students," said Director of Student Activities Nate Hintze. "There's a great slate of programs—the Academic Symposium, the keynote speaker with Philippe Cousteau—and they wanted to end it with a party."
MisterWives formed in late 2012 and was signed the day after its first concert by Photo Finish Records. With quick recognition of its unique sound and immense potential, the band has released two albums and two EPs in 5 years and performed with a diverse range of acts, including Walk the Moon, Panic! at the Disco, Paramore and Twenty One Pilots.
The group is comprised of lead singer Mandy Lee, drummer Etienne Bowler, guitarist Marc Campbell, bass guitarist William Hehir, saxophonist Mike Murphy and multi-instrumentalist Jesse Blum.
Their most recent album, "Connect the Dots," features the wide variety of indie-styled tunes that the band is known for—including "Drummer Boy," a love song written by Lee to Bowler. The couple were married in August of this year.
On top of the wedding, the band has been busy with multiple tours in the last year. Their Connect the Dots tour last fall took them around the country and to the United Kingdom, and this summer they not only put on their Let the Light In tour, but also joined Walk the Moon and Joywave as openers for Thirty Seconds to Mars' Monolith tour.
Towards the end of the Connect the Dots tour, they released a new single "Never Give Up On Me," and during their Let the Light In tour, they performed new music from an album that has yet to drop, which students will hopefully get a preview of tonight.
MisterWives is known for dynamic, colorful and energetic performances, which—in addition to the group's size—has demanded a larger scale production than most fall concerts put on by the College, putting tonight's show on par with Ivies performances.
"It's a big band, [so] it needed some bigger production than some of our fall shows," said Hintze. "From working with the band and talking to some other schools that have booked them, it sounds like they put on an incredible show and I'm excited for them to be here, and I hope students are as excited as I am."
MisterWives breaks from recent trends in acts brought to campus not just with its size, but also by having a female lead vocalist, as does the student opener Sweet Anne and the Milkmen.
"One of the things I'm most excited about with MisterWives is that it has a female lead vocal, and it's probably the first one we've had on campus since we brought Phantogram probably six years ago as an Ivies opener," said Hintze. "So it's really exciting to have a female lead vocal on campus again."
Sweet Anne and the Milkmen is similar to MisterWives in more than just size and instrumental makeup—consisting of seven members performing tonight and featuring female lead vocal from Anne Gregory '19—but also style.
"It's great for us because [MisterWives is] a more vibey group, which benefits us just because that's more of the stuff we like to play," said saxophonist Alec Ferguson-Hull '19. "[Because] that's more in line aesthetically with what they're doing, it's acceptable for us to do our vibey stuff too, which is really great."
One of the longest standing bands on campus, the group formed as first years and has performed together for members' entire Bowdoin careers. Their first gig was at Battle of the Bands in 2016 as Pulse, but they rebranded last year to Sweet Anne and the Milkmen to reflect a change in style. Stepping away from the pop covers social house parties usually demand, the group is excited to lean into its "funky, jazzy" side.
"Our set tomorrow is the first set that we're really excited to play in terms of music that we really like. It's stuff that we listen to," said bassist and keyboardist Isaac Schuchat '19.
"It's pretty diverse in terms of what we've been playing at least this year," said guitarist Nolan Roche '19. "But it's fun because everyone in our group is passionate about at least one song in our set."
The group is looking forward to not only the music they'll be playing, which features an original piece by Ferguson-Hull, but also to be able to open for MisterWives and perform their true style of music in front of such a large crowd.
"In high school I was a huge fan of MisterWives, so it's honestly really cool to not only see them live [as well as perform]," said Roche. "But at the same time, it's also a little scary because I'm definitely going to fanboy super hard."
Sweet Anne and the Milkmen will perform at 10 p.m. in Morrell Gymnasium, followed by MisterWives. The event is not open to the public; students must show their student IDs in order to enter, but no tickets are necessary.