Portrait of an Artist: Daniel Mayer '21 on bass
December 1, 2017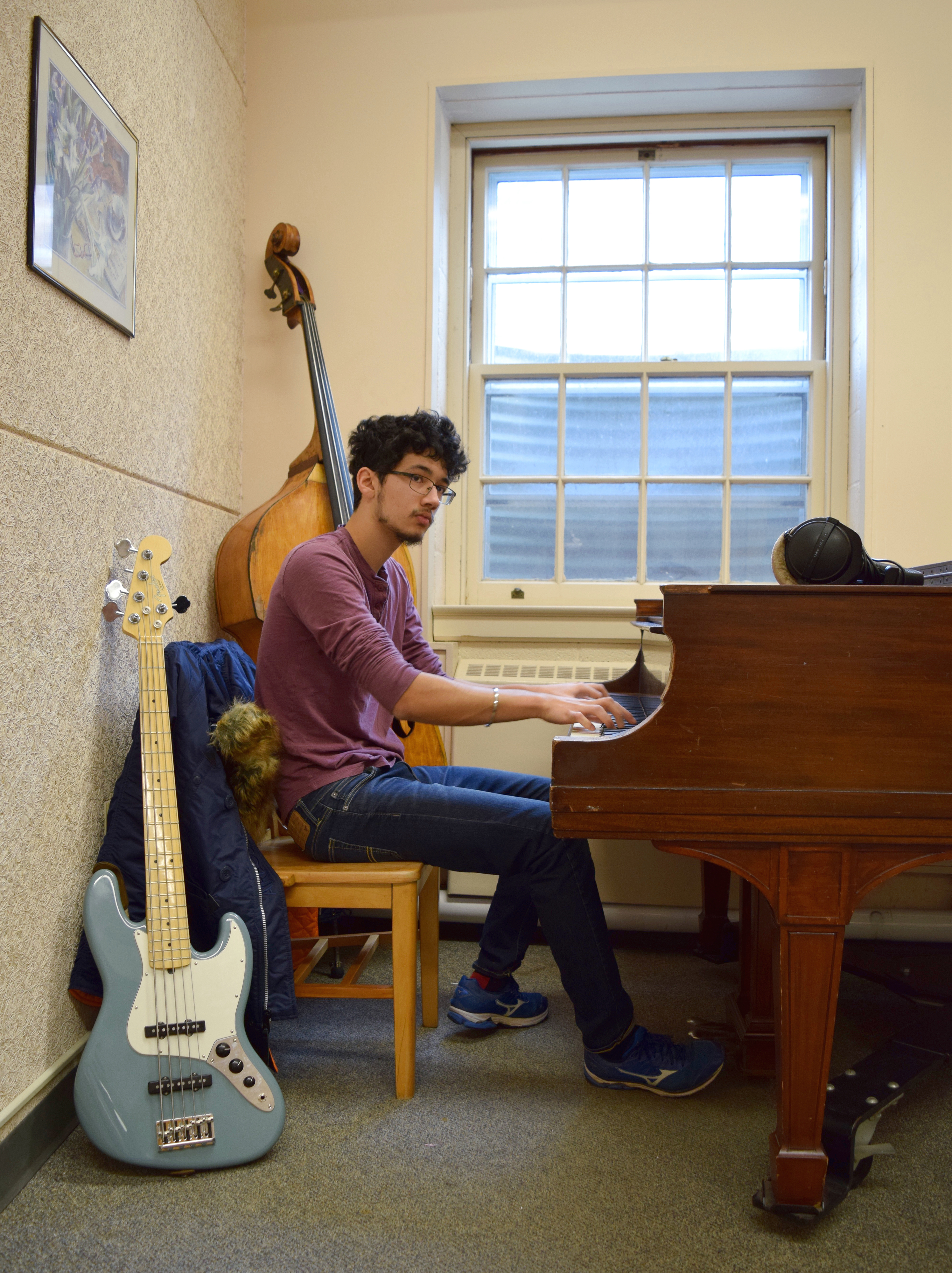 Nicole Tjin A Djie '21: What got you started with music?
Daniel Mayer '21: My dad and my brother were both musicians, so I got started on piano really early. I didn't really like it so I started playing my dad's guitar and I picked that up really easily. I got into bass with some other musicians at a summer camp where I was put into this rock ensemble. There were five guitar players who all had to split up their parts while the bassist got the rest. So basically I switched to bass because I saw that not many people were playing it, but I thought it was just as interesting as guitar.
NT: What else drew you to play bass?
DM: I guess the ability for the instrument to be both a percussive, low-end instrument supporting the ensemble, but to also be a solo instrument when necessary. I do not think a lot of instruments have the ability to be an important component of a band while also being able to stand alone as a solo instrument.
NT: You play bass in The Commission—can you tell me more about the band?
DM: We are a seven-piece group of all freshmen. I met the drummer and keyboardist online on the Bowdoin Class of 2021 Facebook page. We slowly started to meet other musicians as we got acquainted with the music program here. We all shared this desire to be in a college band. I always had this dream of being in a college band and playing at house parties and do stuff like that. I did a lot of gigs in high school as a jazz musician, but they were usually for corporate or other types of events. It was not really involved, whereas with the house party scene the people watching are really invested in the performance, instead of us just playing wallpaper music at other gigs.
NT: Does your band write its own music?
DM: We are going to start doing that, but right now we just do soul covers of modern pop artists. We play a lot of Stevie Wonder and Michael Jackson, but we also do some sort of contemporary music like alternative rock groups. We do a lot of Vulfpeck—their music kinda suits our instrumentation quite well. We have a lap steel player, so we end up doing a lot of hip-hop songs by famous R&B artists like Erykah Badu. We are going to try some more of her songs because there are always a lot of cool samples in her pieces that incorporate these really long and airy synth parts that can be played and replicated on lap steel. We are just trying to find some funky jammy songs that people would dig and that suits the big-band instrumentation we have.
NT: What do you think of the music scene at Bowdoin?
DM: It is definitely small, but I think there is more of one than I thought coming to a small school like Bowdoin. There are so many talented players here and it is definitely very supportive. All of the musicians intermingle and play with each other. Although they have their own bands they all jam together and all know each other. It's very friendly. There definitely is no air of competition that I imagine there would be at big universities where people have to compete for gig opportunities. It's very supportive here.
NT: Who were your inspirations growing up as a musician?
DM: I really liked the Red Hot Chili Peppers, so Flea was a big inspiration for me on bass. I would learn all of their charts. As I got more away from funk and rock I went into jazz music. I was listening to a lot of Jaco Pastorius on electric bass. Moving strictly into upright bass—[which Mayer plays]—I was really into Paul Chambers, Scott Lafaro and Oscar Pettiford. They're my main upright bass idols now, but in the beginning it was strictly Red Hot Chili Peppers.
NT: Can you briefly explain the difference between bass and just a regular guitar?
DM: To be honest, there are not many structural differences. They look very similar. Electric bass typically has four strings and the strings are thicker than electric guitar strings. So where on a guitar you would use finger picking techniques or a pick, you actually use just your index finger and middle finger predominantly and pluck bass strings. And it has more of a thump to it and more of a presence. The goal with bass is to bring up the low-end frequencies, while with the guitar you create a high-end sonic sound. So it is definitely more of a rhythmic instrument, where guitar is more melodic.
NT: Besides being in The Commission, how have you pursued music while at Bowdoin? What are your goals?
DM: My prospective major is music so I am enrolled in a few theory classes and performance classes. I am involved in the Bowdoin jazz combos here, so I have some exciting gigs coming up. Our jazz coach, Titus Abbot is opening for us at Port City Blue on December 9 in Portland, so that is going to be a pretty cool gig. Other than that we kind of just do on campus gigs. And my jazz playing has definitely gotten way better here. My goal is to just get as good as possible. I do want to be a professional musician ultimately, or now I guess, but I just want to learn as much as I can while I am here.
NT: Have taking music theory classes here helped you with performance?
DM: Yeah, the music theory classes here are second to none compared to any other college. I have a lot of friends who are studying music at music schools and they are impressed by how difficult some of the course material is in my theory classes. Even though Bowdoin is not a music school, the music department here is very, very deep and I think it gets kind of overlooked. The theory classes—especially for me since I did not really have a theory background—are really difficult. It takes up a lot of my time.
NT: How often do you practice?
DM: I try to practice at least three to four hours a day.