Morneau marks 30 years as Concert Band director
November 17, 2017
This year, the Bowdoin College Concert Band will reach a new milestone: its director, John Morneau, will have led the group for 30 consecutive years.
"It's just what I like to do. I just haven't felt the need for time off," said Morneau.
Morneau, who plays clarinet, flute and saxophone, was inspired to pursue a career in music by his high school band director. Since graduating from the University of New Hampshire, Morneau has been active as a musician and a director in his home state of New Hampshire, in Wisconsin and most recently here in Maine. He has taught all levels of musicians and currently works both in his role at the College and as Director of Bands at the Great Salt Bay Community School in Damariscotta, Maine. This year will also be his 40th year teaching at the elementary and secondary levels.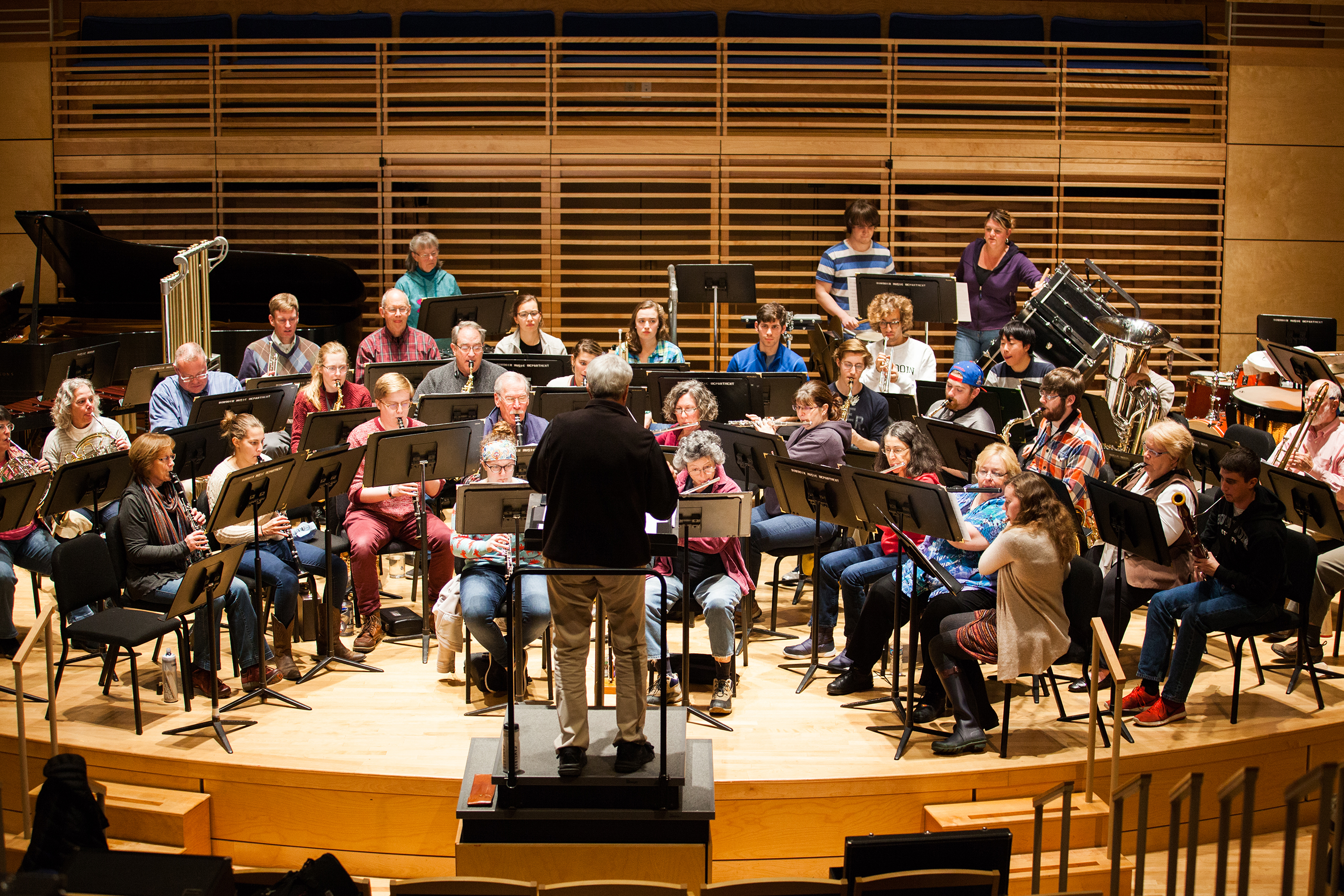 Morneau's tenure as director began in 1988, when he took over the program from the late composer and professor emeritus Elliott Schwartz, whom the College remembered earlier this year with a musical elevator performance in Coles Tower. During Schwartz' tenure as director, the Concert Band was much smaller. Initially, the group rehearsed and performed in Pickard Theater, then moved to Kresge Auditorium and finally to Studzinski Recital Hall after its opening in 2007. This new venue has allowed the group to rehearse more easily and has drawn more talented musicians to participate in Bowdoin's performance ensembles.
Now, the band is over 40 members strong and includes not only Bowdoin students, but also alumni, community members and local high school students.
Morneau said that organizing a group of this nature has not always been easy.
"When I first started, evening time for rehearsal was pretty much a sacred time for students to pursue [extracurricular activities]. Now more things have infiltrated themselves into the evening—like exams, mandatory review sessions, film screenings—that make it very difficult for students. It's gotten more challenging as time has gone on," he said.
However, the addition of community members to the ensemble has allowed the band to continue to pursue a challenging repertoire. Furthermore, its adult members, many of whom are lifelong musicians, provide role models for the students and help create a positive atmosphere in rehearsals.
"The students have really enjoyed having the adults here—they learn from them musically and also learn from their life experiences. Likewise, the adults really enjoy being with the students and just getting to know them as people. It's a great dynamic," said Morneau.
Jeff Mao '92, a clarinettist who joined the band in Morneau's first year as director and returned to the group five years ago, said that Morneau's disposition and sense of humor also make the ensemble special.
"When I was a student, there was a year or two when I was the only clarinet player in the band. At times, if I got lost or counted wrong and missed an entrance during rehearsal, John would turn to me and address the section, 'Clarinets, I didn't hear you at measure 25. Can we try that again?' He'd use the plural as if there was a group of us as a way to lighten the mood. John continues to lead the ensemble with that same sense of humor and knows when to push, and when to joke," he said.
Another special part of the group is the programming and thematic nature of its music. Most recently, the band performed a concert centered around mountains, and its upcoming concert on November 19 is titled "Southern Harmony." For each program, Morneau draws from both classical and modern band repertoire, as well as jazz, folk and popular music.
"The programming is the most important thing we do as directors," said Morneau. "It really determines everything. It influences the audiences that you get, it influences the players' attitudes in terms of their desire to work hard … When I pick programs I have to say, 'Ok, is it a program that I'm going to be interested in working on? Is it one that if I were a player I'd be interested in working on? And if I were an audience member, is it one I'd be interested in listening to?'"
The sum of these elements is a space in which students, adults and audience members alike can find a form of release.
"Concert Band is important to me because it is a way to escape much of the stress and bustle of campus," said Alexander Truitt '19, who plays trumpet. "Playing is a welcome and refreshing change of pace for my brain, which is often fried from class and homework. I end rehearsal happier and calmer than I began it."
But perhaps most importantly, it allows members to connect with the music they play and with each other on a deeper level.
"Playing music demands a different coordination than anything else I've ever done," said Mao. "Twice a week at rehearsals and especially at a concert, having the entire ensemble playing together creates a unique moment in time when you are part of creating live music, [where] each performance is unique and temporal. Music evokes different things for different people: emotions, images, colors, memories. It is a very satisfying feeling."