"Flower Boy:" a testament to Tyler, The Creator's growth
September 22, 2017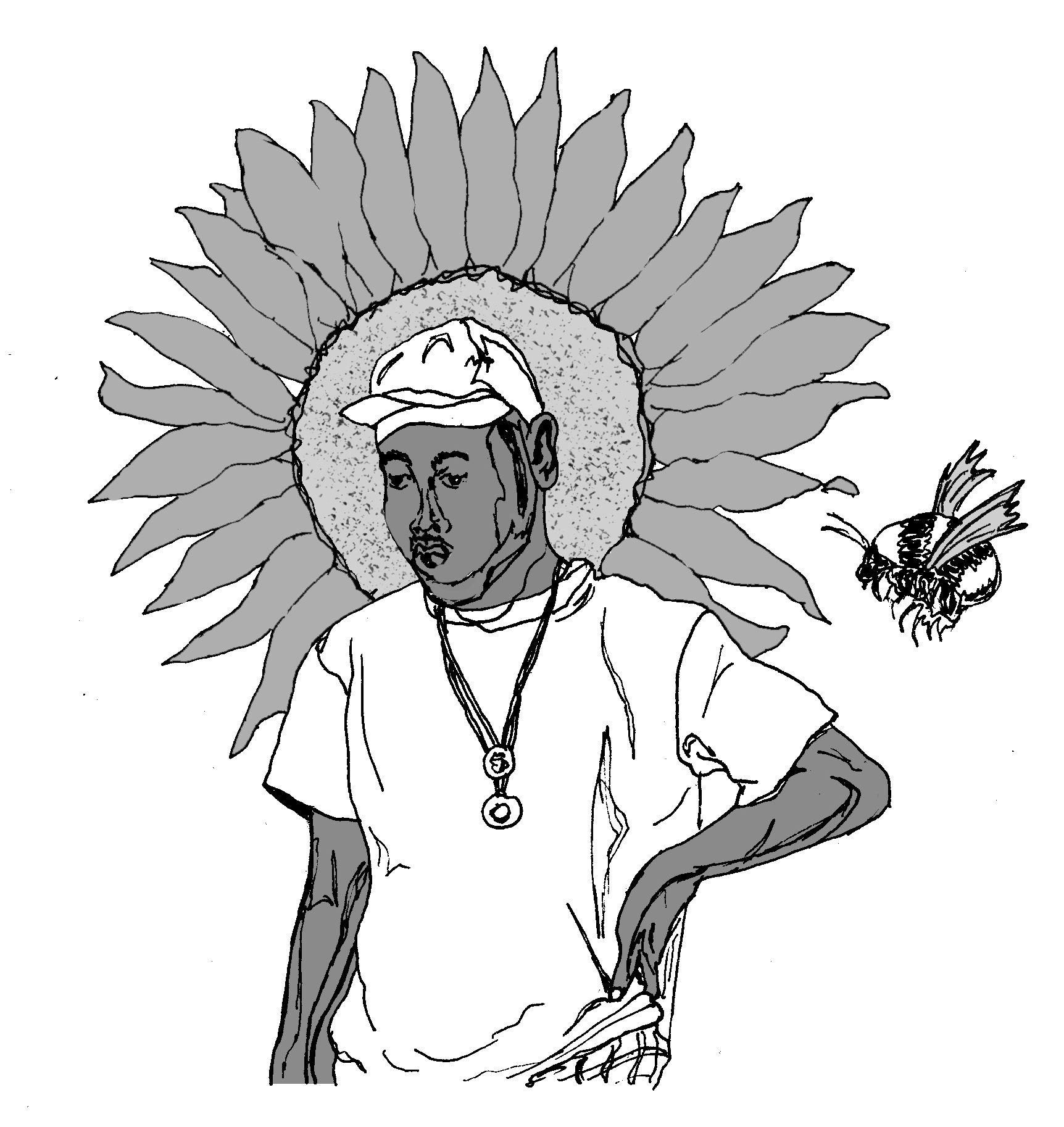 Earlier this week, Tyler, The Creator tweeted that he originally wrote his single, "See You Again," for Zayn Malik. At first, it seems odd that the rapper who broke onto the scene talking about having threesomes with a triceratops would be penning lyrics for the former One-D playboy. That revelation comes nearly two months after the release of Tyler's latest album, "Flower Boy." If "See You Again" is any indication of Tyler's versatility as a songwriter (there's no trace of "Yonkers" here), we should also commend the Odd Future leader for how well the dreamy love song fits in with the rest of his persona on "Flower Boy."
Since the LA rap collective Odd Future first skateboarded onto the scene in 2011, Tyler earned a reputation as one of music's most electrifying personalities. Tyler's career accomplishments include winning a VMA and getting banned from the United Kingdom. But since his early days of violent, alter-ego-based lyricism on Bastard and Goblin, Tyler has adopted a unique duality in music: one confident and immature, but with the reservations of loneliness and unrequited love. But homophobic slurs and sometimes outright misogyny have made Tyler's complexity hard to recognize, alter-ego or not. Except for a few songs on 2013's "Wolf," the more sinister side of Tyler's ego has muddled, if not completely overshadowed, the other.
But critics will not be able to claim the same here. On "Flower Boy," Tyler, The Creator lets a more sensitive, openly struggling persona shine through, penning sincere lyrics on social inadequacy that encompass all facets of Tyler: the frustrated, the confused, the brash, the overemotional. This time around, Tyler seems more comfortable grappling with the insecurities in his head rather than yelling over them.
So much of the album feels related to Tyler's turbulent past that it's hard not to see "Flower Boy" as an attempt to make amends, but Tyler opts to show growth through subtlety on the album's first half, narrating his internal struggles through meditations and metaphor. While Tyler has often glorified materialism by flaunting expensive cars, on "Flower Boy," he uses cars as a subject for reflection from the album's very first lines, "How many cars can I buy till I run out of drive? / How much drive can I have till I run out of road?" That metaphor takes center stage on the sixth track, "Pothole," which sees Tyler navigating the balance between fame and friendship.
More momentous than the car talk is "Garden Shed," which reads like Tyler's narrative on coming out: "Garden shed for the garden, that's where I was hiding / That was real love I was in … Garden shed for the garçons / Them feelings I was hiding." Tyler is keenly aware of the growing discussion surrounding his sexuality, but he chooses to be vague here over the blurry slow jam.
Tracks like "Garden Shed" show Tyler's ability to break the confines of a typical rap album, but Tyler still flaunts his rhyming skills here, adopting a more sincere tone for tracks like "November." A late-album gem, "November" finds Tyler wishing for a simpler time in his life, questioning his musical direction as well as his controversial personality, "What if my music is too weird for the masses? / And I'm only known for tweets more than beats."
Moments like "November," where Tyler directly acknowledges his loneliness, are some of "Flower Boy's" most powerful. Tyler takes direct aim at his former self in the latter half of "911 / Mr. Lonely," where he raps, "They say the loudest one in the room is weak / That's what they assume but I disagree / I say the loudest one in the room is probably the loneliest one in the room (that's me)," then takes an inward jab, "Attention seeker, public speaker, oh my god that boy there is so fucking lonely…" The bass heavy instrumental makes the track an irony-charged banger, as Tyler spits bar after self-doubting bar while ad libs and exclamations echo from the back, sounding less like cheers than detached gasps.
The lonely-themed album has aptly scarce production credits, as Tyler, The Creator produced nearly the entire record himself. But just as he has improved lyrically, Tyler has shown a clearer direction instrumentally as well. Beats are jazzy and colorful with oddly shifting chords, giving a dream-like aura to nearly the whole album. Complicated, off-kilter arrangements highlight the album as well. The battle-ready strings and handclaps of "I Ain't Got Time!" and breezy electronics of "Garden Shed" show Tyler experimenting at his best. While 2015's "CHERRY BOMB" faltered with chaotic beats and erratic tinkering, Tyler rarely gets in his own way on "Flower Boy." The album's final two tracks can become overbearing, but most of "Flower Boy" sees Tyler carving out unfamiliar instrumental elements while staying true to the mood of the album.
That isn't to say that "Flower Boy" was entirely a solo effort, though. Features on the album are carefully selected and fitting for each track. Kali Uchis and Rex Orange County contribute smooth choruses, the ever-reliable Frank Ocean lends a soulful addition to "Where This Flower Blooms," A$AP Rocky rolls through to trade brag bars on "Who Dat Boy." Even Lil Wayne makes an appearance to spit unequivocally Weezy lines like "Never played golf, but got a driver and a caddy."
Tyler often refers to the album by its alternate title, "Scum Fuck Flower Boy," a more fitting epithet to capture every aspect of his character. Even though Columbia Records cut that title, fortunately, Tyler didn't completely shed his "Scum Fuck" side ("Who Dat Boy," "I Ain't Got Time!"). However, the album shows maturation above all else. The fourth album from Tyler, the Creator is a testament of growth in every sense; Tyler displays maturity in producing, songwriting and emotion without sacrificing his signature flare. As he raps on "Where This Flower Blooms:" "I rock, I roll, I bloom, I grow."