Sam Kyzivat '18: classical roots, electric loops
September 15, 2017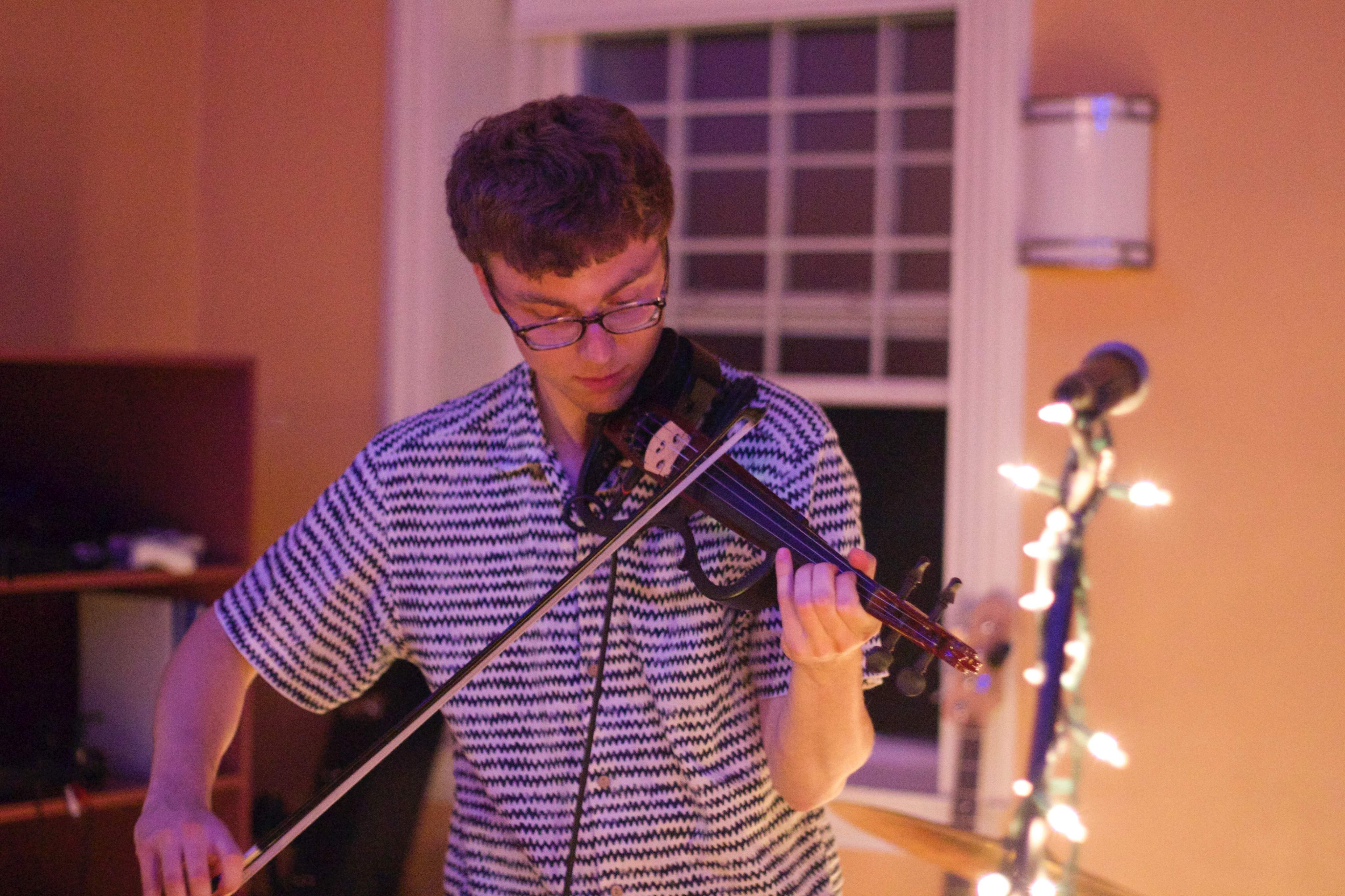 Sam Kyzivat '18 is a music major with a concentration in theory and composition who also studies Chinese. He composes and performs his own music and participates in the Meddiebempsters and jazz ensemble.
The following interview has been edited for length and clarity.
Q: Why don't we start by talking a little bit about your music. What style of music do you do and how would you describe it?
A: On my SoundCloud page, I describe my music as "orchestral ambient electric violin loops" or "cinematic electric violin loops." So I guess my musical journey started with piano lessons as an elementary schooler, and then classical violin, and then I studied voice for a bit. But in high school I decided, "I don't want to do classical violin anymore." I didn't think it was cool. So I found out about the electric violin, and I was in a band at the time, and we played a lot of Dave Matthews Band music, which really prioritizes the electric violin. So I slowly started exploring the world of effects pedals and signal processing and that got me hooked into looping. And now when I record, I use a big pedalboard with lots of different pedals each serving a different function. I just love weaving these kind of tapestries of loops.
Q: Go a little bit more in depth about the composing process. Do you usually start with a specific idea in your mind?
A: It depends. Personally when I write my own music for a short film or record a track, I'll start at the violin on that. I'll start in my room, loop something and then just go from there. The possibilities for creation are pretty endless with the loop pedal because you can add on infinite layers. I always say it teaches you a lesson about life, because when you make a mistake, it's infinitely looped, and you are forced to reconcile with it over and over again.
Q: Where do you usually get your inspirations from?
A: So I listen to a lot of music, just kind of spans the gamut of all the genres. I'm super into jazz, but I also have a deep love of classical music. I was raised on that from my family. [I also have a] really deep love of folk and indie folk, also kind of raised on that. And I'd say my formative teen years, that's when I really discovered this indie folk genre, specifically the New England scene, and this past summer in Portland I was kind of rooted in that, meeting a lot of cool people. And I'd say the last genre would be kind of film score, cinematic stuff. My dream is to score films.
Q: Do you have specific artists or groups that you like or draw inspirations from?
A: Andrew Bird and Kishi Bashi are my two biggest inspirations. They are my violin-looping idols. They are the people who I was first exposed to and still admire.
Q: Do you work with any groups, on-campus or off-campus?
A: I have a band I've been playing with since 8th grade. So we've been together for a lot of years, like eight years. We played a lot in high school, and now we all go to different colleges but every summer we have a couple reunion shows. On campus I'm the music director of the Meddiebempsters. And this [will] be my second semester in a jazz ensemble. My biggest regret from college is that I never really found a band that I just kind of grew with for all four years. So then I just go back to playing solo. It can be lonely playing solo — it's nice to have other players.
Q: You mentioned earlier you worked with the Maine Youth Rock Orchestra (MYRO)? How were you involved with them and how did that influence you?
A: Spring 2017, I was thinking "what am I going to do this summer?" So I had a list of organizations, and I've always kind of admired the Maine Youth Rock Orchestra. Their big thing is they collaborate with folk bands or any genre, really. This one guy, [Executive Director] Kevin Oates, started it all by himself two years ago, and MYRO has just grown tremendously in the past few years. So I emailed [Oates] saying, "here's my background, do you want an intern?" He offered me an internship, and I spent nine weeks [there]. It really turned out to be mostly creative work, which is super exciting. I think I arranged 13 pieces for our 2017 to 2018 concert season. Our final concert of the summer was with the band Guster at Thompson's Point, which is one of the big venues in Portland. The Maine Youth Rock Orchestra was headlining with Guster on stage. I was kind of the boss for that day. I conducted the orchestra for soundcheck, which was just mind-blowing. A 28-piece orchestra. That was a highlight for me.
Q: And just out of curiosity, how many instruments do you play?
A: I answer this question usually by saying electric violin is my main instrument. I took piano lessons, and then in college I kind of rediscovered my love for piano. And then I just kind of fool around on guitar, mandolin, banjo, ukulele and my most recent instrument is the erhu.