Printmaking fellow explores nature and feminism
September 27, 2019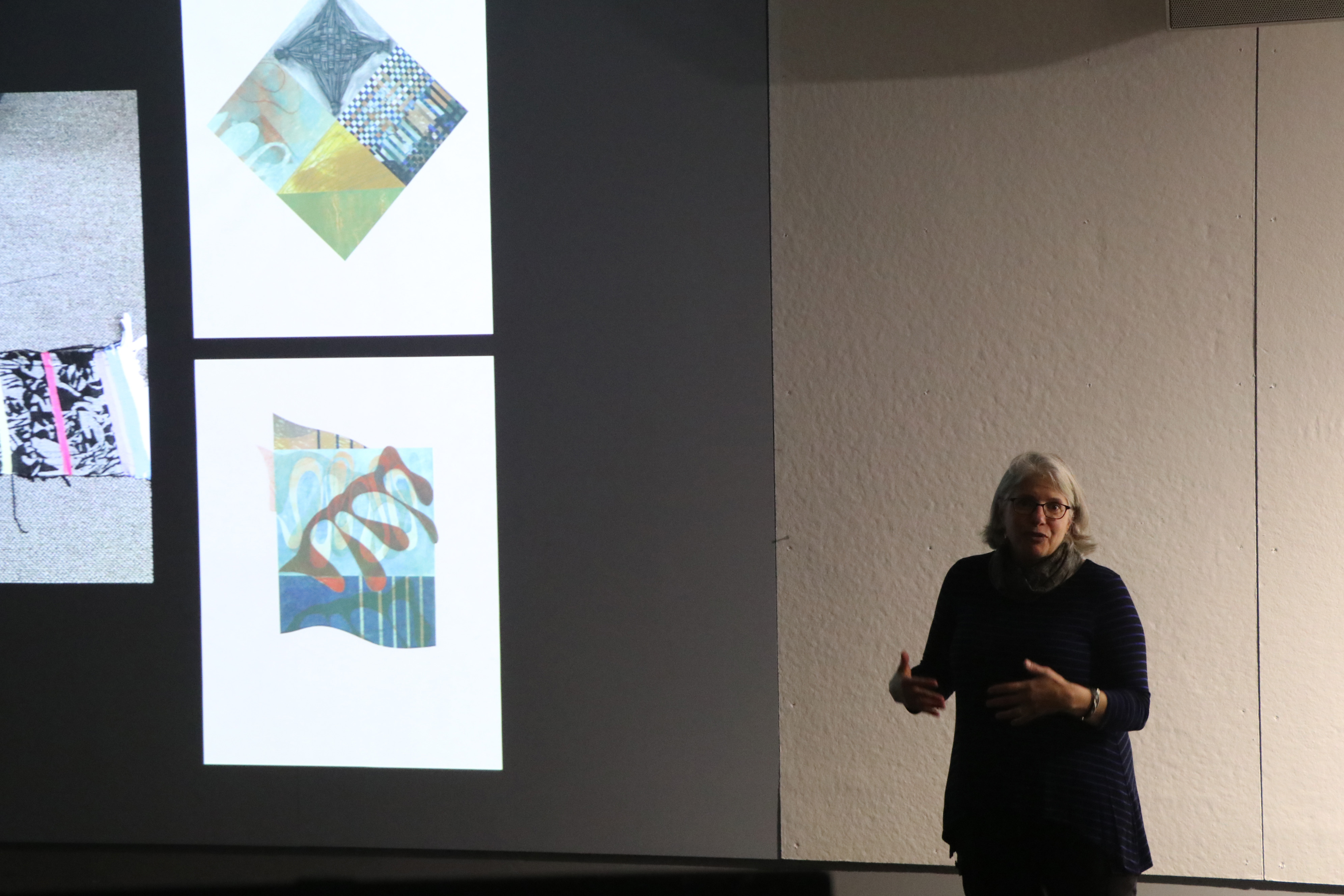 Throughout the vast array of her life's work, Visiting Artist Claudia Fieo P'21 has focused on the idea of respect—be it to the forces of nature, women overlooked by society or the process of creating itself. On Wednesday, Fieo gave her talk, "The Nature of Printmaking: Process and Possibility" as part of the Martin Bileck Printmaking Project.
Fieo, a professor of visual art at Wheaton College, uses media ranging from lithograph and woodcut prints to collage. Representations of nature have consistently been a focal point of her work. She strives to capture the environment in both detailed, sketch-like prints and colorful, abstract forms.
"I see the divine in nature," she said. "[My process] is not prayer per se, but an act of reverence, an act of honoring something that cannot be separated from who we are as humans."
Fieo believes that nature's cycles of life and death represent rejuvenation, but also loss—a topic which contributed to her early connection to art. She was in her mid-teens and early twenties when she lost two of her brothers to blood disorders. Fieo said she used art from then onwards to search for self-purpose and a way to move forward.
After high school, Fieo planned on becoming a medical illustrator to give back to the medical community. She then chose to pursue graphic design and printmaking instead and went on to earn a masters degree in printmaking. Like medical illustration, her early print career focused on the precise, scientific beauty of nature. She emphasizes nature's complexity as a way of paying respect to life and its precariousness.
"I'm continually in awe, and I tried to find beauty in the world I see around me," she said. "I did a bunch of drawings where the places were not very beautiful at all, but I was trying to call attention to those discarded places and recognize that there's a sort of harmony that's going on in terms of the different life cycles."
After working in a variety of graphic design and printmaking teaching positions, Fieo was hired at Wheaton College as a professor in both disciplines. This academic year marks her 28th at Wheaton, though she is spending this semester on sabbatical at Bowdoin, where she is teaching Printmaking I.
Fieo came to Bowdoin by invitation of Associate Professor of Visual Arts Carrie Scanga, whom she met at the Zea Mays Printmaking workshop and gallery in Northampton, Massachusetts. Zea Mays Printmaking is hub for printmakers dedicated to non-toxic printmaking practices.
Fieo's current project, which she hopes to continue working on during her fellowship, is a darkly comedic book including text by Wheaton's Playwright-in-Residence, Charlotte Meehan which captures a deep friendship between two aging women. It is meant to represent the friends' common experience of disappearing from society's eye.
"In our society where women are so often objectified … you're invisible, in a certain way," she said. "And then as you get older you're just invisible. It's interesting how overlooked sometimes an older woman, especially in academia, can feel."
Although the book is unfinished, it has already found an audience. Fieo shared the work in progress with members of a non-profit group.
"The older women who were present were like 'Oh my gosh, I could just cry,' so it struck a chord."
Fieo wants women of all ages to resonate with the message of the book, which she hopes to display at Bowdoin upon its completion.
"I think it's really important for women to have women friends and to support one another. We're not in competition with one another," said Fieo. "I think we'll make progress for you guys, for the next generation."