Portland's First Friday Art Walk breaks free from the white box
April 24, 2019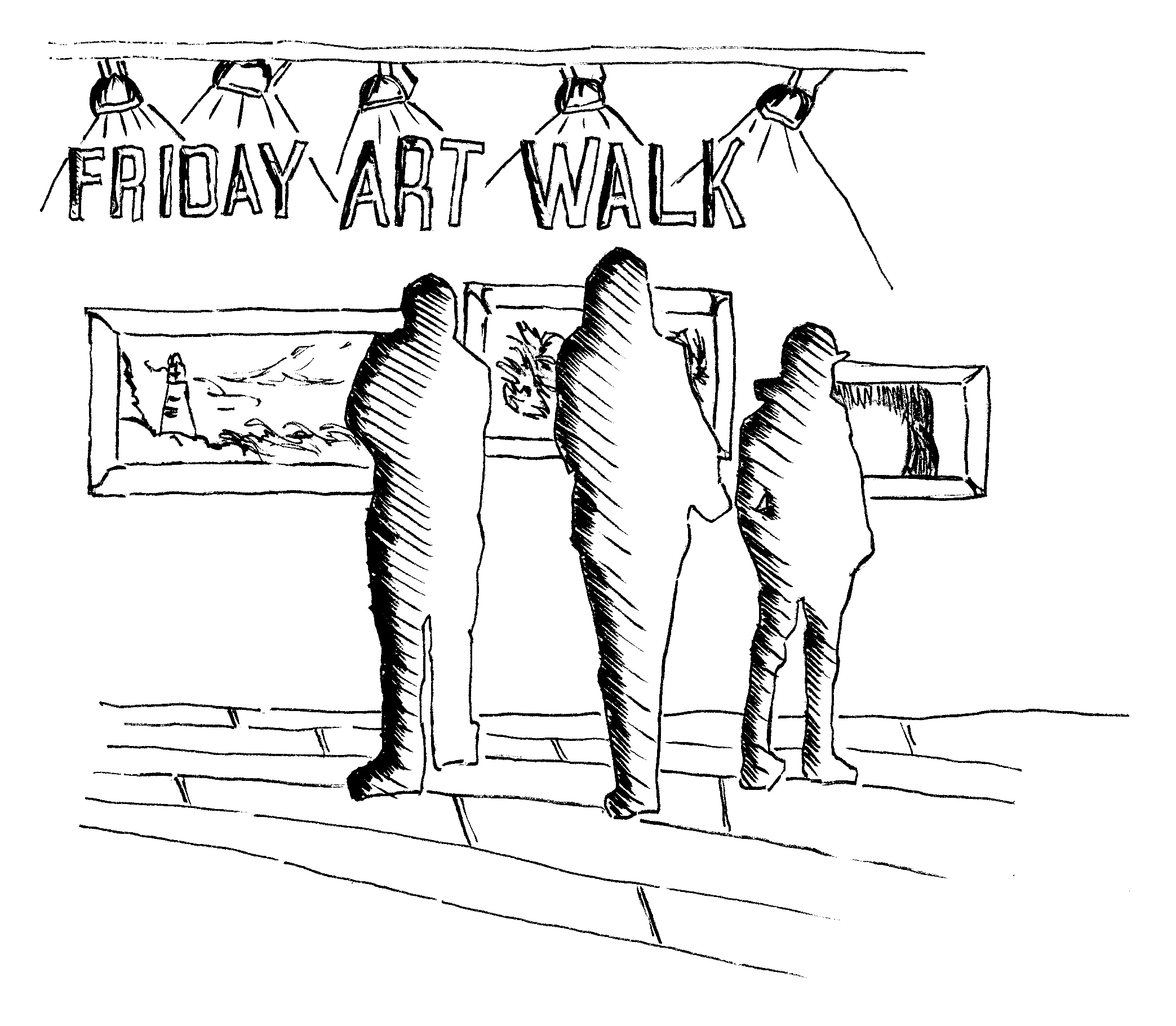 On my first visit to New York's Museum of Modern Art, I wore a baseball cap. While my curly hair protested vehemently as I forced its tendrils under the crown, I received louder complaints from museum security guards regarding my fashion decision. As I sought a closer look at the works on view, my hat's brim hovered precariously close to the surfaces of stained canvases, coated with centuries-old, cracking oil paint. For me, one of the most appealing parts of an art museum is the recognition that the hands of phenomenal artists actually touched these surfaces; they stood in front of a blank canvas and made the decisions that caused us, years later, to be able to understand a pile of fibers and pigments to be worth millions. So, understandably, I try to get as close as possible, despite the discouragement from alarm systems and uptight security guards.
Museums decide for you what you are supposed to view as precious—in other words, what's worth keeping your distance. Especially for artists living and working today, having your art hanging on one of those white walls equates to the pinnacle of achievement in the art world. However, I feel that there's something slightly unsettling about being told what or whom I'm supposed to like. Whether I'm directing my anger at an overpaid TV producer (who can't create three-dimensional characters!) or at a curator, I wish to be able to form my own opinions about the work in front of me.
Of course, this relationship is inherent to the structure of an art museum; the canvas will deteriorate if touched by every visitor, and most people want to see the art world's best and brightest hung in one room. Still, who is determining what defines artistic innovation—what is the "best"? If you, too, crave an evening chock-full of art that breaks free from the confines of obnoxiously pristine white walls, I invite you to crowd the streets of Portland for the First Friday Art Walk on May 3 from 5-8 p.m.
On the first Friday of every month, the doors of Portland's galleries, artist studios and other peculiar spaces are pushed ajar, inviting visitors to participate in a free and self-guided tour of the Portland art scene. The number of venues rose to 115 locations during last month's walk and will likely continue to expand. From wood panels of coffee shops to the halls of Wellness Connection—a cannabis dispensary—the offering of venues and artworks break from the conventions of typical museums and galleries.
There will be a massive diversity of work: beeswax paintings, a circus performance, pennant flags, scavenger hunts with local artists, pop-up markets, portraits on plastic bags and hundreds of other pieces and events. I urge you to step into the SPACE Gallery, a small studio space in the Arts District. The gallery's walls currently bear eight payphones, a part of the exhibit "HOTLINE," in which visitors can listen to distinct soundworks inspired by projects like singer Erykah Badu's "But You Caint Use My Phone (Mixtape)" and cell phone dial tones. Duck into The Press Hotel, where California-based artist Andrew Hayes will explore the relationship between the inflexibility of steel and the text-soaked pages of unbound books in the exhibit "Material Intersections". Even the renowned Portland Museum of Art will be open, where you should specifically peek into the thrilling exhibit "Relational Undercurrents: Contemporary Art of the Caribbean Archipelago" before it closes just two days later.
While I could spend thousands of words ranting about the delectable oddities of all of the different works on view, the evening is really not about the art itself—especially not my personal opinion of it. Through grouping the galleries into one event, there's no single dominating voice that tells visitors which work is the most valuable or the most worthy of your time. The galleries become artworks, all resting upon Portland's brick walkways like framed treasures in a white cube. All of the work is put on the same playing field, on the same wall.
The evening is a true work of relational aesthetics—of the experience of interacting with hundreds of other participants and the joy you will derive from a true choose-your-own-adventure art experience. With Bowdoin students currently swept up in the ecstatic joy of Ivies concerts, a timely analogy can be drawn: while you may not like all of the artists, you're guaranteed to have one hell of a time.