Men's tennis defeats top-10 team Wesleyan 6-3
April 5, 2019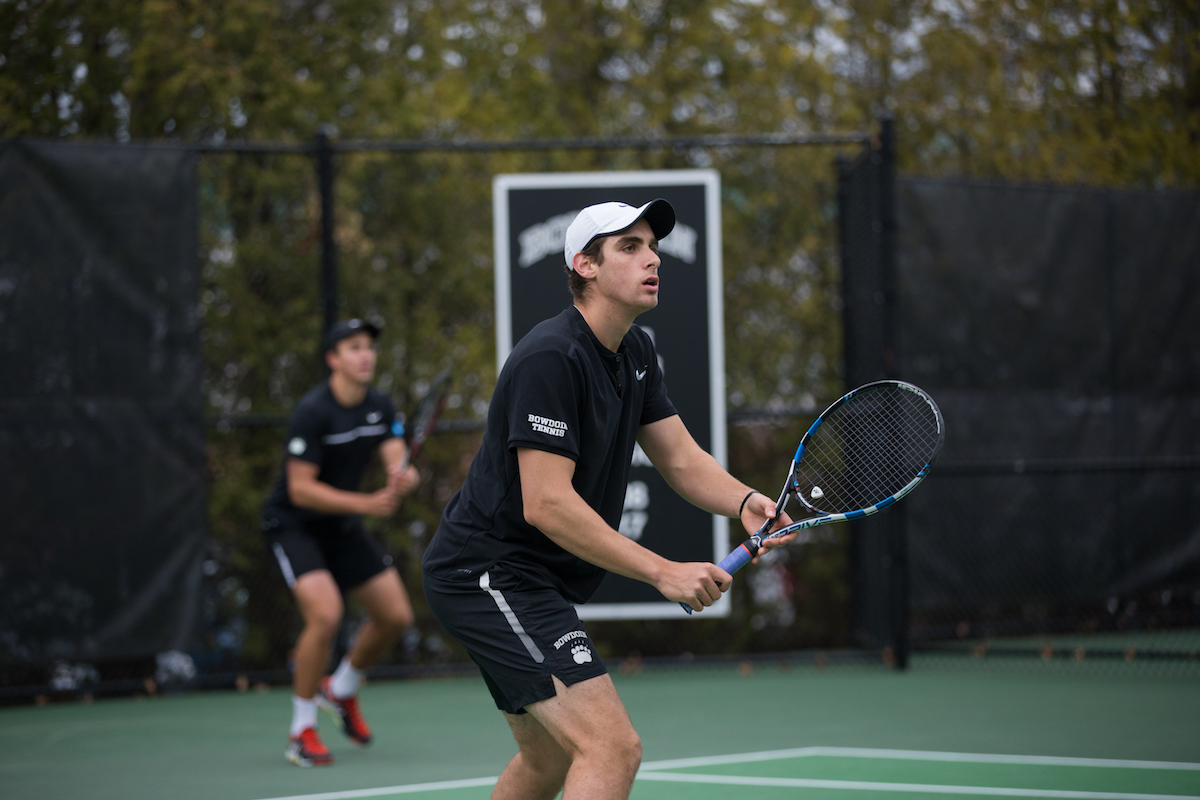 After returning to New England from spring training in California with new players and skills, the fifth-ranked men's tennis team (8-1, 2-0 NESCAC) defeated the seventh-ranked Wesleyan Cardinals (9-2, 2-1 NESCAC) 6-3 last weekend.
In California, the Polar Bears were able to compete against strong teams while solidifying their dynamics and individual roles, ultimately finishing with a 7-1 record and their first NESCAC win of the year against Trinity. These strategies were on display again during their victory over Wesleyan.
"Trying to form a team identity [in California] is definitely a key part to that trip," said captain Grant Urken '19. "Especially with so many young guys, it was a good way to begin to form what we hope to become towards the end of the season."
"[Spring training is] always our favorite time of the season," added captain Jerry Jiang '19. "There is no school—just playing tennis and enjoying the weather. We try to improve our skill as much as we can. [But] at the same time it's a team bonding trip, which is why I think the Wesleyan match was an indicator of … people getting more connected."
The team's first two NESCAC matches of the season provided the athletes with needed confidence to face upcoming competition.
"Coming off our strong spring break training it was something we wanted to continue once we came back. We have had lulls in the past once we come back," Urken said. "It was really good [to win] from the team morale perspective."
The team entered this season after graduating three high-performing seniors, all of whom held Bowdoin records. Though they left big shoes to fill, their absence has not held the team back.
"We are a pretty young team, and the younger guys really stepped up," Jiang said. "It was important to us because this program is about development. Seeing the freshmen and sophomores step up was really important to set the tone for the future matches. We were still trying to put it together, and at Wesleyan everyone found their role."
"We were definitely super excited about our freshmen," Urken agreed. "These are big-time matches that definitely count towards our end goals. For them to be able to be resilient in those situations was huge for us."
Moving into next weekend's matches against MIT and Brandeis, the team is trying not to be results-oriented; rather, it aims to perform the best it can in every match.
"For us it's really about improving everyday," said Jiang "Results-wise it's always ideal to get the win but the process is really important. We are a process-oriented team, and we keep our blue collar mentality and grind for as long as we can. Hopefully the results will go our way."
Going into the rest of the year, the team aims to reach its peak performance in May in order to prolong its season. The Polar Bears will compete against top NESCAC contenders in the coming month with the hope of continuing its strong performance earlier in the season.
"Right now, we want to focus on every weekend match," Jiang said. "From now on it's going to be [against] very strong teams. Of course we care about winning and losing, but at the end of the day we want know that we did everything right and leave no regrets."
The Polar Bears will face MIT at Maine Pines today at 3 p.m., followed by Brandeis at home on Saturday at 1 p.m.