Volleyball looks towards Colby and Bates after strong weekend
September 15, 2017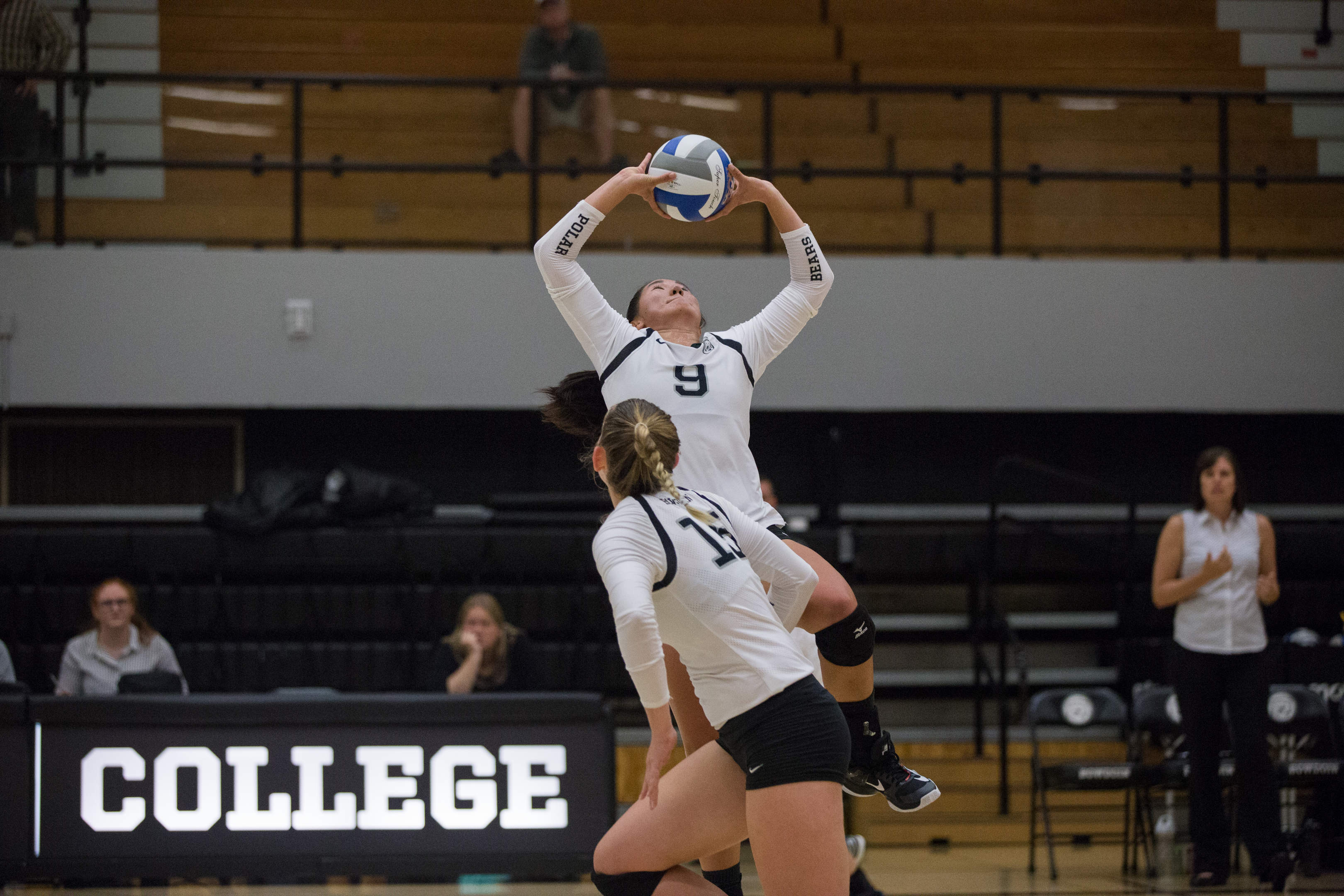 The volleyball team (3-1) will open NESCAC league play this weekend at home against rivals Colby (1-3) and Bates (3-2).
Last weekend the team traveled to Boston to compete in the New England Invitational, its first tournament of the season. The Polar Bears swept both Brandeis (4-3) and Marymount (4-5) by 3-0 decisions and narrowly lost to Minnesota-Morris (7-2) in a five-setter by a score of 20-18.
"We had a really good opening weekend for us," said Head Coach Erin Cady. "Heading down to play Brandeis on Friday, I think that's when we started to see our team really grow and we continued to improve throughout the weekend at Tufts."
The tournament served as a crucial experience for the team, which is preparing for its first in-conference games. Both the starters and the bench, including all six first-years, received playing time. It was a chance to get to know each other's playing style and practice various offensive and defensive systems in a live game situation.
"Because the entire team was very focused and in the game, there wasn't a separation between the bench and the starters," captain Michelle Albright '18 said. "Everybody was playing and thinking about the game together and it allowed us to move players around and bring in people who were not starting, who were able to fit in well and contribute in games where coach had the confidence to put them in."
Stepping up as a new starter for the second weekend in a row, Kate Kiser '21 has filled the role of setter on the team. Averaging 11.5 assists per set, three digs per set and 1.13 kills per set in the first four games of the season, Kiser was named the NESCAC Volleyball Player of the Week this week.
"[Kiser] had a great weekend leading our offense and taking control of that, basically being the quarterback of our team," said Cady. "It is a big spot to fill as you come as a first year. I think she handled the role really nicely. In her position she really has to look at what offensive strategies we need to play out for that game and make those decisions in game time."
In the game against Minnesota-Morris, Kaiser racked up 61 assists—the program's second highest total in a single game. The record belongs to Margo Linton '08, who had 63 assists in a game against Bates in 2005.
"It's not just me, it's a team effort. I could not get the assist without the passes, and I could not get the assists without the hitters," Kiser said. "And it's just really surreal, I'm coming in as a first year, and being able to make the impact and the difference for the program and being able to step up, I'm definitely ready for it, and super excited for what the rest of the season brings."
Bowdoin hopes to build upon its early success as it faces off against Colby and Bates this weekend.
"First league opening weekend is really big for us," Cady said. "Our preparation is taking care of ourselves early in the week, so taking a look at what we did well last weekend and what we need to improve on from last weekend. Later in the week that's when we will really dive into Colby and Bates specifics on what we need to do to defeat them. We will be watching films as well as preparing what their offense might look like and where defensive holes may be."
The Polar Bears defend their home court against Colby on Friday at 7 p.m. and Bates on Saturday at 1 p.m. They will finish off the weekend against Johnson and Wales on Saturday at 5:30 p.m.