Cross country opens season at home with Bowdoin Invitational
September 15, 2017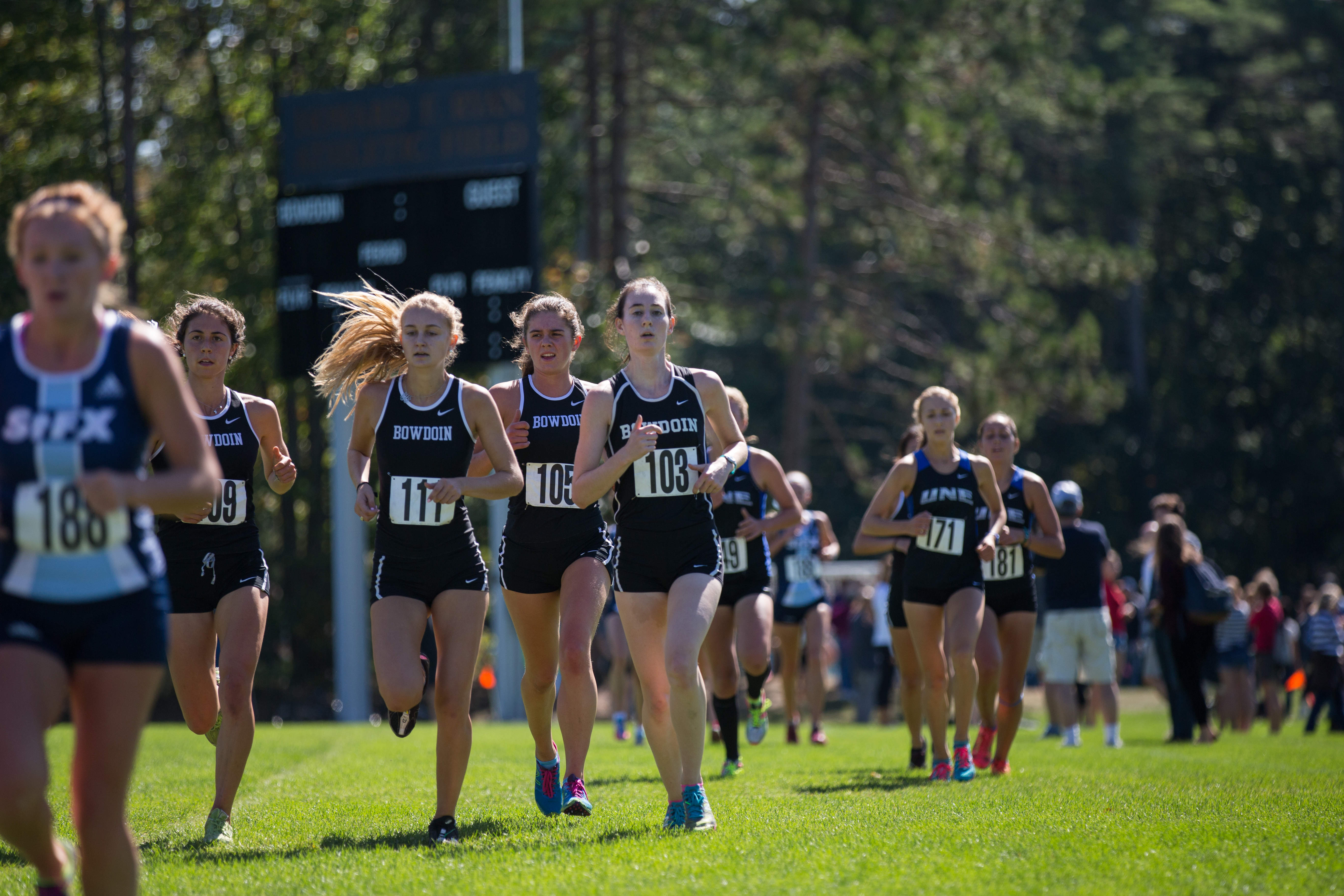 Although cross country is typically considered an individual sport, the team believes its chemistry will be crucial as the Polar Bears start their season at home this weekend during the Bowdoin Invitational.
Both the men's and women's teams have commented on how a strong team culture has affected their running strategy.
"I think our plan will be to have a pack run, for the top seven, eight, or nine people. The best thing to do would be to work together [and] work off of each other," men's captain Connor Rockett '19 said. "Having a partner to run with on a race like this can do a lot of good."
Men's captain Sean MacDonald '19 believes that this pack mentality helps the performance of individual team members. The captains have been building this team closeness by hosting team dinners, making trips to Coach Peter Slovenski's summer camp and gelato runs.
"I think it does [relieve pressure off the individual] in a good way," he said. "Not that people won't hold themselves responsible, but that they'll feel like they don't have to do it [all]. There will be so many guys that they'll want to [perform well], and I think that positive mindset will be a really good contributing factor."
The men's and women's teams had a very successful 2016 season after both placing in 8th at the NCAA DIII championships. Both would like to continue that momentum going into this season. Women's captains Julia O'Rourke '19 and Sarah Kelley '18 hope to focus on having a competitive season yet not losing the welcoming and fun atmosphere of the sport.
"Going forward we want to make sure everyone takes this seriously," O'Rourke said. "But we also want to make sure that it is also a really good community for all of the women on our team."
Along with the team's camaraderie, O'Rourke emphasized the strength of its numbers. The team's 18 sophomores have been crucial to helping the first years become acquainted with the team and the College. While both the men's and women's cross country teams lost some key seniors last spring, their summer training and strong first year runners have made the transition into the 2017 season nearly seamless.
Going into this weekend both the men's and women's teams are focused on setting a competitive tone for the season, while also allowing the first years to get acclimated to college racing.
"This is a good opportunity to get our strategy, try something crazy, work on a new thing, help first years adjust to the new race day atmosphere," Macdonald said. "And then the next meet we have here, we'll practice again and get it more honed for the third time, and hopefully by then we'll have it down to almost a science."
While the invitational is viewed as a "good workout" among some of the teammates, it will help the team become more serious and set the tone for championship meets, especially the DIII meet, which Rockett believes is the most important meet of the season.
"The DIII meet will be a really good time for our team to give it all we've got," Rockett said. "That will be the apex of our season."