Grandmothers for Reproductive Rights host reproductive justice teach-in for students
October 21, 2022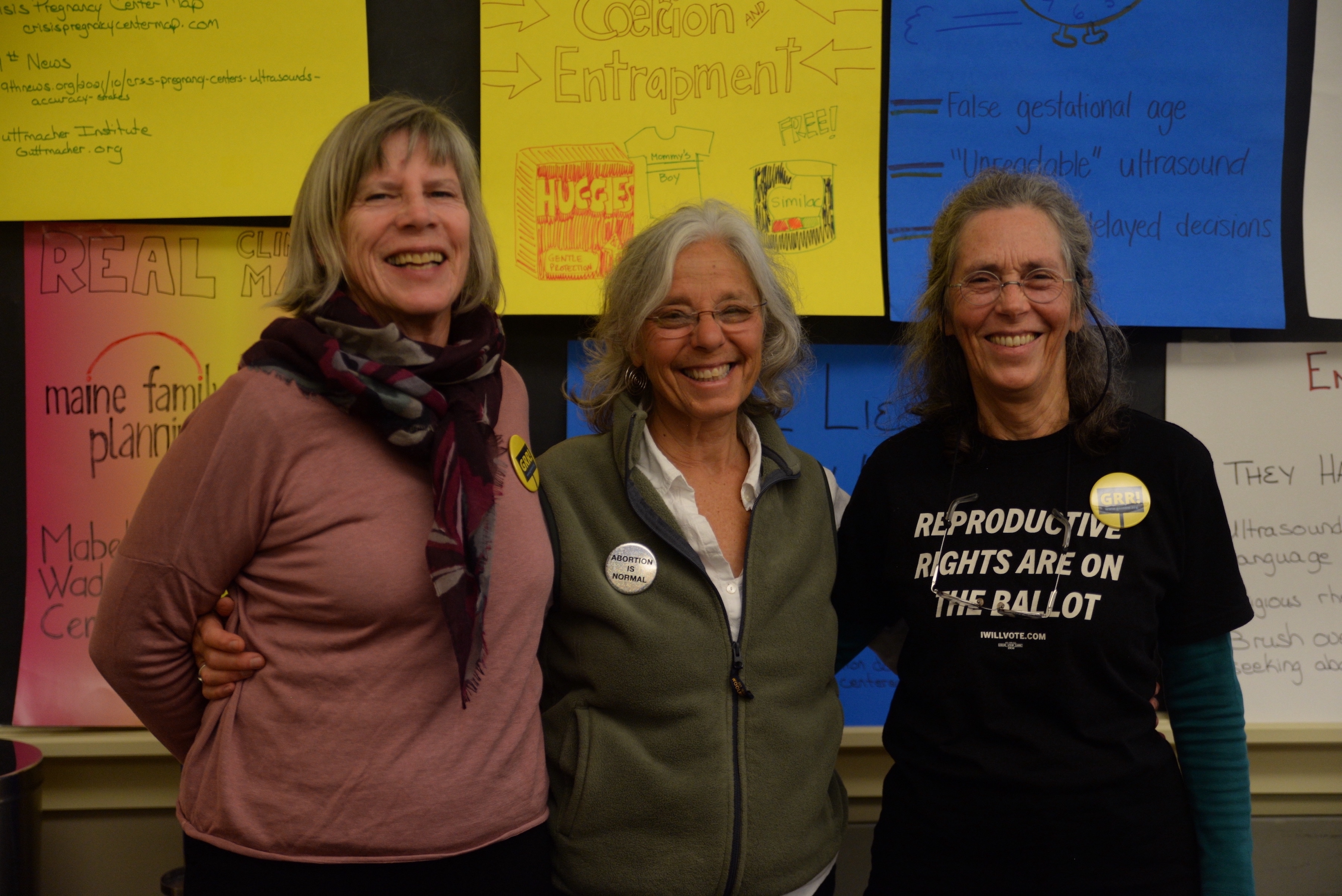 Editor's note 10/21/2022 at 3:16 p.m. EDT: A previous version of this article mistakenly reported that Planned Parenthood's Topsham location performs abortion services. The article has been updated to reflect that the clinic offers abortion pills. 
The Bowdoin Reproductive Justice Coalition (BRJC) welcomed Grandmothers for Reproductive Rights (GRR) to Adams Hall Tuesday evening for a teach-in on anti-abortion centers open to the entire community.
Elayne Richard introduced herself, Beth Chiquoine and Lucy Hull as GRR educators and leaders of the conversation.
"We call ourselves 'GRR' because we're kind of mad about things," Richard said.
BRJC leaders Cambron Wade '24, Luisa Wolcott-Breen '25 and Kaitlin Weiss '25 were pleased with the full table.
"I'm very proud of how many people showed up and showed their interest and care about reproductive justice on this campus," Wolcott-Breen said.
Though GRR was founded by grandmothers, it emphasizes intergenerational cooperation.
"You guys have your feet on the ground. You know what you need now, and you have a bit more energy than we do," Richard said.
"For a room full of college students, that's really inspiring, to see a group of people who have led the charge and are now giving us tools to continue that advocacy," Weiss said.
GRR fights for the right to bodily autonomy, which includes creating sustainable communities that ensure food security, clean air, clean water and free and accessible education in addition to abortion access.
"We can't just be pro-choice anymore, we have to be pro-access," Richard said. "Because what good is choice if you can't access something that you need?"
The teach-in was part of GRR's Reproductive Options Exist (ROE) campaign. Richard, Chiquoine and Hull took turns explaining the methods and warning signs of anti-abortion centers. They exposed the eleven anti-abortion centers in Maine, including Brunswick's Care Net of Midcoast Maine right off Maine Street.
GRR taught the audience how to recognize the enticing rhetoric often used to bring people into anti-abortion centers. These centers offer free pregnancy tests and ultrasounds, which prey upon those who cannot afford medical services elsewhere.
However, as these centers don't require medical licenses of their employees, information isn't protected under HIPPA. The pregnancy tests and ultrasounds are unreliable, and since the centers are unregulated, they are able to spread scientifically false information to dissuade visitors from seeking an abortion as long as possible. Centers will encourage people to regularly return for more pregnancy tests and ultrasounds, "running out the clock" until an abortion cannot be easily obtained.
GRR said that centers advertise false claims about abortion, including that abortions cause breast cancer or that individuals commonly experience regret following the procedure. Centers use religiously and emotionally-charged language and require pregnant women to attend center-sponsored classes to earn other free services.
Overall, GRR's presentation fits with the larger work that BRJC is aiming to do on campus.
"We're trying to educate as many people as possible, and that's what this teach-in was," Wolcott-Breen said.
Weiss encouraged Bowdoin students to take advantage of the resources they have on campus and in Brunswick.
"There is a Planned Parenthood in Topsham that is a legitimate place to obtain safe and legal abortion [pills]," Weiss said. "You can go through Health Services and they can organize a taxi and help you get an appointment."
While the Topsham location offers abortion pills, Planned Parenthood's Portland location offers in-clinic abortions.
This teach-in was just the beginning of BRJC's plans for this semester. Reproductive Health Week, running from October 31 until November 6, will feature collaborations with clubs and groups on campus to further BRJC's work. However, the lessons BRJC leaders learned from the teach-in will inform and inspire their work going forward.
"I think it's cool that we can have grandmothers and activists, really badass activists, coming and talking to us," Wade said. "It wasn't them standing … they were sitting with us, having a conversation, answering our questions. Being mad with us, caring with us."