Tree teachings
September 30, 2022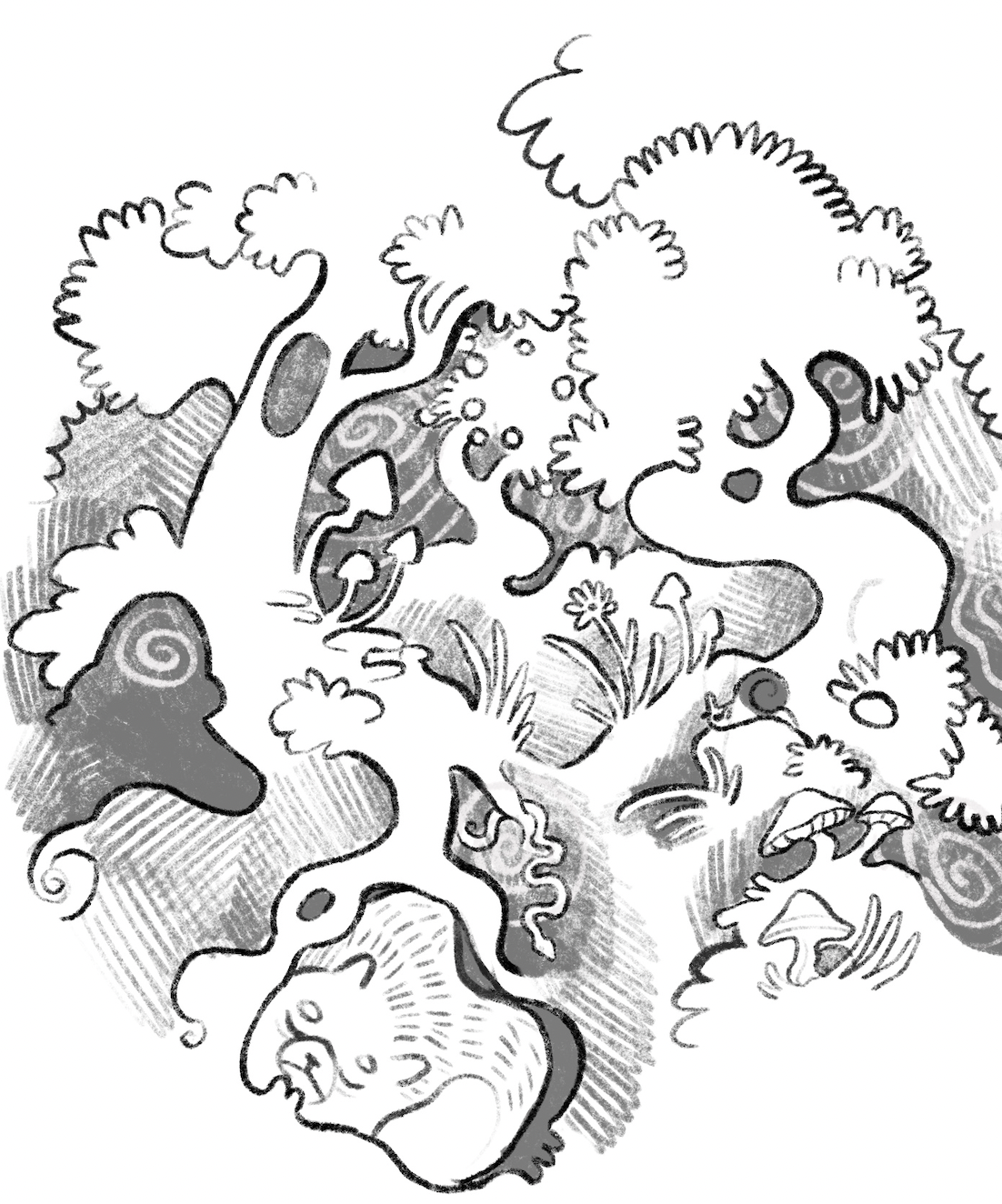 When you think of a forest, maybe you think of an ecosystem. A hierarchy, a function, a mechanism of inputs and outputs driven by competition. Maybe a million tiny elements working asynchronously, maybe a huge, labyrinthine conglomeration of life bound by rain and sunlight and soft dirt. Forest makes up one third of the Earth's surface. It's hard to wrap your head around what you could be missing.
Throughout my childhood, the forest seemed like a smaller mystery than the ocean, which could probably be chalked up to mere exposure. I hiked over every minute complexity, each detail—root systems, rubbery green plants, mossy bark. Forest spilled out towards the horizon, all the mountaintops morphing into one vast and mysterious entity. Maybe it's more intuitive to think about it that way, but it turns out there's a lot more to learn if you take a moment to look at things on a smaller scale.
"The Overstory" by Richard Powers provides an interpretation of the complex roles trees play within their own ecosystems and their messy relationship with humanity throughout the years. Powers's interlocking narratives, among many other irrevocable truths about humans' impact on nature, reveal a hidden order within forest ecosystems upending notions of competition. Individual trees act as part of a larger system, communicating with and relying on each other through chemical signaling; one character argues that viewing trees in such a way offers a new perspective on how we exploit them and their environments. In the wake of this new knowledge, Powers's story also delves into the ways science constantly evolves as we grapple with new conclusions—the way our perceptions are repeatedly overturned.
With potent narrative, Powers subverts how you might think the forest works, how you interact with it, how you look at the tree spiraling outwards through your window. We often label trees as machines sucking up carbon dioxide and pumping out the oxygen circulating through our lungs—a covert mechanism driven by little but survival instinct. We often label anything that falls outside our paradigms with a simplicity it does not deserve. With the research on tree communication that many scientists have corroborated, and that Powers offers up to the public in his novel, it's one thing to say that we should protect the trees because they behave in a way resembling a human definition of cooperation. It's another to look at this ancient system for what it is and say that we should protect the trees because they possess a complexity with a foundation deeper than any of us can imagine.
We often ask the question of what we can learn from trees, and yes, there are many things they can teach us. They can teach us about community, survival, time, patience. But maybe there's more we can learn from how we relate and perceive them, the ways that we picture them within our own synthetic hierarchy. It's easy to look out on a landscape and see a forest as one ecosystem. It's harder to see it as a community, and even harder to look at it as many evolving interactions compounding upon one another in increasingly convoluted ways. Maybe what it can teach us is that our perceptions are meant to be toppled, built up, torn down again—all until they truly represent what we're seeing.
I've been at Bowdoin for just over a month now, and I've been a little thrown by this cycle. Living in a new state, meeting new people, trying to discern my own self—my perceptions are blurry. But as the weeks go by, as change somersaults through my life yet again, it becomes a little clearer. New layers build up, new details come into focus, and maybe that makes it a little more complex—but maybe it also lets me drive my roots a little deeper.