Running the long Covid marathon
September 9, 2022
This piece represents the opinion of the author.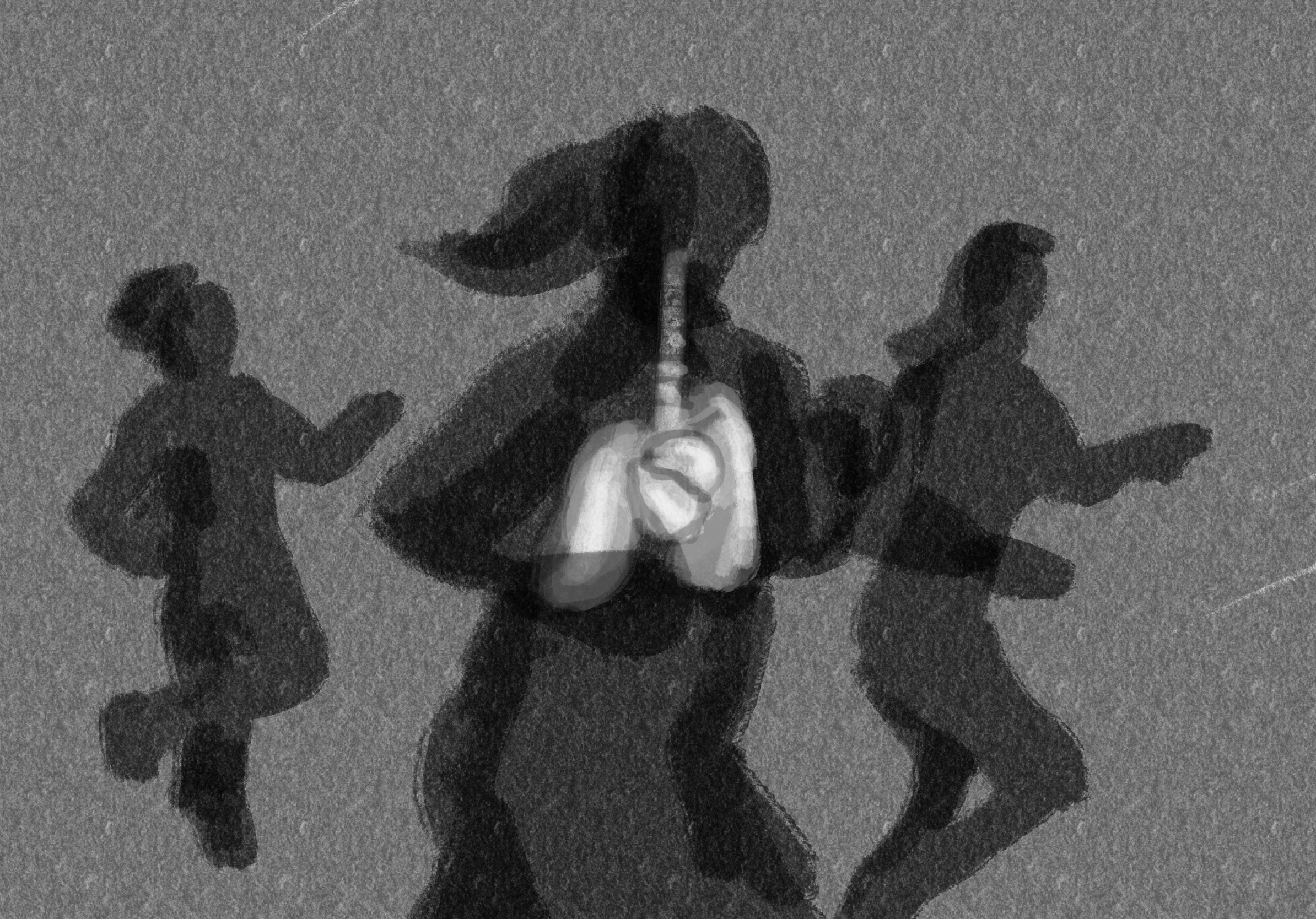 As Allie Ostrander says in her 2021 YouTube video "ugh," being a runner and losing running to an injury or other health issue is a loss that requires grieving. She dramatically (and hilariously) acts out the five stages of grief and explains that it's possible to experience multiple stages simultaneously or many times. While I've experienced my fair share of running-related injuries, my experience with long Covid this summer has been by far the worst.
In mid-April of this year, I received a positive test during Bowdoin's big Covid outbreak. I had a pretty mild illness, and recovered in time to run the 800 meter at the NESCAC meet, an experience I'll never forget. As summer training began, I was feeling excited and motivated to run 40-mile weeks. By mid-June, I started feeling extremely fatigued. I eventually dragged myself out of bed for a very slow, short run and had to lie down on the floor after returning to my apartment. That night, I had trouble taking full breaths and felt like someone was pressing down on my chest. For a runner who has never had breathing issues, it was terrifying to feel like my lungs weren't able to give me the oxygen I needed just lying in bed. Over the summer, crushing fatigue, chest pain, headaches, insomnia and brain fog became part of my life, and running became something I only did in my dreams.
Other than temporarily losing running, one of the most difficult parts of long Covid has been explaining it to other people. I've had doctors tell me that I should be able to run because my lungs look normal on an x-ray and friends tell me that I shouldn't let long Covid stop me from doing what I want to do. Luckily, I've been blessed with incredible support from my parents, sister, friends, professors and a few incredible doctors who took the time to listen to my symptoms and prescribed me crucial iron supplements and a temporary inhaler.
My greatest wish in dealing with long covid is to be taken seriously. Many of us think that Covid can't impact us to any major extent, and as a vivacious college runner, I did too. Now, it makes me angry to see Bowdoin rolling back well-researched, common-sense measures like testing out of quarantine, testing availability for asymptomatic students and publishing a covid dashboard. I'm not advocating for hysteria, but accurate risk assessment means acknowledging that three days before testing positive, I ran a 2:30 800 meter and five months later, I can only do yoga and easy run/walks.
Unlike most people, I can't walk away from the reality of this illness. After an echocardiogram in August, where I got to see my own heart beating on a screen beside me, I cried in the car with my mom on the way home. Watching my heartbeat— the one heart that has taken me through so many miles of running, PRs, bike rides to the ocean and hikes with friends—I felt both more vulnerable and more grateful for my body than I ever had before. As advised by Allie Ostrander, I spent lots of time grieving over the summer, and came to a place of acceptance, allowing me to move forward in my journey to heal, and be grateful for every step of the way.
I'm still at practice whenever I can, taking splits and doing warm-up stretches with teammates before going off on run/walks on my own. I'm only running a total of five minutes, but I feel such profound joy and gratitude every time I get to run at all. I still wake up from dreams where I'm sprinting, running over sand on the beach as hard as I can, my teammates beside me. I know it will be a while before I'm back to hard runs outside of my dreams, but I trust in the strength of my body and spirit to bring me back, arms and legs stretching out, joyfully and powerfully reaching past my limits once again.
Adele Metres is a member of the Class of 2024