139 students
September 9, 2022
This piece represents the opinion of the author.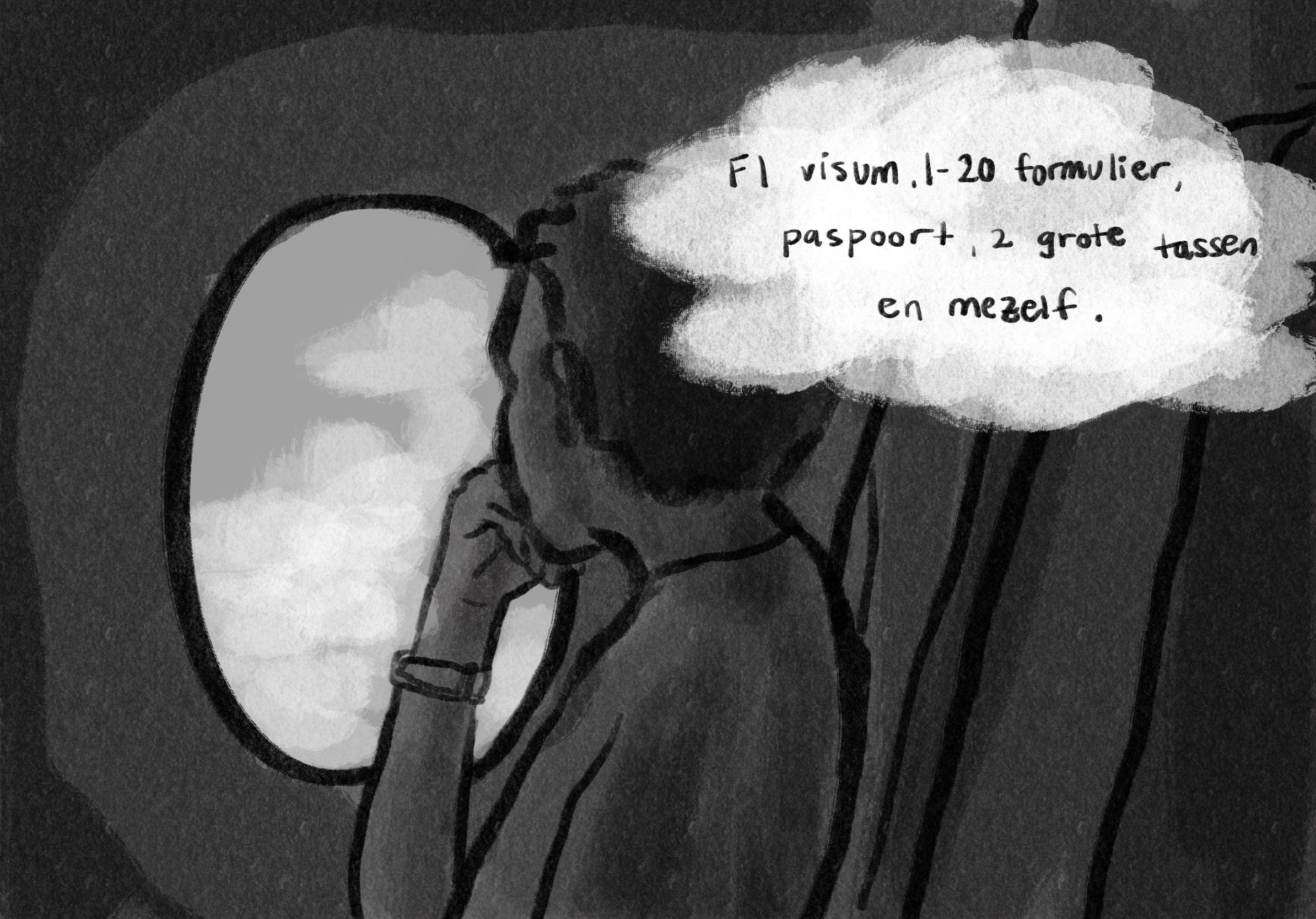 "F1 visum, I-20 formulier, paspoort, twee grote tassen en mezelf" is what I thought when I stepped onto the plane in Brussels.
Why did I leave? That's a question I ask myself quite often. I know other people have less of a choice than I do. I know I could have stayed and applied to study Biology at the University of Amsterdam. But I did not, and I am trying to convince myself that I will not regret it.
"F1 visum, I-20 formulier, paspoort, 2 grote tassen en mezelf" is all I have right now.
On move-in day, I wait alone in my room for my roommates to arrive when, all around me, I see moms and dads holding their kids and saying their goodbyes. They both understand that this is a big moment. "Do you have everything?" I hear a mom say. They drove here from Massachusetts—two cars filled with memories and appliances—to drop their son off at Moore Hall.
"I miss my family," I think to myself.
"F1 visum, I-20 formulier, paspoort, twee grote tassen en mezelf" is all I have to offer.
I made the choice, so I cannot complain when all they talk about is places I don't know and shows I have never seen. I thought I spoke English fluently, but is this the English I was taught, or is this something else? American childhood jargon does not pair well with a social battery that has been depleted from overthinking every word in my second language before uttering it. But I get it; I also gravitate to those I can relate to.
Though some of these feelings are not exclusive to international students (I am thinking of low-income students or students who come from faraway places inside what is considered the USA), there is a large difference between the international experience and the domestic experience at Bowdoin. It is something we do not talk about enough. Some might argue, "it was your own choice, right?" or "you should have seen it coming." It was my choice! And maybe I should have seen it coming; however, I do not regret coming here. I know this is where I should be. At the same time, that does not mean that I won't voice the changes I would like to see. It does not mean that I won't say how hard it can be; to feel homesick, while at the same time losing connections that have become harder to uphold as speaking my native language becomes less instinctive. I continuously mourn the time I've lost with loved ones and my parents. I see them age every time I go back. I often found myself asking why I even came at all, especially throughout my first year, because I never felt genuinely invited. Sure, my country's flag behind Dean Quinby during her orientation speech was a heartfelt symbol—but it was just that, a symbolic gesture.
On the other hand, I know there are people at Bowdoin who work to help international students every day. Still, for a student population of 139 students, we should feel as included as domestic students. We should feel like Bowdoin actively engages with our international experiences and that the school works to bridge the gap between international and domestic students, especially with Bowdoin's recent move to a need-blind policy for international students. The intersection of my socioeconomic class at Bowdoin and my international identity have played a role in my failure to assimilate. With a need-blind policy, Bowdoin will have to be ultra-aware of that intersecting identity.
I feel for every incoming class of international students, and I would like to give them a hug and tell them it will be okay, because it will, but it takes time. It takes time for Bowdoin to improve international inclusion. However, time spent away from home is also time spent finding your footing at Bowdoin. Living between two worlds is hard, but the one thing that always makes me feel less alone is the thought that in all of our differences, in all the 54 countries we come from, the cultures we are part of and the people we miss, we share a big commonality that outweighs the differences: our international experience.
Noah Zuijderwijk is a member of the Class of 2025.