Celebrating 100 years of "Ulysses": Bowdoin students explore Dublin
February 11, 2022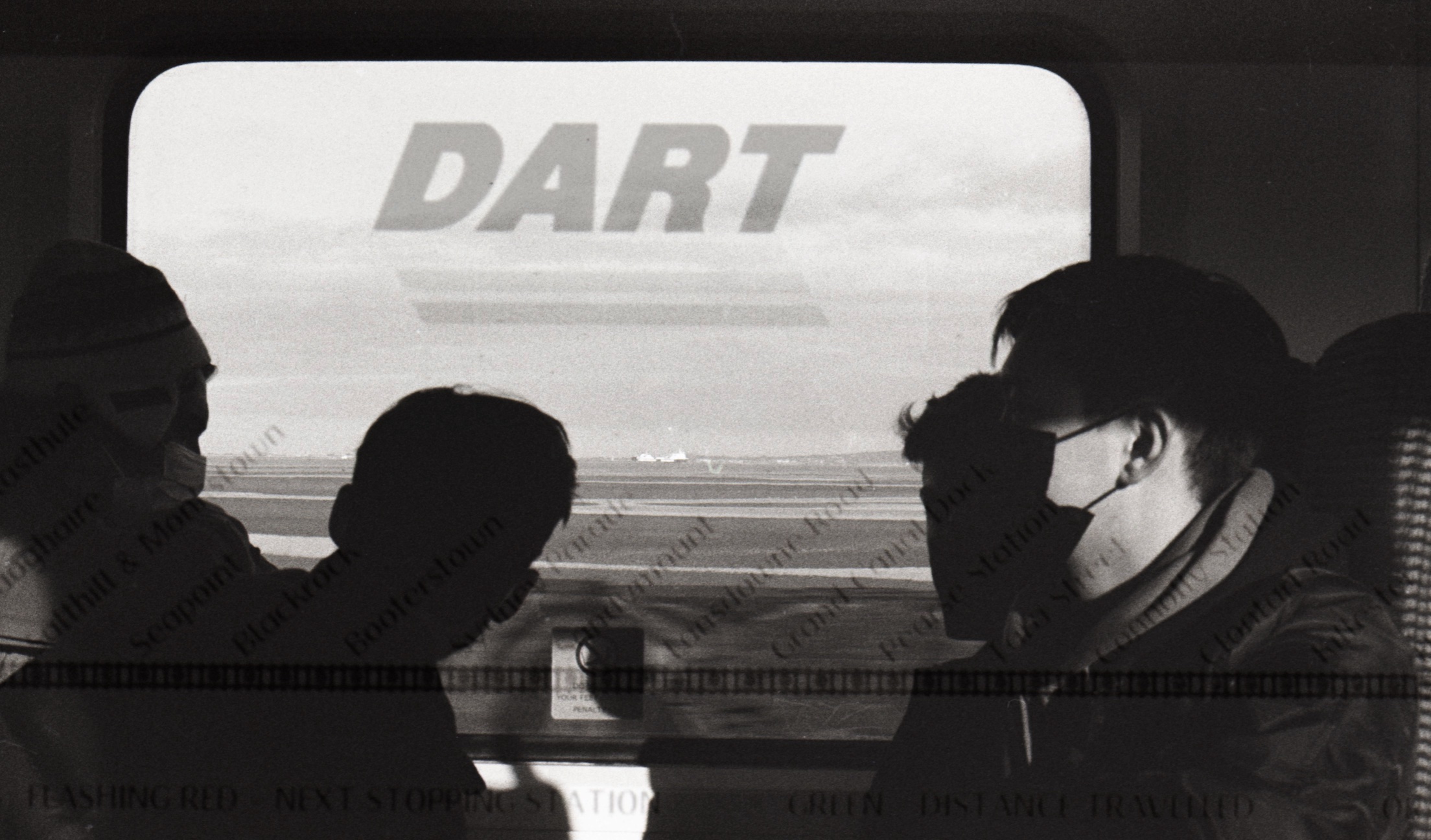 This year marks the centennial of James Joyce's seminal novel, "Ulysses." Set in Dublin, the novel takes place over the course of just one day, chronicling protagonist Leopold Bloom's epic exploration of the city.
In January, Andrew Chang '23, Max Freeman '22, Diego Lasarte '22, Clay Wackerman '22 and Dylan Welch '21 traveled to Dublin to celebrate the novel's hundredth year. On Monday night, they held an event in Hubbard Hall's Shannon Room to present their experiences.
This group of students united last semester over a love of Joyce's work in Harrison King McCann Professor of English and Director of Gender, Sexuality, and Women's Studies Marylin Reizbaum's "James Joyce Revolution" seminar.
"It's often voted the best novel of the 21st century, of the modern period, of ever," Reizbaum said during the presentation. "And what I like to say about it is that it's the best book that no one has ever read."
The group reached out to the Office of Student Fellowships and Research, the English Department and President Clayton Rose to seek support for a proposal to travel to Dublin. Resources from all three parties, in tandem with Faculty Scholarship funds and instrumental support and inspiration from Professor Reizbaum, quickly transformed the group's desire to celebrate the "Ulysses" centenary into a reality.
To mark this special occasion, these five "Joyceians" decided it would not be enough to simply see Dublin. Instead, they decided to fully immerse themselves in the world of "Ulysses," following in the characters' footsteps to experience the city through the lens of the novel.
"It was kind of nice, because the book itself was the itinerary. So we didn't have to do much planning on that part," Wackerman said.
While stops to make on their journey were predetermined, questions about how best to experience them still remained.
"How should we engage with these real-world traces of a fictional landscape?" Freeman remembered thinking during the trip. "How much should we fetishize these locations from the novel, and how much could we make our own meanings of them, above and beyond their Joyceian significance," Freeman said during the presentation.
In an attempt to make sense of these questions, Wackerman used their passion for photography to create a collection of photographs from the trip, which accompanied Monday night's presentation. Wackerman utilized a double exposure technique, which involves the overlaying of negatives to create a double-visual effect. By using the technique to artificially superimpose their fellow travelers onto the Dublin landscape, Wackerman often obscured the content of the images—this was an intentional choice meant to communicate their experience reading "Ulysses."
"One of the things you'll learn upon reading James Joyce is that it's really hard," Wackerman said. "Sometimes you're staring at the page, and you're just like, 'I don't know what this is' … What I tried to produce in these images is a kind of visual difficulty, and if there is something that I've learned from Joyce, it's that illegibility can be a virtue."
Reflected in these images are cherished memories that the group was eager to reflect on and share. For Welch, many of these moments took place in the pubs where he shared food and drink with his four friends.
"[Guinness] was more than a foam drink," Welch said. "A Guinness can go a long way in planting us in the heat of the moment."
One of Lasarte's most gratifying moments was one of the trip's last, when the group explored Howth Head, the site of the final scene of "Ulysses."
"We looked out in the distance into the sea, with Dublin sort of nestled to the side, and we could see Martello Tower, where the book begins and where we started our trip," Lasarte said. "We could see the beginning of the book from its end."
In returning from Dublin, each traveler has carried something unique home to Brunswick. However, something they have in common is their appreciation for the experience of reading "Ulysses."
"I think 'Ulysses' is super interesting because we think of it as this really difficult and inaccessible piece of literature," Chang said. "But it's also, in so many ways, a very welcoming [and] life-affirming book, and there was so much joy in it when I was reading it."
Diego Lasarte '22 is a member of the Bowdoin Orient.