Sixth Annual Millinocket Marathon aims to give back to community
December 10, 2021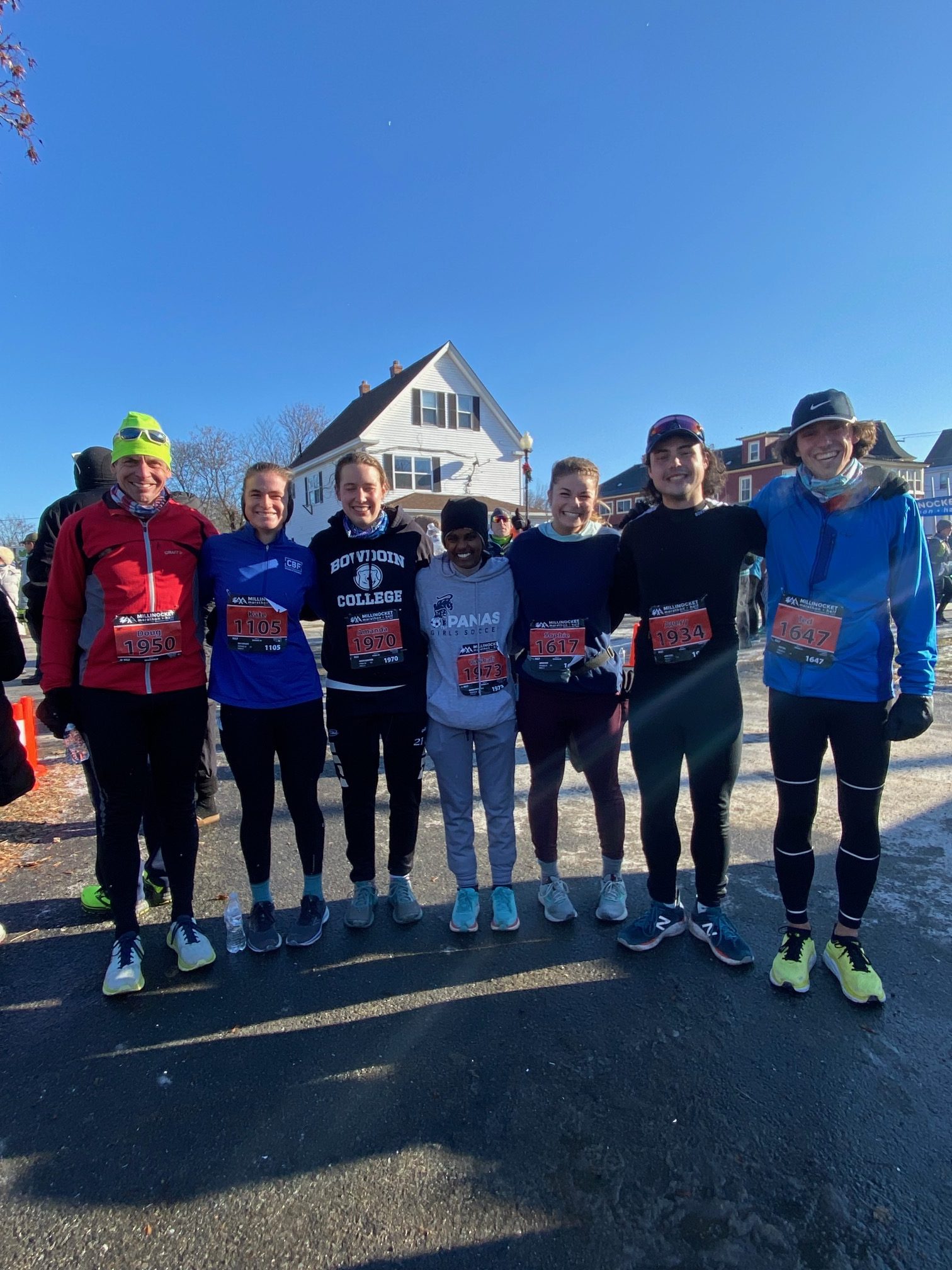 Hosted in a quiet town of 4,200 on the outskirts of Baxter State Park, the annual Millinocket Marathon and Half is more than a road race. An annual tradition for many students, alumni and staff at the College, the races aim to give back to the Millinocket community in Northern Maine. Run by Crow Athletics, founder Gary Allen envisioned this idea after attending the Burning Man Festival in Nevada six years ago—an environment where money has no value and a gifting economy shines.
Millinocket's population peaked at nearly 8,000 amidst the town's heyday in the 1970s, when the local paper mill industry boomed. However, the closure of mills resulted in a severe economic downturn for the area, leaving its residents wondering for ways to bring visitors—and money—in.
"During a rainy day in my office, I read a sad article about Maine's mill towns closing and the whole paper industry ending," Allen said. "I just thought about that experimental city I had experienced [at Burning Man], and wondered what would happen if we threw the whole [race] model out. Instead of paying an entry fee we would make the race free and encourage the same sort of gifting economy."
Later that year, Allen invited friends and members of the running community to a casual run in Millinocket, encouraging them to find ways to help locals.
"The first year we came up to run, spend some money, have a beer and go home," Allen said. "I told the original 54 that if your lunch tab is $25, leave $50 and, [local business owners will] at the very least remember us. Everyone was like 'done, I'll tip 100 percent, I'm happy to do that.' I had no idea what we were doing or that in the long term it would turn into what it has."
Since that first year, the Millinocket Marathon has exploded in size, from the original 54 runners to 1,100 who attended this year. But despite larger numbers, the mission of the race has stayed the same.
"I think there is a vibe in the air, and we really try to educate everyone that the reason you run Millinocket is not for what you get but for what you give," Allen said. "I think everybody puts their competitive sides aside and instead are there to put something back. I think that it flips the energy—the runners feel it and the community feels it."
Attending Millinocket is a tradition for the women's and men's cross-country teams at the College. Women's cross-country team member Cameron MacKenzie '22 had never joined the race before and signed up for the half marathon.
"A bunch of my teammates and I signed up for Millinocket as a fun way to end this semester and continue to run together even though the season is over," MacKenzie said. "It's a tradition, and the cross country team has always brought a small group to go."
For a town like Millinocket, the arrival of runners every year is a cause for celebration. Peter Enger '22, who finished first overall in the half marathon, said he had never experienced a race that was as community-oriented as Millinocket.
"When you finish, it's a really unique experience," Enger said. "The final stretch is down Main Street, and people are just outside their houses cheering you on because they are genuinely excited for you to be there."
MacKenzie was also surprised at how welcoming the community was.
"The ideal example was the last home stretch—everyone was sitting outside their houses with fires and cocoa and [pulling out] all the stops," MacKenzie said. "During the race, every mile or so, people had fresh baked goods, different types of beverages [and] even puppies for you to play with. It was awesome."
Perhaps the biggest hurdle of the race is the cold weather and unpredictable winter conditions—the town's average high in December is just 27 degrees. Despite the chill, Doug Welling, head coach of the men and women's rowing teams, found that the weather wasn't bad once the race started.
"I had anticipated cold weather since I've heard stories from previous years," Welling said. "You know, it was actually quite pleasant to run once you're going."
Allen, who is aware of the damage the weather can wreak on rural Maine roads, has never thought of moving the race to a warmer time of year. For him, the timing in December coincides with the idea of giving back to the community.
"I think that we're always watching the weather, because northern Maine in early December can throw down hard," Allen said. "But this time of year works in so many ways. It's the holiday season, and people are maybe a little kinder, a little more generous … Yes, it might be cold, and yes, there might be a snowstorm, but we're not really there for perfect weather. We're there to do a job and make a difference."
The model of the Millinocket Marathon is the first of its kind. The idea of erasing the entrance fee and encouraging participants to support the local economy instead has started to gain traction as the success of Millinocket grew.
"There's a race modeled after Millinocket which has just started in the Northeast Kingdom of Vermont, and we may actually be changing our sport," Allen said. "We're not only changing a town, but we might be changing how things are done, so that's kind of cool. They say that one person can make a difference, but an idea can make a huge difference."
Over the years, Allen has learned that the impact of the race on Millinocket is much more than economic.
"An elderly couple who were in their 80s and had lived in Millinocket for decades came up to us a couple of years ago. They said, 'we never thought we'd see our town full of people again,' and how do you get better than that?" Allen said.
For runners, the experience of Millinocket and the supportive running community it attracts creates a lasting impression.
"I don't get the opportunity to do a lot of competitive racing, but it's always such an awesome vibe at Millinocket, specifically because everyone is there for the town," said Kate Tapscott '22, who ran the half marathon.
As the popularity of the Millinocket Marathon continues to grow, the goal of giving back to the small town remains at the heart of the race.
"It doesn't matter if you have 25,000 people or 2,500. If the 2,500 come determined to do good and change history, then that's what matters," Allen said. "I think we all come with our sleeves rolled up saying, 'How can we help change history for this town?'"