Men's hockey looks to overcome slow start
December 3, 2021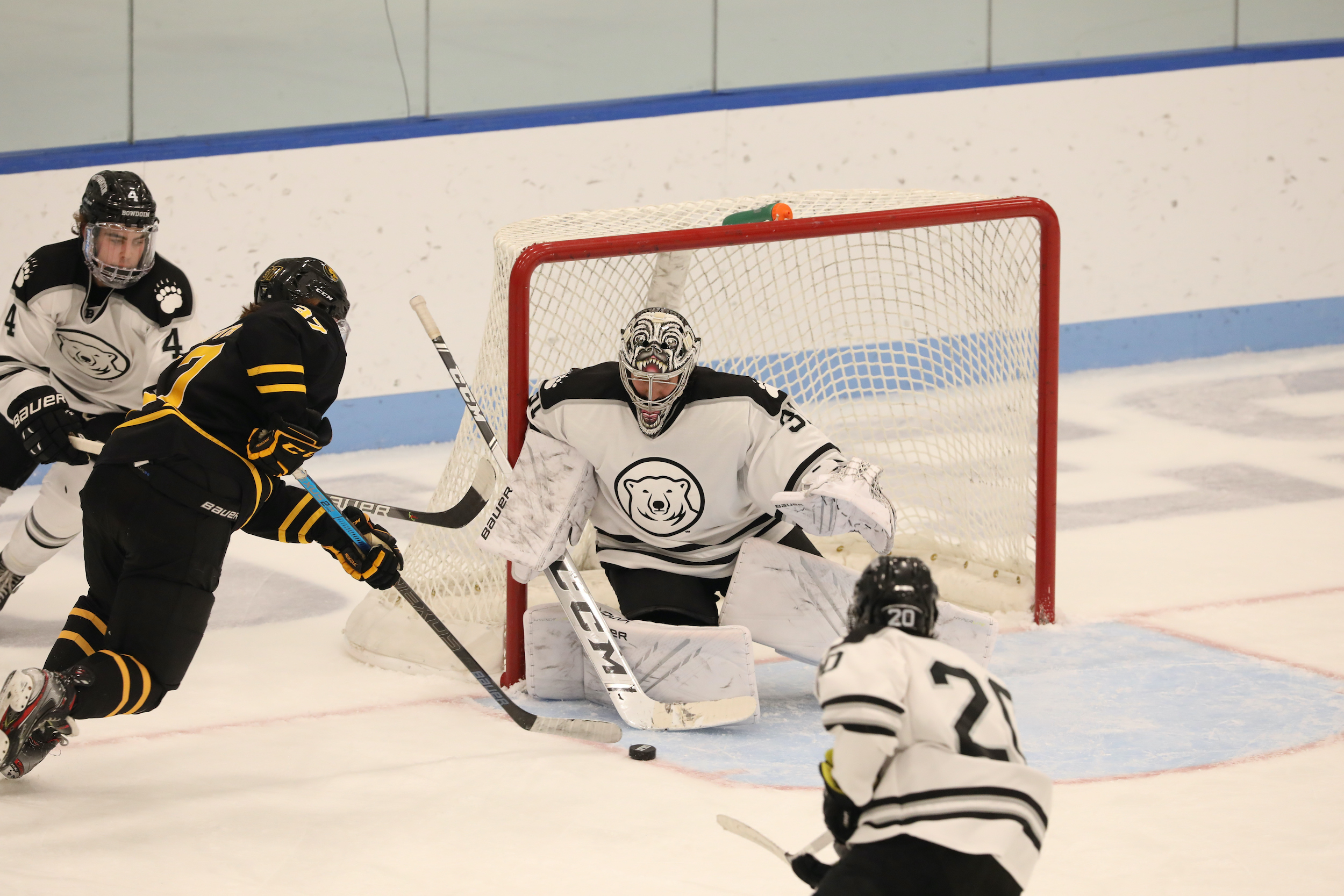 In a slow start to its 2021-2022 season, the men's hockey team currently has a 0-3-1 overall record (0-1-0 NESCAC), recording losses to Williams, the University of New England (UNE) and Babson College.
However, the Polar Bears have been defeated by solid teams. Williams finished at the top of the NESCAC rankings in 2019-2020 but lost in the semifinals of the conference championship. Williams has been a strong NESCAC team throughout the past five years, placing above Bowdoin in the rankings each year. UNE and Babson are ranked 12th and 9th overall in Division III men's hockey, respectively.
Despite the slow start, the Polar Bears are looking to capitalize on a difficult road trip against three fierce conference rivals, the first of which is Colby.
"[The Colby game] is a huge game this weekend that will shape the direction of our season," goalie Alex Kozic '24 said.
Defenseman Graham Rutledge '22 emphasized the need to overcome adversity and stay focused on success in these upcoming, high-stakes NESCAC matchups.
"There's the rivalry [against Colby] and there's the big crowd that goes along with it. Our challenge is to put that aside and just focus on doing our jobs to win the game," Rutledge said. "Connecticut College and Tufts are probably the two hardest actual ice surfaces to play on in the NESCAC, but that can't be an excuse. We have to be as prepared as possible in coming in with a positive mentality, and trying to go on a little bit of a winning streak."
Head Coach Jamie Dumont looks forward to the elevated level of competition and the challenges that accompany it.
"We enjoy going on the road and playing in front of tough crowds. It brings out the best in us," Dumont wrote in an email to the Orient. "NESCAC hockey is the best [Division III] league in the country."
Even in a difficult league, the Polar Bears have high aspirations.
"Our hopes are to win the NESCAC Championship. That's been our goal since day one, and the culture that we're trying to start here," Rutledge said. "We can't settle for anything less than that."
The team believes it can do so, placing faith in its diligent work ethic cohesion.
"I'm happy with how hard our team is working and how we're sticking together as a team," Rutledge said.
Despite being winless through its first four games, Kozic is also optimistic about the team's potential for strong performance.
"We have shown good patches of play," Kozic said. "It's just that we haven't been able to string together a full 60 minutes yet."
Dumont echoed the sentiments of his players, crediting the diligence of the team in practices outside of game performance.
"Despite our record, our work ethic and attitude have been excellent," Dumont wrote.
In an effort to overcome 18 months of physical separation among players and coaches due to the COVID-19 pandemic, the team has devoted time to bonding.
"It's almost like we had two first-year classes, a situation which every sport is dealing with," Rutledge said. "We did a fair amount of team bonding in the fall. We did a wiffleball tournament, and now we're getting a lot of time together practicing, lifting and running."
In Rutledge's eyes, these efforts have paid off. As a senior reflecting on his many seasons as a Polar Bear, Rutledge highlighted the outstanding camaraderie of this season.
"I think that our commitment and buy-in [to the team] has been the best in the time that I've been here," Rutledge said.
Dumont also emphasized how socially cohesive the team is.
"This group is very close on and off the ice," Dumont wrote. "They really enjoy each other's company and get along really well."