Glaciologist and artist Jill Pelto talks climate change, visual art
October 22, 2021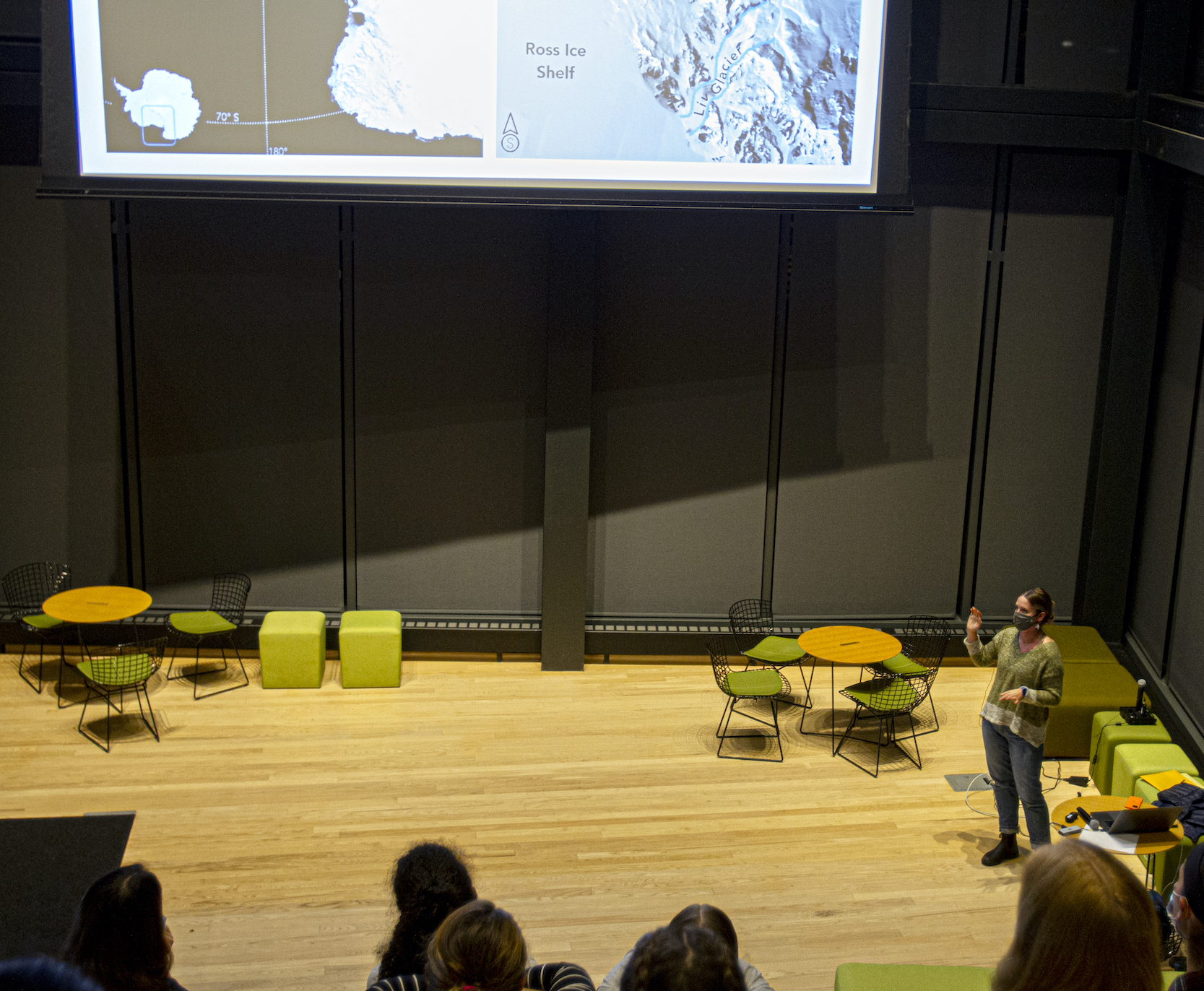 On Thursday evening, glaciologist and artist Jill Pelto visited the Roux Center for the Environment to discuss her use of art to communicate ideas about climate science. The event was a collaboration between the Bowdoin Outing Club (BOC), the Earth and Oceanographic Science and the Visual Arts departments.
BOC Officer Holly Harris '22 sees Pelto as a science communicator who incorporates climate-related data into her artwork. An example of Pelto's work that captures Harris' interest is a painting of a glacier that reflects the graph of the North Cascades glacial retreat, visualizing the effects of the climate crisis.
"I think there's so much room for creativity in the ways that we can communicate science, and [Pelto] is the epitome of that," Harris said.
Harris said events like this one give her hope that the BOC can serve as more than just a space for students to foster a sense of community.
"It's not just about going outside and having fun. It's also thinking about how we can preserve these places, how we can simultaneously enjoy something and also have a positive impact and take that piece with us," Harris said. "For me, a lot of that is science and art, and I think it is for [Pelto], too."
Pelto greeted lecture attendees with pictures of her field work over the years at McMurdo Station in Antarctica and the North Cascades in Washington state. She said her research experience was central in helping her to piece together climate history and source inspiration for her artwork.
Pelto utilizes diverse media forms to engage people with climate science, including websites, photographs, science papers, data and landscape arts. Pelto said she hopes that by combining the arts with science, she can create a more emotional view of climate change.
"Art is one powerful way to connect with people about important topics," Pelto said.
A graduate of the University of Maine who lives just outside Portland, Pelto linked her artwork to the local environment. For example, she painted a picture of common plants in Maine and the plants from warmer climates that started to emerge in the state, separating the disparate species with a graph displaying the potential temperature rise in Maine.
Perhaps Pelto's highest-profile work was a cover for TIME magazine that combined paintings of glaciers and forests with graphs of rising global temperatures and the use of fossil fuels. In addition, Pelto collaborated with scientists to communicate their research to the public and created a K-12 data art activity to engage students with climate issues.
Many student attendees resonated strongly with Pelto's interest in combining the arts and the sciences.
"I think that in terms of environment and climate change, communication is one of the most important parts of any work that is going to be done," Holden Turner '21 said. "Art is able to condense all these narratives into one powerful piece that can be visually …  experienced by a person."
"I'm super passionate about science communication," Maria Garcia '23 said. "I've definitely realized I've been frustrated about how often science stops at the paper. It's not accessible to everyone, so it's really refreshing to see something like this."
Going forward, Harris hopes to diversify the club's panelist roster and bring in more guests from non-traditional backgrounds.
"I hope this is the first of many speakers that we bring to campus, and I hope that we can bring people who range from athletes to climate advocate scientists—maybe even environmental policy makers," Harris said. "It's all about bringing the fun in the outdoors to making an impact on the world."