COVID-19 reality today – enough of yesterday's hysteria
April 29, 2021
This piece represents the opinion of the author.
Editor's Note 05/10/2021 at 2:19 p.m.: Due to glitches that were allowing comments in violation of the Orient's policy to appear below without having been approved, commenting has been disabled for this article. Comments that previously appeared that violate the policy have been removed. Commenting policies can be found at https://bowdoinorient.com/policies/.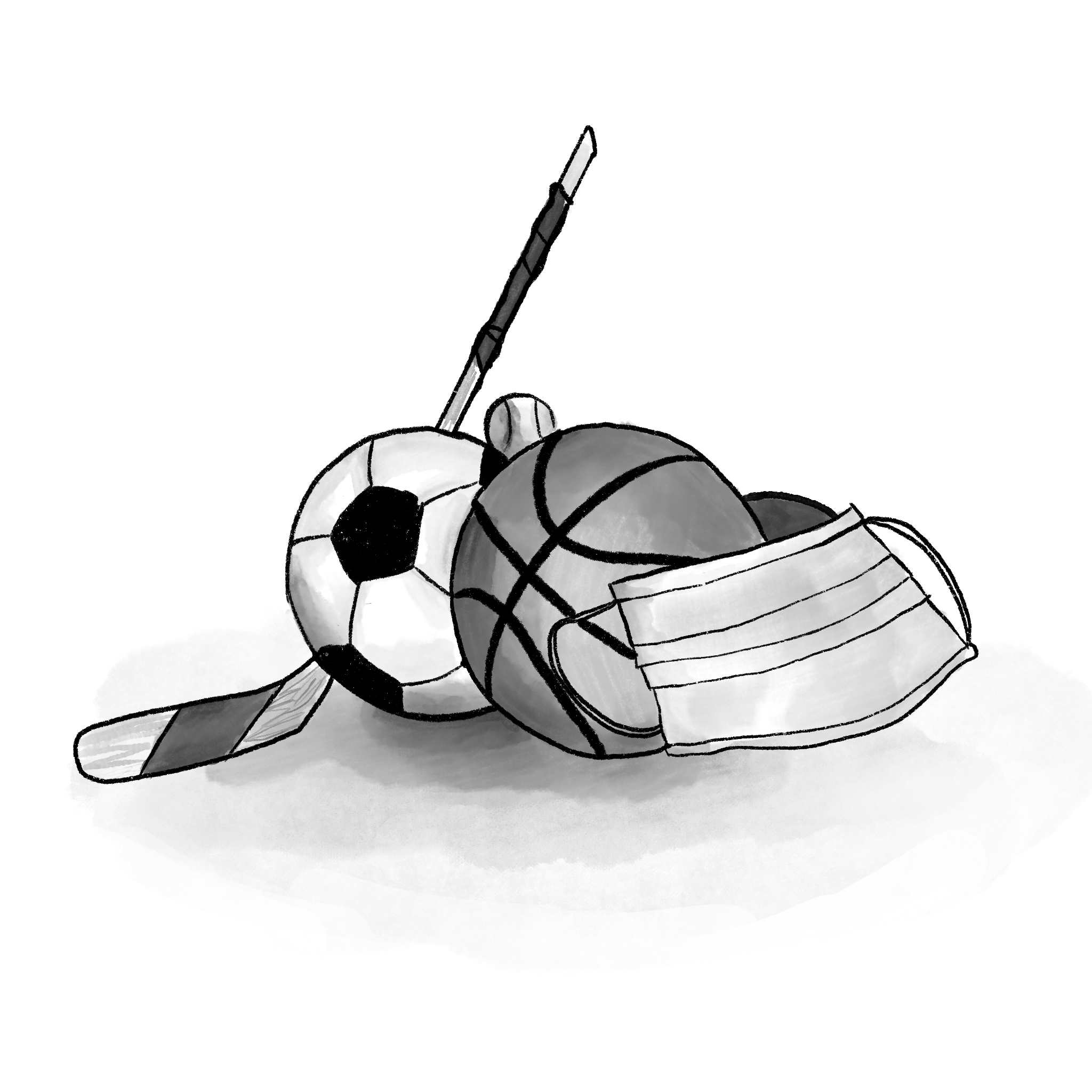 I am disappointed and disheartened by the Orient's April 16 editorial, "A Risk We Don't Condone." In this piece, the Editorial Board argues against the decision by Bowdoin's administration to resume limited intercollegiate varsity athletic competition. The Editorial Board argues that the benefits from such a policy are "wildly unequal, applying to only a tiny subset of the student population on campus [varsity athletes]," while the risk of COVID-19 infection caused by intercollegiate games, meets and matches is shared by the entire Bowdoin community. I believe the assertions in this piece warrant additional attention, and I believe more broadly that Bowdoin students and administrators need to rethink our collective approach to COVID-19 in the remaining weeks of the semester.
First, the fundamental premise of the Board's position is simply wrong. Allowing athletic competition is not a radical policy that privileges the few at the expense of many. Thirty-six percent of Bowdoin College students are varsity athletes—a far cry from the "tiny subset of the student population" referenced by the board. The administration enacted a simple policy amendment, after painstaking consideration, that shifted Bowdoin's approach to athletics so that it aligned more closely with the vast majority of colleges and universities across the United States. In doing so, the administration dramatically improved the college experience of a large segment of the student body. The main argument of the Editorial Board's article is an unfortunate attempt to stoke athlete/non-athlete divisions, yet one shamefully disguised as a self-righteous call for equality.
The reality is that the NESCAC belongs to a small minority of athletic conferences that made no effort to allow athletic competition in the winter or spring seasons. When case rates began improving in March as the pace of vaccine distribution ramped up, Bowdoin administrators were among the slowest in the conference to amend their original policy and allow some forms of non-conference athletic competition. Hindsight is, of course, 20/20. No one could have predicted how the pandemic would evolve so far in advance. And although Bowdoin's overly cautious approach frustrated many of its student-athletes as more schools returned to competition and more data became available, I am grateful that when the administration finally did realize athletic competitions could be safely executed, they reversed their prior policy and rightfully allowed Bowdoin teams to begin competing against those at other colleges and universities. On a personal note, the administration's decision, however delayed, gave me the opportunity to play one final hockey game after a 20-year career. I did so as my family watched remotely from home, eternally grateful for the unexpected opportunity to see their son, brother, grandson, nephew and cousin compete one last time in the sport he loves.
The Board's cost-benefit analysis of varsity teams competing at other campuses is also flawed and unsupported by facts. Such an avoidance of statistical evidence is at best intellectually lazy and at worst dishonest. Incredibly, the board's only mention of empirical data is a passing acknowledgement that "there has not been a significant number of COVID-19 cases on campus" to date. Despite the positive news thus far, the risk of COVID-19 remains, the Board argues—without attempting to assess or quantify the risk. The Board's failure to support its position with facts and science is no different than anti-maskers' claim that the pandemic is a big hoax.
In reality, we have finally reached the point in our nation's long, arduous journey with COVID-19 where risks need to be drastically recalculated. As of this writing, 55 percent of Maine residents have received at least one dose of a COVID-19 vaccine. Those who haven't received the vaccine are largely young children who are at the lowest risk (nearly zero) of hospitalization or death. What's more, the rolling seven-day average of COVID-19 related deaths in Maine is one. That's right: one person. With regards to more Bowdoin-relevant statistics, according to the CDC, for every 100,000 people between the ages of 18-29 years old infected with COVID-19, 20 die, on average. This is equal to a death rate of 0.02 percent. To put that into context, your car ride to Hannaford to pick up your weekend groceries, your Sunday swim at Simpson's Point and everyday activities during any ordinary flu season all put you, as a college-aged student, at greater risk of death than COVID-19.
Earlier in the pandemic, it was vitally important that younger members of society restrict their activities. While an 18-year-old hockey player who contracted the virus at a game might not have been at high-risk of hospitalization or death, there remained an appreciable risk he could infect his parents, grandparents or any other at-risk member in the community. With the astonishing rate at which vaccines have been distributed over the past several months, this risk has been all but eliminated. Today, the people who are at the greatest risk of being hospitalized or dying from COVID-19 have all had the opportunity to be vaccinated, if they want to be. This has led to plummeting hospitalization and death rates in Maine and across the nation.
Over the past year, we have undergone the most radical and abrupt changes to our lifestyles that could ever have been envisioned. As the Editorial Board correctly points out, everyone has had to make sacrifices during this extraordinary time. Whether you have sacrificed playing the sport you treasure, spending time with elderly loved ones or embarking on the spring break trip of your dreams, each one of us has been forced to make profound changes in our lives for the betterment of society. And rightfully so—for the greater portion of the pandemic, we knew very little about the virus and had very few mechanisms to treat it or immunize against it. It made sense to go to extreme precautionary lengths to protect those in society who were most at-risk from succumbing to the virus. Now, however, the calculus has changed dramatically. Thanks to the miraculous ingenuity of several pharmaceutical companies, we are finally approaching the exit to this dismal, dark and discouraging tunnel that we have been traveling down for the past year. If that's not something to smile at, I don't know what is.
As a senior graduating this spring, one of my greatest disappointments in how Bowdoin campus culture has evolved during my four years is the widening of the athlete/non-athlete divide. Pieces like the one published by the Editorial Board do nothing to help shrink this gap and only exacerbate the tensions between athletes and non-athletes on campus. No administrator, ResLife staff member or Peer Health counselor can change this aspect of the Bowdoin experience. Only students can. Athlete or non-athlete, senior or sophomore, Moulton-lover or Thorne-lover—instead of using COVID-19 to further divide us, why can't we all just appreciate the progress we have collectively made in navigating this pandemic and celebrate the milestones along the road back to normalcy? We've been fighting this battle long enough. It's about time we stop trying to pull us back to where we've been and instead start looking ahead to where we're going.
Collin van der Veen is a member of the Class of 2021.