Moulton Union temporarily closed after three employees test positive for COVID-19
April 8, 2021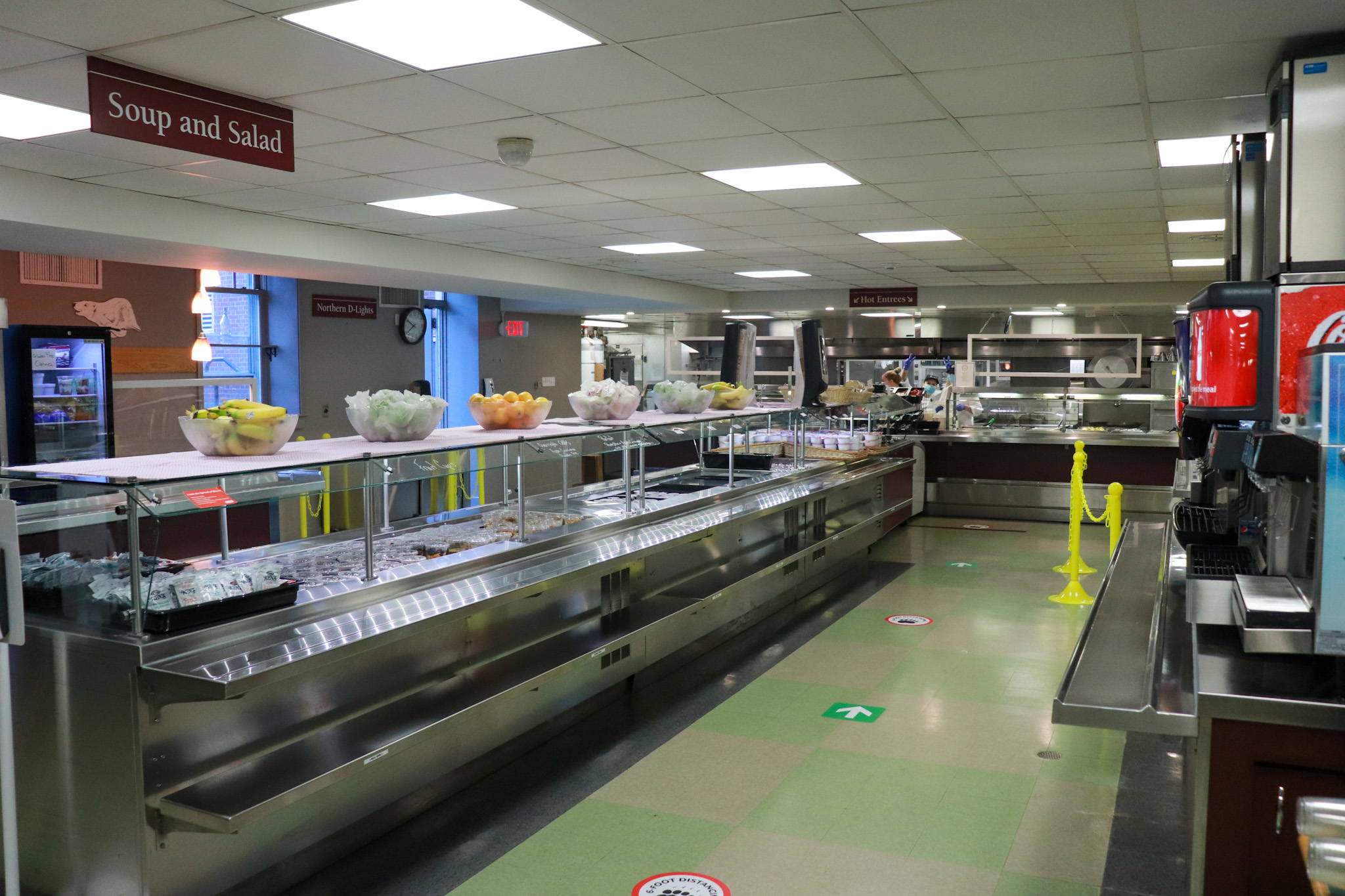 Moulton Union will be closed until breakfast tomorrow after three employees tested positive for COVID-19 this week, COVID-19 Resource Coordinator Mike Ranen wrote in an email to the community on Thursday. Ranen wrote that the College closed the dining hall as a "precautionary measure."
Moulton dining employees will come to campus to receive a rapid antigen and PCR test every day, but they will leave campus immediately after they complete both tests.
All three employees who tested positive did so through PCR tests processed by the Broad Institute.
The first dining employee tested positive after Monday's round of testing. In an email to the community on Tuesday, Ranen wrote that College determined there were no close contacts of that individual. All students living on campus and off-campus in residence were directed to Thorne Hall for breakfast and lunch, and Moulton was opened for dinner Tuesday night.
Ranen informed the community that a second Moulton dining member tested positive for COVID-19 in another email sent on Wednesday. Ranen wrote that it was unlikely that the first and second cases were connected. In a subsequent email sent Thursday morning, Ranen announced that a third dining employee had also tested positive. Ranen wrote that this staff member tested negative Wednesday morning, meaning the case was likely identified before the employee could transmit the virus.
Moulton Union and Thorne Hall have typically each served 550 students this semester. However, due to Moulton's closure, Thorne is currently the only open dining hall on campus, and will serve all 1,100 students on the meal plan.
Ken Cardone, interim director of Bowdoin Dining Services, has been prepared for the possibility that Moulton may close since welcoming students back to campus in the fall.
"You always plan for the worst and you hope for the best," Cardone said in a Zoom interview with the Orient. "We immediately contacted staff and started adjusting staffing schedules. And then the second thing we really needed to pay attention to is our product stream coming in deliveries, and our food production."
Some Thorne Hall dining employees will work extra hours to staff both serving lines throughout the entire dinner shift. Thorne Hall also altered the food preparation schedule to accommodate serving double the usual number of students.
"You try to get more done earlier in the day when you have [a lower] density of employees in the kitchen," Cordone said. "What you usually accomplished in eight to 10 hours, now you're stretching it out to maybe 12 or 14 hours."
Over the next few days, facilities management will ventilate Moulton Union's kitchen by opening the dampers, hoods and fans. The dining hall will also be sanitized and disinfected before employees return.
Senior Vice President for Finance and Administration Matt Orlando said the College's testing protocol for Moulton dining staff will allow them to make an informed decision when Moulton Hall reopens.
"We feel if there was some [COVID-19] exposure, it was last weekend. So, the typical serial interval for the virus is four to six days," Orlando said in a Zoom interview with the Orient.
When Moulton Union reopens, employees will mitigate any further risks by wearing KN95 masks provided by the College and continuing to maintain social distancing aided by the dividers installed in the summer.
"We make absolutely sure that we remind people to follow protocols both on and off campus," Cardone said. "We do that regularly, and that's important to keep[ing] everybody safe."