Printmaker Taro Takizawa shares artwork and advice in public lecture
November 13, 2020
Last Friday, the visual arts department hosted printmaker Taro Takizawa for a public lecture during which he shared his artwork and spoke about his artistic journey. The event was part of the Marvin Bileck Printmaking Project at Bowdoin, which traditionally involves a weeklong, intensive workshop with a guest artist. Associate Professor of Art Carrie Scanga, who teaches printmaking at the College, hosted the lecture and moderated the subsequent question-and-answer session.
"I can't think of a better way to pass an hour of this anxious cultural moment than to spend time with printmakers, and specifically spend time with Taro Takizawa, an artist whose work I admire for its mindful presence and future-looking utopias," Scanga said in her introduction to the talk.
Takizawa's work often features intricately carved and flowing designs. One such work is a wall vinyl installed on a glass window at the Grand Rapids Downtown Market, a 12-by-23-foot work that has a series of undulating S-shape cutouts, allowing outside light to enter into the building. Takizawa has created similar installations in Chicago and Syracuse.
"My work is an intuitive process of making patterns by drawing, painting, carving, cutting and printing. I am constantly engaged with how I want to move," Takizawa read from his artist statement. "I look for formal reactions, ideas between the contemporary and personal history, perspective, thought, Japanese heritage and permanent memory."
Many of Takizawa's works are connected to his home, Japan. He cites Katsushika Hokusai and Utagawa Hiroshige, two Japanese ukiyo-e artists, as sources of inspiration. Ukiyo-e is a Japanese art form that uses woodblock prints to depict a wide variety of subjects, such as scenes from everyday life, natural landscapes and kabuki theater.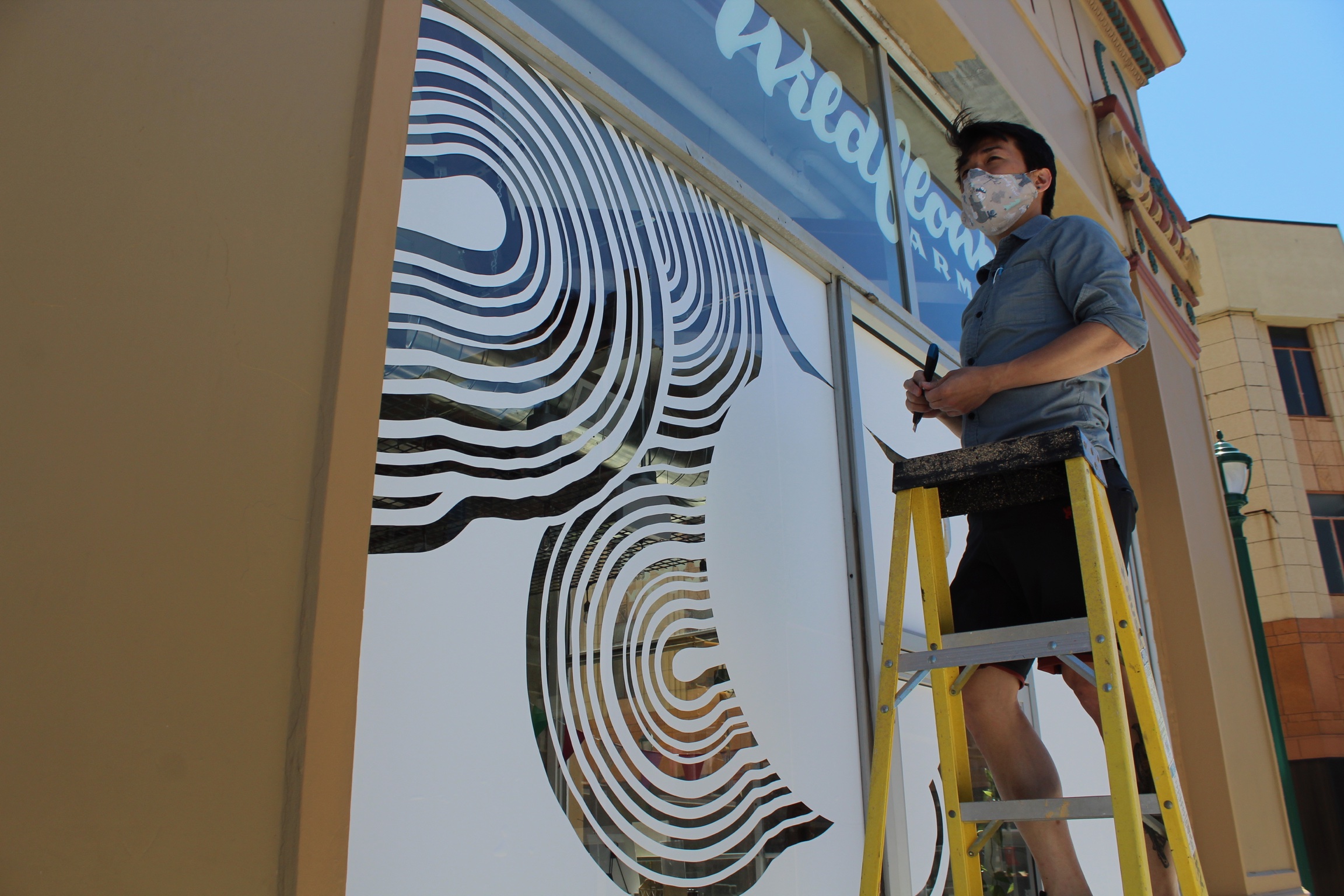 In 2011, in the aftermath of the devastating Tohoku earthquake, Takizawa made a print called "Regular Life" as a personal response to the event. Takizawa also attributed his many flowing designs to his fascination with water, which he said was a result of growing up in Japan.
"Born and raised in Japan, we have huge [amounts] of water," Takizawa said. "If you think about California, how it has less water and they always talk about not to waste water, and in Japan, I remember we use as much water as we can, doing dishes or taking showers, so I think that's part of the reason that I think about water."
Takizawa, who is currently a part-time art instructor at Syracuse University and visiting assistant professor at PrattMWP College of Art and Design, grew up in the city of Muroran in Hokkaido, Japan. He and his two brothers were adopted at a young age by a Japanese father and an American mother, the latter hailing from Michigan. He grew up in a bilingual household, in which his mother would speak in English and the children would respond in Japanese.
After graduating from Central Michigan University with a Bachelor of Fine Arts degree in 2D Studios Art, he moved to Chicago and worked in a logistics office. Though the job had nothing to do with his artistry, Takizawa credited it with teaching him how to be more professional and responsible, which he said ultimately helped him pursue a Master of Fine Arts degree at Syracuse University. But it was when he was working in Chicago after he graduated from college, Takizawa said, that he realized that he really wanted to pursue an artistic career.
"In graduate school, I cultivated a lot of motivation to work, once I realized what I wanted to do," Takizawa said. "When I was working from Monday to Friday…I was very much itching to get back to the studio. And once I got back to school in Syracuse, I start[ed] pumping out a lot of these relief prints in the first semester."
Takizawa has not stopped since then.
"[I] think about my work or my studio practice as continuous. So while I'm working on something, whether it's a series of prints or drawings or a larger work, I'm always in the middle of the production process; I'm always thinking about new ideas," he said. "I generate ideas by creating more."
In the question-and-answer session, Takizawa said that he has moved away from working with representational imagery in favor of abstract patterns because it allows him to work quicker, which spurs his intuition and creativity.
"Working in abstract pattern form, I can be very intuitive—because the materials are not that expensive for me to carve, I can burn through materials," Takizawa said.  "It's just the main way I prefer working—to produce more work instead of spending too much time on one work."
Takizawa lamented that he has not been able to spend much time in his studio during the COVID-19 pandemic, as he has directed much of his energy to teaching online. Despite this setback, he looks forward to returning to the studio and beginning to create art on a more regular basis.
"Once things get a little less hectic, maybe towards the end of the semester or winter break, that's when I'm hoping to get some work done," Takizawa said. "That's how I get back into the swing of it, to cultivate the momentum."
Some of Takizawa's work can be viewed on his website and his Instagram, both of which he updates regularly.