Dance collective provides comfortable and virtual space for experimental movement
November 6, 2020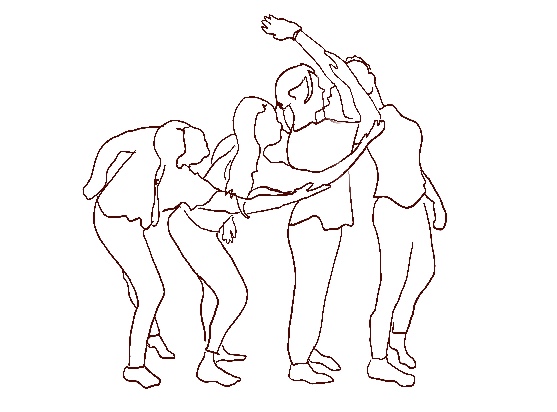 Editor's note 12/28/2020 at 10:38 p.m.: This article has been updated to accurately reflect details around the establishment of the Movement Collective. 
Seeking to replace the tedium of Zoom meetings with the joyful experience of shared dance, Lucy Sydel '22 and Emma Dewey '22 are transforming the landscape of dance at Bowdoin through the Movement Collective: an expressive, dance-based initiative that emphasizes the need for student connection without the formality of usual Zoom meetings.
Originally called the Modern Dance Collective, Sydel and Dewey assumed leadership of the club from choreographer and dance artist Lucia Gagliardone '20, who founded it back in 2016 along with Theo Hurley '20 and Kitrea Takata-Glushkoff '19. Takata-Glushkoff had the idea for the club, and she, Hurley and Gagliardone established it with the goal of creating a space for students to express themselves through dance. Using this framework, the current leaders have adapted the club and its focus, working to redefine what dance is and what it can be.
"Dance can look so many different ways," Sydel said in a Zoom interview with the Orient. "We're really trying to open up space for different types of dance and the many ways the body can appear."
A central goal of the Movement Collective is to create experimental movement spaces for Bowdoin students, but the fall 2020 semester presented Dewey and Sydel with the challenge of  developing these spaces remotely, providing an environment that would allow members  to decompress and release energy through dance without the benefit of a shared physical space.
"Many people ask dancers nowadays, 'How do you dance on Zoom? It's so strange,'" Sydel said. "I think the answer is that you have to incorporate the strangeness of it."
Rather than viewing the distance and contrasting living spaces as obstacles, Sydel and Dewey have begun to view these constraints as opportunities that allow for further expression and personal connectedness to one's surroundings.
"Emma and I did an interesting investigation into how to incorporate spaces into dance improv [and] how we embody different objects and different furniture," Sydel said. "You have to maneuver your way around your furniture to be its own kind of dance."
Despite the leaders' enthusiasm, it has still been difficult to encourage people to attend sessions on a weekly basis because of Zoom fatigue and because dancing over a video conferencing app can feel less personal.  In an attempt to overcome these challenges, Dewey and Sydel hope to engage dancers and non-dancers alike in the work of the Movement Collective through their Instagram page.
"I hope in the future we use the page to post warmups or little stretches we can do or little guided improvs for people," Sydel said. "Showing up to a Zoom where you don't know any of the people can be really scary, but checking social media is really accessible these days."
"Our Instagram is mainly to give people who are nervous about dropping in a sense of what they can expect," Dewey added in a Zoom interview with the Orient. "When you're in person you can walk by the room and get a sense of what the vibes are, but in Zoom, you're going in blind."
Dewey and Sydel have worked to make the Movement Collective as comfortable and accessible for all interested dancers as possible.
"We've been trying to take it very [gently] this semester," Dewey said. "I think, [ourselves] included, everyone has a lot going on, so we're only doing 45-minute sessions—if this was in person we'd probably go for about an hour."
Dewey and Sydel also plan on keeping the club solely virtual for the 2021 Spring Semester in order to accommodate students who might not be on campus.
"We want to be mindful that the majority of first years won't be on campus next year, so even if we were in person…we would want to keep it virtual to make it accessible to all Bowdoin students, if they're on campus or not," said Dewey.
In order to foster an artistic environment that suits the developing needs of students in a wide variety of environments and life situations,  the Movement Collective will continue to brainstorm ways to get students involved and enthusiastic about experimental movement.
"The entire idea about there being a collective is that there isn't centralized leadership," Dewey said. "By nature of the size, me and [Sydel] ended up as central leaders, but if anyone has ideas about dances they want to try or songs they want to dance to, we'd love to hear that."