Upside down again
October 30, 2020
This piece represents the opinion of the author.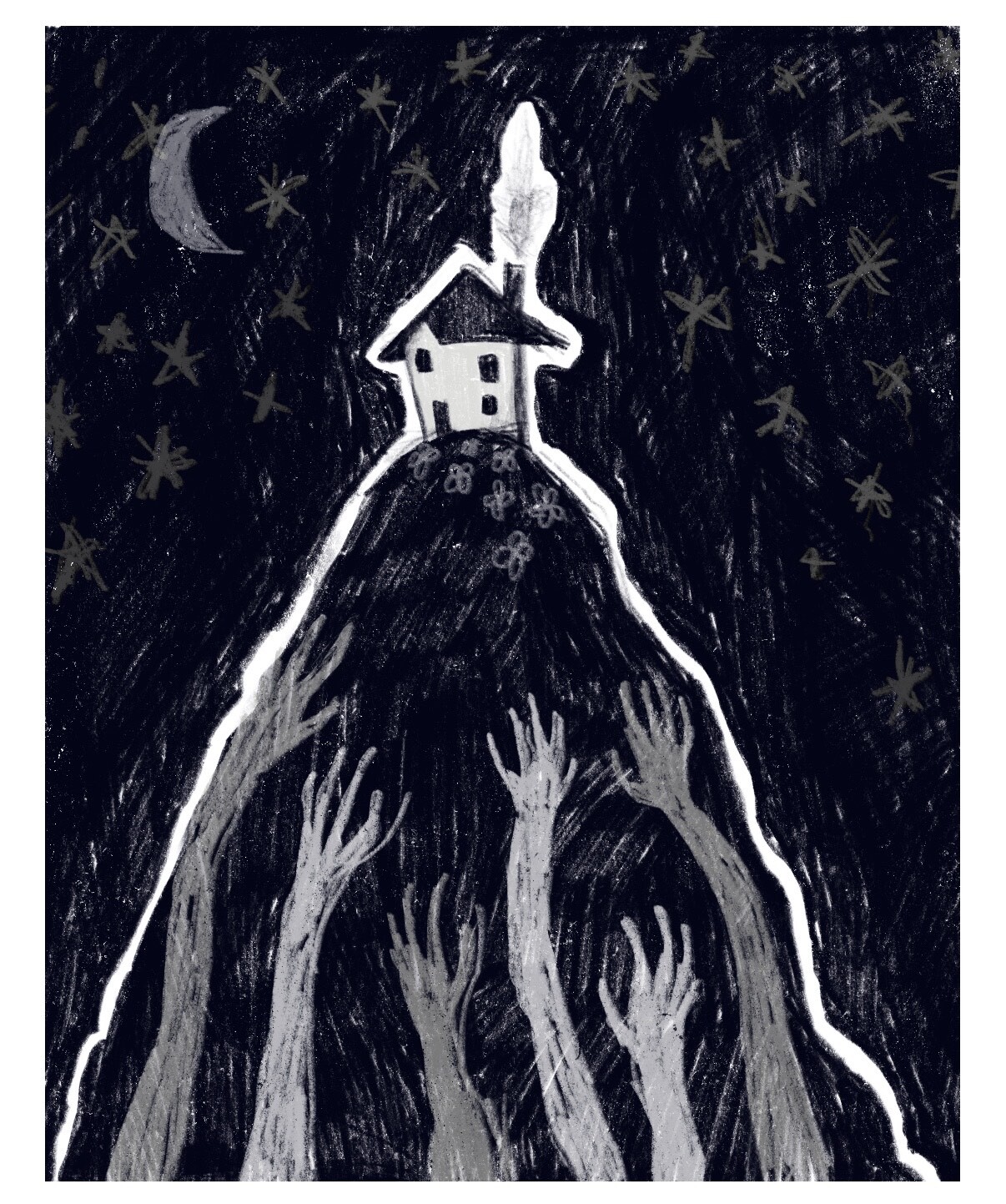 It's a Sunday afternoon in October. I'm sitting on my couch underneath my new plush blanket covered in cartoons of ghosts and of the word "boo." There's a candle burning on my desk. Outside, the leaves are swirling down from the trees, like a typical Maine autumn day. My boyfriend sits at my desk, poring over his textbook while I read on my laptop. We work in silence, and yet there is something very comforting about his presence.
My world has gotten smaller, like most people's, over the past six months. Living in rural Maine, my summer was spent between my house and my boyfriend's. There were trips to the woods, the beach and the mountains. Many of my days were spent at my new job at a local restaurant as a hostess. Life was small, and I was lucky. Now that it was October, my shifts were fewer at work, and my time spent staring at my laptop screen was up.
There has been no constant "typical" in my life for over a year and a half now. In my final days of my senior year of high school, my Dad got very sick. He was diagnosed with terminal cancer within a few weeks. My world got turned upside for the first time that summer. It was a life of oxygen machines, visiting nurses and DNR forms on the refrigerator. It was a life where we didn't know what was going to happen from day to day. What would be the next decline in his quality of life? Would he still be in this world when we woke up?
For three months, this was my life. And then it was turned upside again. Six days after my Dad did pass away, I moved into my freshman dorm at Bowdoin. Needless to say, my fall semester was a huge adjustment, both to college life and to a life without my Dad. I'm not going to lie, when I look back on those days, I realize I was really struggling. Of course I was struggling. There are many things I wish I could go back and tell that version of myself. But I made it through that fall semester and got the respite that I thought I needed.
I began the spring semester with a new spring in my step. I found a routine that I liked, and I finally felt that I had both my feet planted firmly on the ground. But as everyone knows, six weeks into the semester, my world got turned upside for the third time. We were all sent home for the rest of the semester.
And now here I am on this Sunday in October, doing my second semester online from home. I have just surpassed the day where I have been home longer than I was actually on Bowdoin's campus. There is something about this realization that has really upset me. Event after event has affected my life without my consent. I am sick and tired of feeling like I have no control over my own life. On this particular day, I think that I know, deep down, that Bowdoin will make a decision so that I will not be returning to campus in the spring. But I also think that I want to return. I want back that particular version of stability. I am trying to get a step ahead of them, so that I can gain some authority over my life.
On this particular Sunday, sitting in my room with my boyfriend, the decision has been made about a little house. It belongs to a friend of my family who wants to rent it out to someone he knows and trusts. We're going to go for it. I'm ready to take control of my own life once again.
The next day is the day that we all got the email from Bowdoin, saying that they would have all the upperclassmen back to campus. When I read that email I felt a knot form instantly in my stomach. Yet again, Bowdoin had ripped what little control I have, right out my hands. Good-bye little house, good-bye work, good-bye independence, good-bye boyfriend.
From one fall evening to the next, my world has been flipped upside down again. One night: a cute little house, a space that would be all mine, a step toward adulthood in a remote-learning life where I feel I am stuck in the past. The next night, this is all ripped away in one very rambling email.
I watched my classmates on social media celebrate this decision. And I'm happy for them, but for me, I think that I have to make the decision where I choose my own mental health and control over my own life after going so long of having none.
Elizabeth Flanagan is a member of the Class of 2023.