Drive-thru, curbside and delivery: Brunswick businesses adapt to lockdown restrictions
April 3, 2020
Sam Wilson, co-founder of Black Pug Brewing, dons a black latex glove and hands a customer a 32-ounce "Pug Jug" of craft beer through an open car window in the parking lot of the brewery. On the other side of Brunswick, Ben Gatchell, the owner of Dog Bar Jim: The Coffee Shop, hands paper cups of coffee to customers through a window labeled "Pick-Up." He too, wears gloves. A few blocks away, outside Little Dog Coffee Shop, Oliver Lowell stands behind a row of coffee dispensers under a canopy. He's one of four employees left working reduced hours at Little Dog—six employees have been furloughed or chose to take a leave of absence to protect themselves from COVID-19.
The Brunswick Town Council issued an Emergency Proclamation and Order on March 23 ordering the closure of all nonessential businesses and requiring all dining facilities to transition to providing only take-out services. The shift has forced these three businesses, and many others, to change their routines to limit the spread of COVID-19.
"I'm an occupationally social man," Gatchell said in a message to the Orient. "There's so many less conversations. It's funny, I have a wide service counter, but that additional few feet coupled with serving through height-challenged misshapen portholes [like the take-out window] is levels more impersonal. [I'm] not a fan."
The interactions Wilson, his Black Pug co-founder and their wives share with customers over beers have been noticeably absent in the last week.
"[Those conversations have been reduced to] a transactional 'Hey, how's it going? There you go, see you later,'" Wilson said. "That has been the biggest impact on us on a personal level."
Ali Waks Adams is a chef who has worked for several restaurants and hotels in Brunswick since moving to Maine in 2014. Before the pandemic hit, she was planning to hold a number of pop-up events in collaboration with Dog Bar Jim, Moderation Brewing Company and Turtle Rock Farm. She has since had to readjust, and focus instead on her latest project, the Merry Meeting Kitchen. The new platform is what she describes as Amazon for farm-fresh products.
"It was in the works as a sort of collaborative kitchen with batch cooking, cooking classes and actual pop-ups," Waks Adams said. "Now it's just gone in the new direction, which is kind of exciting."
Yet the Order has left other small businesses inoperable. Woods + Waters Gear Exchange, which opened on Pleasant Street in January 2019, sells used outdoor equipment, and although owner and sole employee Jenna Vanni would like to consider her business "essential," the Town Council has not deemed it as such.
"There's no customer interaction at all," said Vanni in a phone interview with the Orient. Under the Order, nonessential businesses are still allowed to keep one employee at work "to perform necessary business functions," so long as they don't involve in-person contact and no customers come inside. Vanni is now working three hours per day in the store and selling items via her posts on social media, though she finds it difficult to attract customers in the current economic downturn.
"It's hard to market to people who are losing their job, or finding out they're going to lose their job and trying to sell them clothing and items," she said. "It's just … it's a morally challenging thing, but also, I need to stay in business too. It's tough."
Bowdoin students had recently become an important part of Vanni's business.
"As soon as Bowdoin was done, you could just feel the town shutter," she said. "I was just getting my wave of Bowdoin kids in. I've been here for just over a year and it took a while for Bowdoin kids to find me, and they finally came in this year so I felt really good. Business was doing really well."
Though she is essentially furloughed for the foreseeable future, Vanni can't claim unemployment because she's the sole proprietor of an L.L.C. (limited liability company). And although the Brunswick Development Corporation created a Pandemic Emergency Loan Fund to provide small businesses with no-interest loans of up to $5,000, applications overwhelmed the fund and it reached capacity before Vanni could receive a loan.
Acting in the interest of their less-fortunate peers, some businesses in the dining industry have opted not to apply for those loans.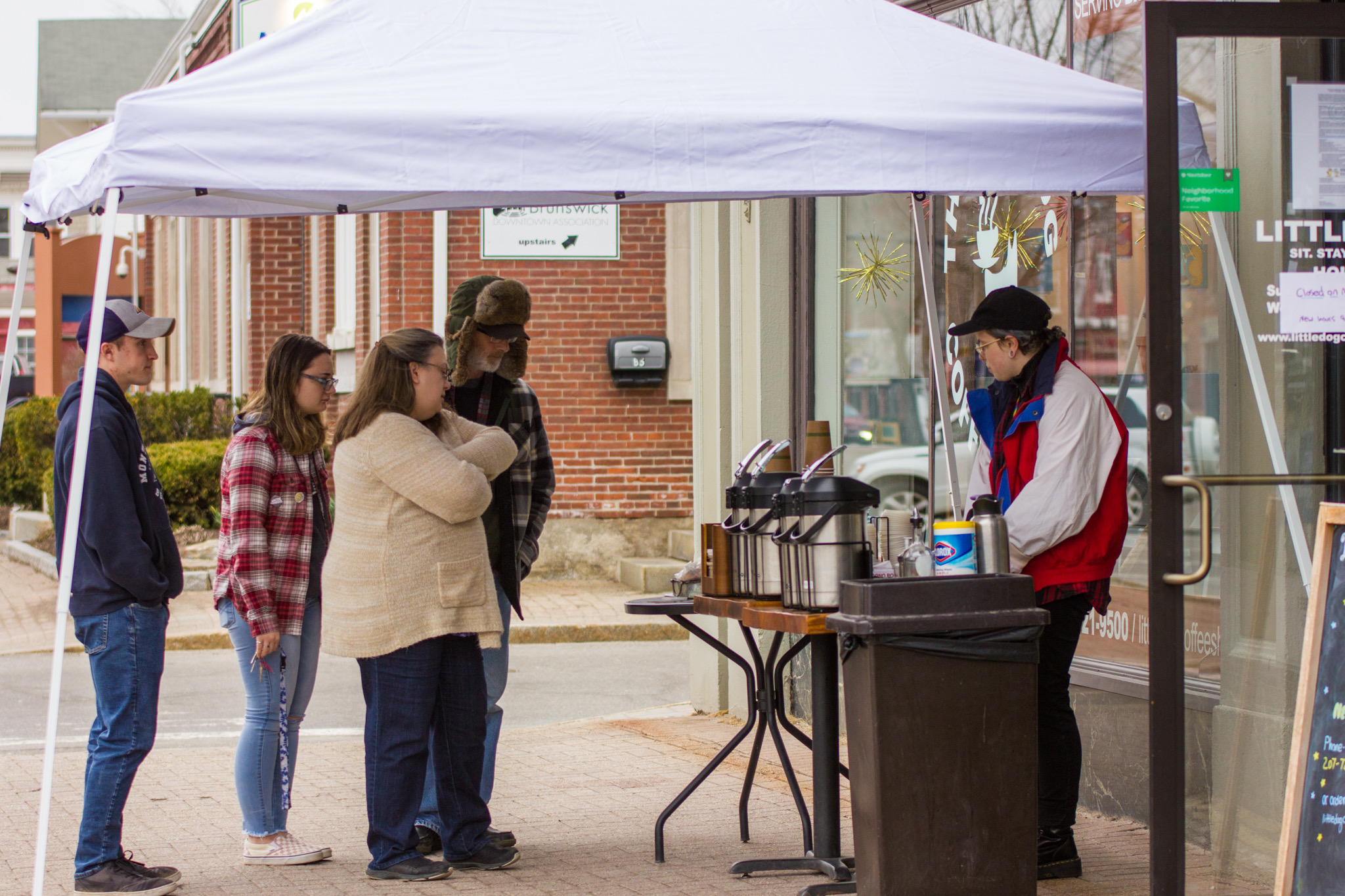 "I left the limited sources of the Brunswick development fund to other businesses who couldn't open their doors anymore," Gatchell said.
Gatchell, Wilson and Lowell all said that business has been sufficient for now.
"We're hoping that we can withstand this for a few months," Wilson said. "Once the weather warms up [and] we get into tourist season, that's where things are going to be questionable."
Wilson and his Black Pug co-founder had planned to hire more employees, but he has had to put it on hold for the foreseeable future. Gatchell, who hired his first employee several months ago, has been able to retain her due in part to the federal stimulus package, which allows small businesses to defer the payment of payroll taxes.
But the Dog Bar Jim owner is optimistic. For now, Gatchell says, he can continue his business in accordance with the take-out only regulations.
"[I can make it work] as long as people are buying coffee from me," he said. "I'd prefer to have their warmth (literally and figuratively) in the shop. Let's not forget, we are an adaptive bunch, us humans."
For Gatchell, the absence of Bowdoin's seniors was one of the greatest losses to his business.
"I've had seniors who have been coming in since the end of their sophomore year," he said. "I have learned that this last batch of time before graduation is when I really get to know the outgoing class the best. There is this combination of relief and anxiety that comes out. They hang out more. They chat more. They receive more spontaneous unsolicited advice from me than they ever did. I learn their names more soundly. This, honest-to-god truth, is my real loss in this."