Bowdoin at the ballot box: 2020 presidential primaries survey results
February 28, 2020
As Maine voters head to the polls next Tuesday for the presidential primary elections, Sen. Bernie Sanders of Vermont is the most favored candidate among Democratic Bowdoin students, according to a poll conducted by the Orient.
The poll asked students about their voting plans and political preferences. It was sent to all 1,970 students and received 560 responses (28.4 percent). Of the 560 respondents, 92.5 percent are registered to vote, of which 53 percent are registered to vote in Maine. A vast majority of respondents—80.6 percent—plan to vote in a Democratic primary election.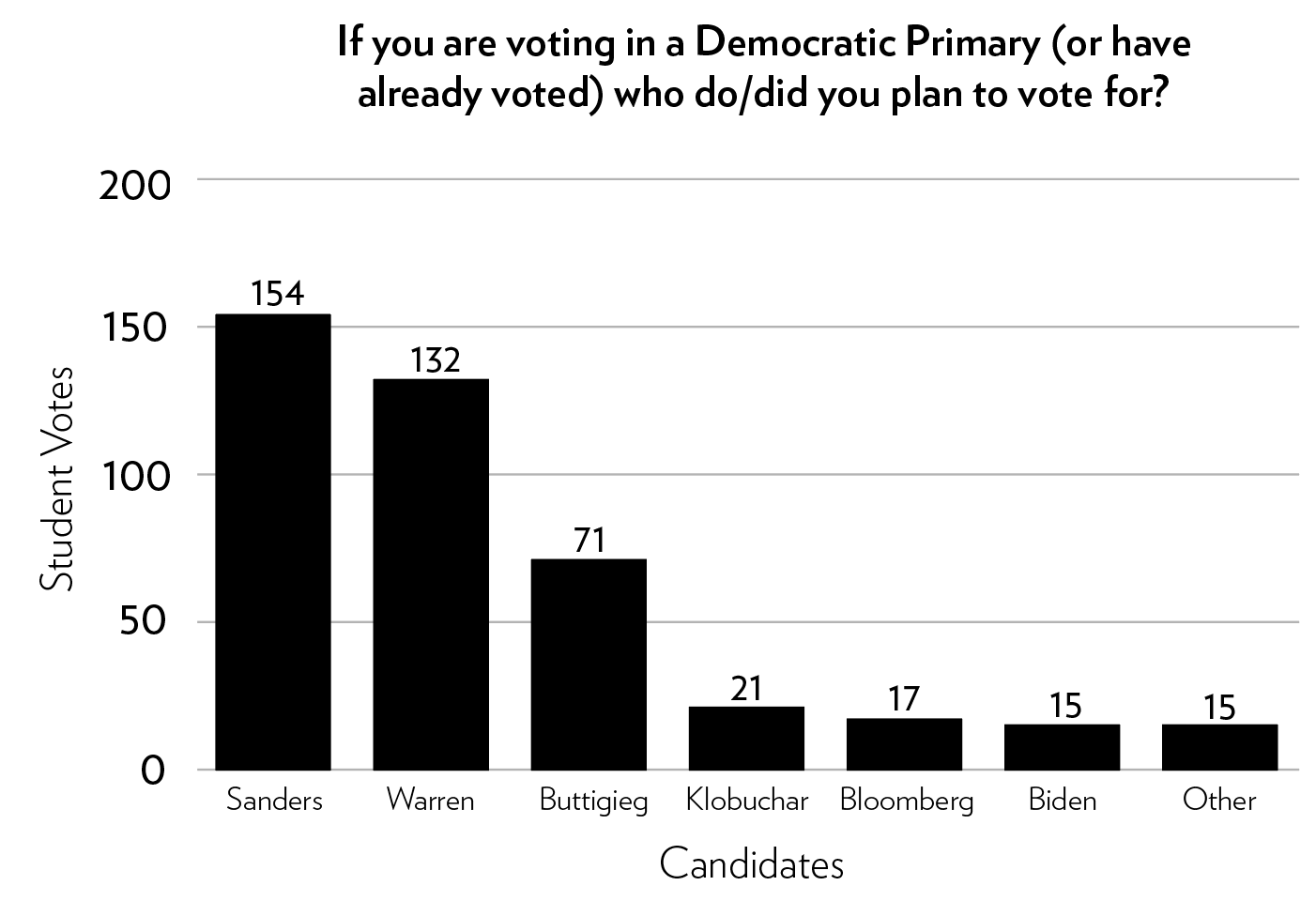 Among students voting in a Democratic primary, 36.2 percent said they have voted for or plan to vote for Sanders. Sen. Elizabeth Warren of Massachusetts followed with 31 percent. Other candidates receiving support include former South Bend, Ind. mayor Pete Buttigieg with 16.7 percent, Sen. Amy Klobuchar of Minnesota with 4.9 percent, former New York City mayor Mike Bloomberg with four percent and former Vice President Joe Biden with 3.5 percent. One person indicated they planned on voting for billionaire, businessman Tom Steyer, and no students said they would vote for Rep. Tulsi Gabbard of Hawaii, the final candidate in the Democratic field.
Over a quarter of students (28.4 percent) listed the environment as the issue most important to them. This was followed by wealth and income inequality, healthcare and the economy.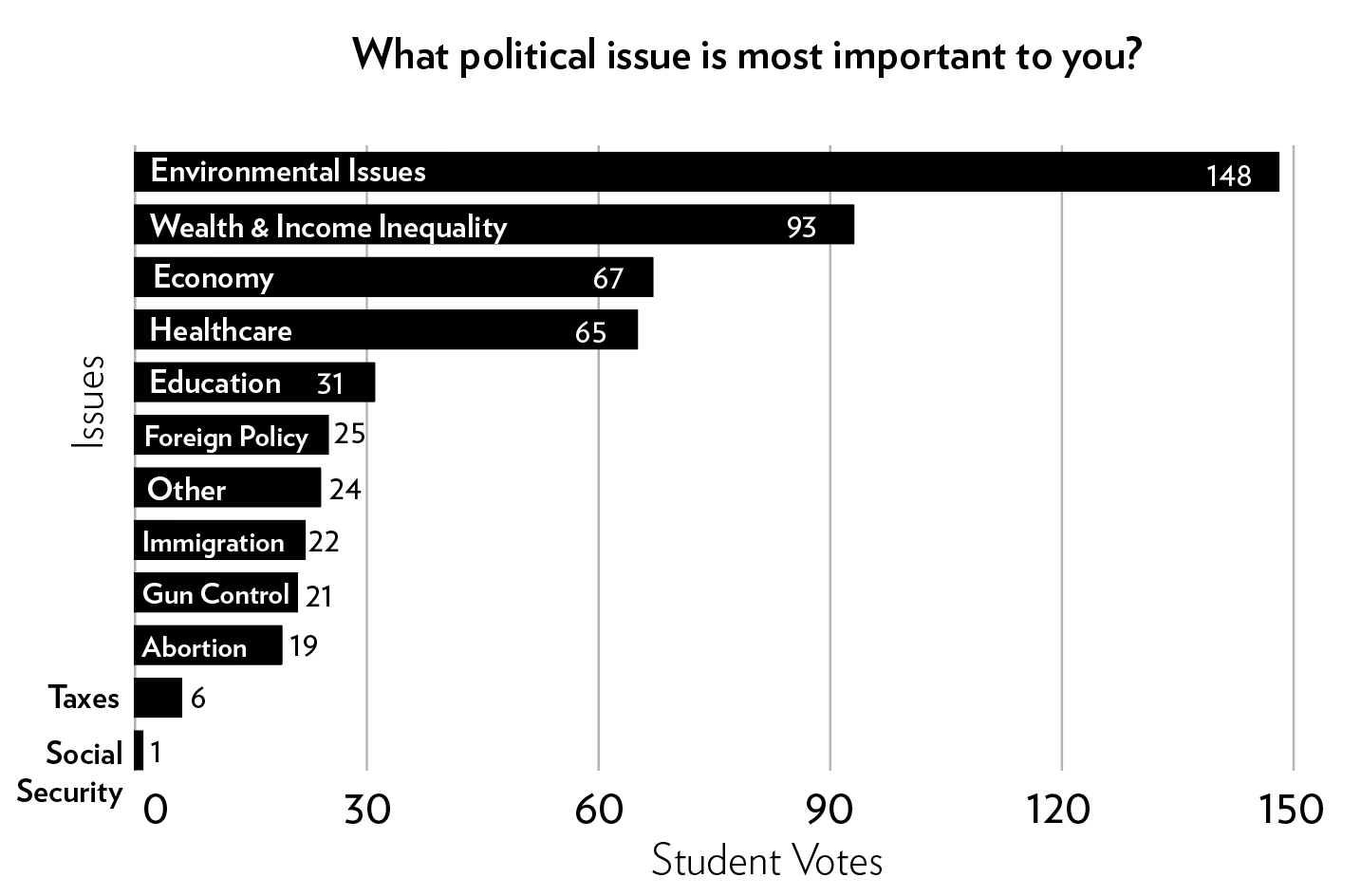 Students also overwhelmingly oppose a Maine ballot initiative to reinstate a law allowing for religious and philosophical exemptions from vaccination requirements for employees of nursery schools and health care facilities and students at schools and colleges. Among students who are registered or plan to register to vote in Maine, 81.9 percent intend to vote "no" on the ballot measure, while 11.8 percent are still undecided.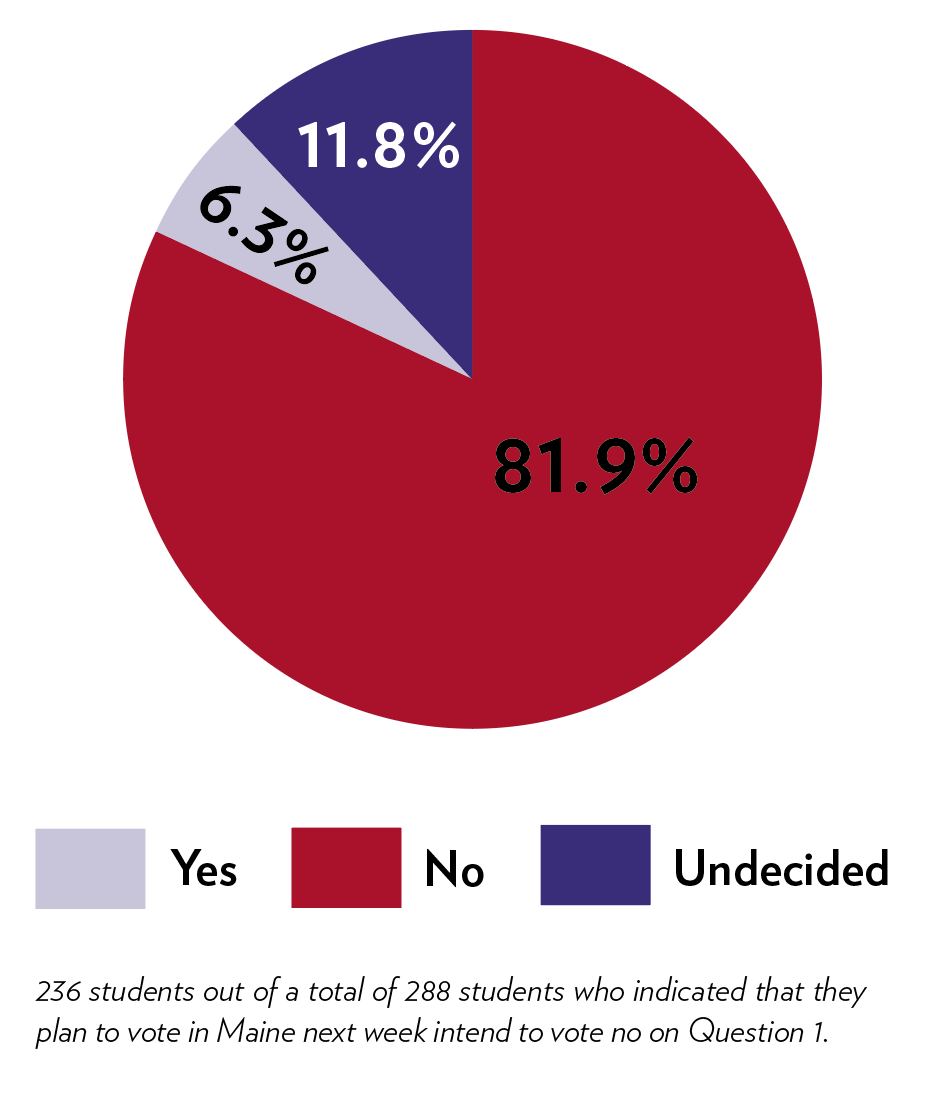 How the Maine primaries work
Maine is one of 15 states and territories voting on March 3, known as Super Tuesday, where voters will designate their preference for their party's presidential candidate nominee. For the first time in 20 years, Mainers will be voting in a primary election and not a caucus.
The Democratic Party will have 12 names on its ballot in Maine, although four candidates (Cory Booker, Deval Patrick, Marianne Williamson and Andrew Yang) have dropped out of the race. The candidates on the ballot who are still in the race are Biden, Bloomberg, Buttigieg, Gabbard, Klobuchar, Sanders, Steyer and Warren. President Donald Trump is the only candidate on the Republican ballot in Maine.
While Maine will allow voters to rank candidates in the general presidential election in November—becoming the first state to do so—this year's presidential primary will not use ranked-choice voting.
All registered Maine voters will also be able to vote on a ballot measure which would remove religious and philosophical exemptions for vaccination requirements.
The Democratic primary in Maine will offer 32 delegates—24 pledged and eight Super Delegates—with proportional delegate allocation. The Republican primary will offer Trump all 22 delegates.
How to vote
Voting in the primary elections and for the state referendum will take place at Brunswick Junior High School. Polls are open from 7 a.m. to 8 p.m..
In Maine, voters must be enrolled in a party to vote in that party's presidential primary. Mainers can register to vote and enroll in a party on the day of the primaries, but the deadline for switching parties passed earlier this month. Party enrollment is not required to vote on the ballot measure.
Bowdoin Votes will be driving vans to the polls continuously every 15 minutes between 7 a.m. and 8 p.m. from the South Campus Loop outside Moulton Union. Preregistration for the vans is not required.
Data and graphs compiled by Gwen Davidson.