College launches comprehensive giving campaign, setting $500 million goal
February 7, 2020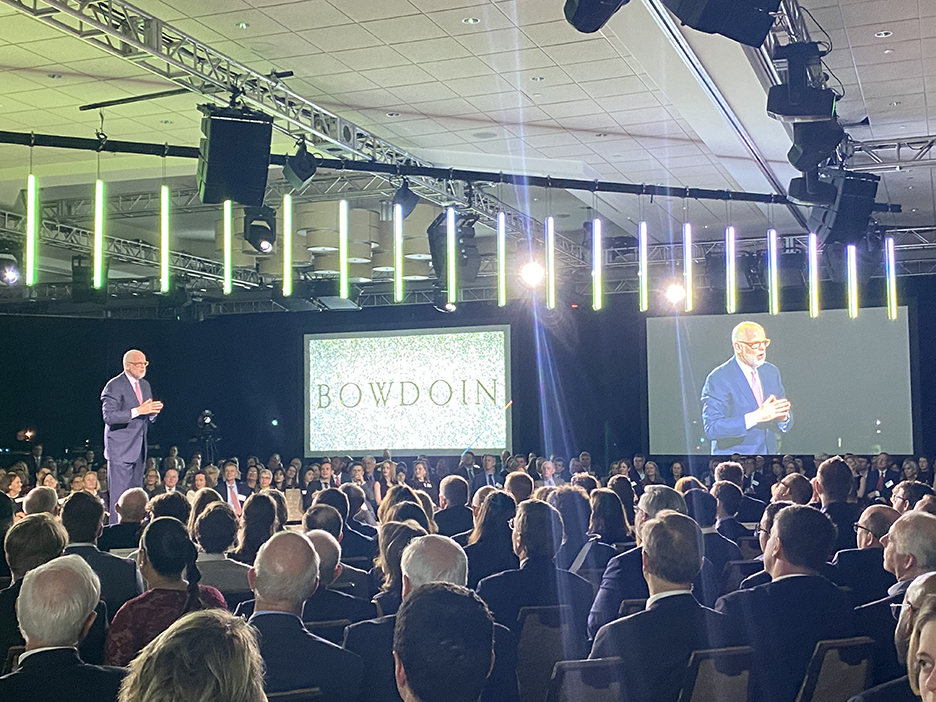 On Thursday evening, the College launched the public phase of the largest comprehensive fundraising campaign in Bowdoin's history. The College hopes to raise $500 million by June 2024 and achieve 85 percent participation from its alumni network. Most of the funds raised will be allocated to financial aid, career development and curricular innovation.
Since the official start of the campaign, the College has raised over $300 million in gifts and pledges, a sum announced at a celebration in Boston Thursday night attended by alumni, faculty, trustees and invited students. So far, the campaign has been in its "quiet phase," during which the College has solicited donations only from targeted audiences within its existing donor network. Thursday marked the beginning of the second phase which will expand the targeted donor bases.
The campaign is the 18th in Bowdoin's history and the first in Clayton Rose's tenure as President of the College. The last campaign from 2004 to 2009 exceeded its $250 million goal.
Thirty-five million dollars will be dedicated towards the creation of a comprehensive aid program to formalize general financial assistance for students after they have matriculated. The aid is designed to fully subsidize fees required for membership to the Outing Club, Yellow Bike Club and the Craft Center; money for food during breaks if students remain on campus; funding for high-need families to visit campus; music lessons and various fees involved in the process of off-campus study for students on financial aid.
Scott Meiklejohn, senior vice president for development and alumni relations, noted that while the practice of providing general aid for students has long existed, the money raised in the campaign will make it more visible and accessible to students who need it.
"Too often, we learn that students have been weighed down by a small expense before asking, or that they have missed an opportunity or not joined a Bowdoin activity because there is a fee involved," wrote Mieklejohn in a memo emailed to the Orient.
In addition to comprehensive aid, $200 million will be dedicated to supporting the College's existing financial aid policy.
"[Around] half of the campaign is dedicated to financial aid, and to access, which speaks deeply to who we are as an institution, what we believe in and the notion that if you're a student [admitted] here, we're going to make sure that you can come, regardless of your family's financial situation," Rose said. "You will have the opportunity to experience the essential elements of abundant education."
Thirty-seven million dollars have been earmarked for Career Exploration and Development to support and expand existing infrastructure like the funded internship program and the Bowdoin Public Service Initiative.
"Students come from very different backgrounds and their understanding of and ability to access networks and the tools that are available [are different]. So how do we make sure that everyone has an equal opportunity to explore careers?" said Rose.
Specifically, the College will provide a sum of $5,000 to be allocated to each student on financial aid to fund one summer internship.
To meet its ambitious $500 million goal, the College hopes for participation from alumni of all ages and demographics.
"Campaigns are … really important opportunities to help everyone feel connected to the ideas of the College," Meiklejohn said. "What we don't want to have happen is to reach the end of the campaign … having achieved a dollar success, but to have 20,000 people standing on the sidelines, clapping politely for the few people who gave a million dollars."
From a public relations standpoint, this participation rate is critically important to the College. Bowdoin currently ranks fourth nationally in alumni engagement, a superlative that administrators prize.
"It's one of the things that U.S. News [and World Reports] looks at it because for them it's a measure of what people think of the education," said Scott Hood, senior vice president for communications and public affairs. "So that participation number really matters to the College. And, you know, we'd like to be number one, and we're not very far off."
The campaign emphasizes non-financial participation as well as traditional monetary donations. It encourages young alumni to get involved by attending Bowdoin-hosted events, volunteering to interview prospective students and organizing networking opportunities.
"I think this campaign is not just about raising the money, though we have really ambitious goals there," said Sydney Asbury '03, one of the six chairs of the campaign and a member of the College's Board of Trustees. "It's really about bringing the community together around shared values of what we believe and asking people to give their time, not just their treasure."
Maia Coleman contributed to this report.