Alternative break trips address digital literacy, addiction and recovery
January 24, 2020
Luis Miguel Guerrero '20 and Sasa Jovanovic '20 admitted that there were a few bumps in the road during the Alternative Winter Break (AWB) trip they led last week.
"Those back roads in Maine are barely plowed," Guerrero said. "We swerved quite a bit one day."
Other than perilous driving and a day cancelled due to snow, the two AWB trips this year ran smoothly. Five students participated in Guerrero and Jovonovic's trip, titled "Digital Inclusion for Work and Life," while eight students went on a trip led by Tam Phan '21 and Biz Sweeney '21 titled "Beyond Statistics: Addiction & Recovery Through a Different Lens."
Both trips were held in Maine and focused on service learning rather than active community service. Each day, participants traveled around the Midcoast region to work with and learn from various community partners and nonprofits.
Guerrero and Jovanovic's trip was the College's first digital literacy AWB trip. Participants learned about the economic and social impacts of technology in the state with the oldest average population. Partnering with the National Digital Literacy Center, students sat in on computer basics courses and talked to older residents about internet safety.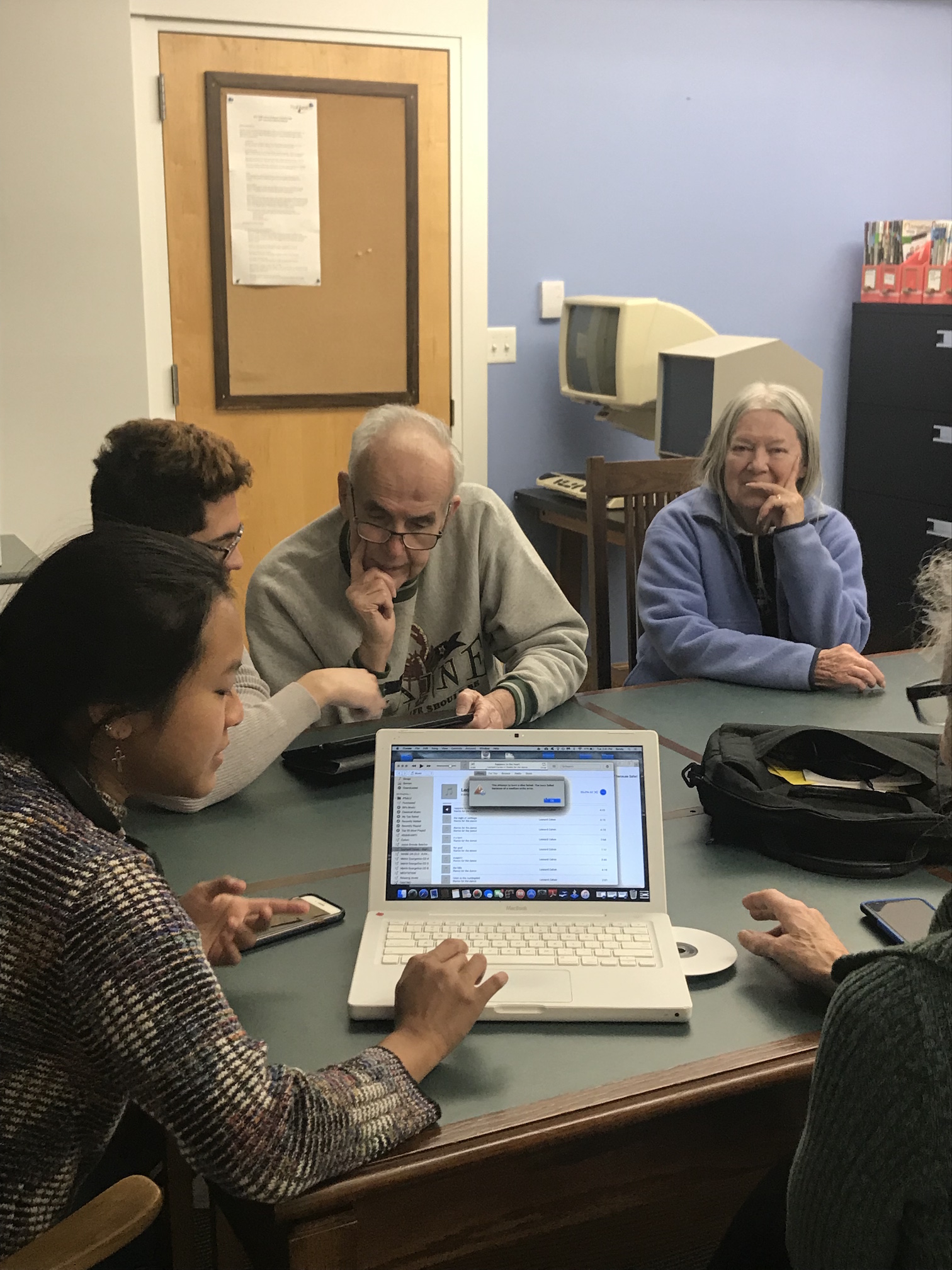 "We were looking at different ways that digital literacy can affect a person's everyday life," Guerrero said. "We visited the career center in Brunswick and saw how you can't even apply to a job nowadays if you don't have an email."
Jovanovic said that the group also learned about digital literacy's effects on democracy.
"On the one hand, the younger populace is online so much and is receiving information about candidates that may or may not be skewed in certain ways," she said. "And on the other hand, older populations can't even access the internet and this information in the first place."
Many students, Guerrero and Jovanovic included, participated in the trip because of personal connections to the issues. Recognizing how technology has helped them keep in touch with family members around the globe, some wanted to learn more about the issue in Maine.
Participants in the addiction and recovery trip, which was held for the second year in a row this year, also joined for personal reasons. A few students had family members who had experienced addiction, while others were interested in the political and medical aspects of the opioid epidemic.
"This group was very compassionate, engaged and curious," Phan said. "Throughout the week people were applying what they were learning to their own lifestyles and environments that they've been in. And it was just so cool to see, without our guidance or anything, that students were able to express how they want to move forward after learning all of this, which was really our main goal."
After visiting local recovery centers, watching court cases in Portland involving people who had been convicted of crimes due to substance abuse disorders and speaking with prevention and harm-reduction specialists, many students are excited to bring their knowledge back to the Bowdoin community.
"A few people want to make sure that all security guards on campus have Naloxone or Narcan [two medications used to prevent overdoses]," Sweeney said. "A few others talked about volunteering at Portland's Preble Street Resource Center."
Connor Marrs '23, a participant on the digital literacy trip, is considering proposing a summer research project to help create a networking tool for organizations and communities that the trip visited.
All 13 AWB participants responded to the post-trip survey—an uncommon occurrence, said Christina Chong, assistant director of the Mckeen Center for the Common Good. Everyone agreed that their trip leaders were "extraordinary" or "really effective" and agreed that their trip provided a "better understanding of" and sparked a "new or increased interest" in each social issue.
The four trip leaders hope that these programs continue in the future.
"I'm graduating, but I hope someone else leads the trip next year," Guerrero said. "Even if there are a few snow days."