Jacob Baskes: student chef extraordinaire
December 6, 2019
The other night, I had the immense pleasure of eating a meal cooked by Jacob Baskes '20, a fantastic chef and the most eligible bachelor at Bowdoin. Jacob and I have been friends since our first year when we both joined the frisbee team. The same year, he spearheaded a team dinner. He got permission from the residents of Howell to use their kitchen and made gourmet tacos—outshining the rest of our dishes with ease.
Jacob's love of cooking comes from his family; he learned to cook from his mother, who made dinner most nights during his childhood. In middle school, he even cooked for the family from time to time.
Holidays, especially Thanksgiving, were a production in the Baskes household. Jacob took inspiration from the dishes his relatives prepared on those special occasions, such as paella and Thai basil chicken. He loves the social aspect of cooking.
"The joy of cooking, to me, is that it creates a celebration with food at the center," he said.
Cooking is just one of Jacob's many hobbies. He is a triathlete and recently competed in the Lobsterman Triathlon. He is also an expert guitar player; later this year he will play in a secret show with some of Bowdoin's best musicians (wouldn't you like to know where). Jacob compares cooking to making music. For him, both include a good deal of improvisation, since he does not cook from recipes. He prefers to try out his own combinations of flavors. A good dish of food, like a good piece of music, should be "symphonic," Jacob explained.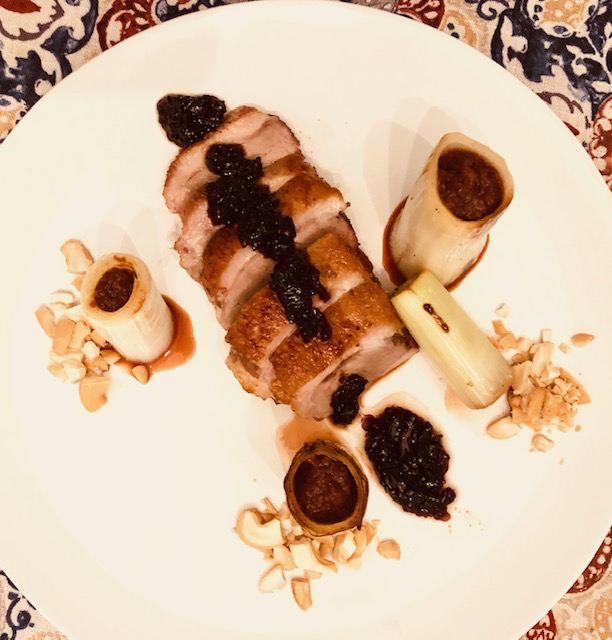 "I really enjoy taking the raw ingredients and transforming them into a beautiful meal that people can enjoy," Jacob said. "It's one of the best uses of three hours I can imagine."
Jacob makes time to cook at Bowdoin as well; he is on the 14 meal plan, largely because he likes to socialize in the dining halls. He often cooks for his friends on special occasions. Last year he cooked an eight-course meal in a Brunswick Apartment kitchen for eight of his friends featuring coconut carrot soup, pan-seared sumac salmon and steak with roasted bok-choy, bacon fat-tomato sauce, gooseberries and crispy farro.
"When you're doing something like that, timing is the hardest part," he said.
While making dinner for me, Jacob pulled sliced sweet potatoes from the oven, causing the house's overly sensitive fire alarm to go off. He rushed over to the alarm and waved a towel at it until it died, adding the finishing touches to each dish, he plated them and brought them to the dining room table.
There were two courses. The first was a cut of duck, pan-seared with smoked paprika then baked for 45 minutes in the oven. Jacob poured a shallot, sherry and red wine sauce over the duck; he served it alongside crumbled pecans and leaks propped upright and filled with a beet and cocoa puree. The second was a Mediterranean-inspired roasted vegetable dish with sliced sweet potatoes, red onions and broccoli stalk, served with tahini sauce, lemon, parsley, za'atar and, to add brightness, pomegranate.
I tried the duck first. It was extremely tender, perfect for a cold fall night and perked up by the tart flavor of the sauce. The leeks were cool and delicate. The Mediterranean-inspired roasted vegetable dish complemented the duck perfectly, offering a milder flavor palate while remaining warm and rich.
Jacob does not plan to cook professionally after Bowdoin, but he does plan to cook for himself and his family in the future. He dreams of one day owning a small restaurant and coffee shop in Chicago. It would serve a small tasting menu at night and fresh pastries and healthy breakfast bowls in the morning, along with coffee.
Jacob Baskes is a fantastic chef, a talented individual and a good friend. He relishes cooking, racing, playing guitar and making people laugh, not because he is competitive or ambitious, but because of the intrinsic joy he finds in doing those things. He encouraged me to tell my readers that he would like to cook for you, as long as you pay him back for ingredients.
You can follow Jacob Baskes on Instagram @Jacobaskes.