Panelists address the complexities of land acknowledgements
November 15, 2019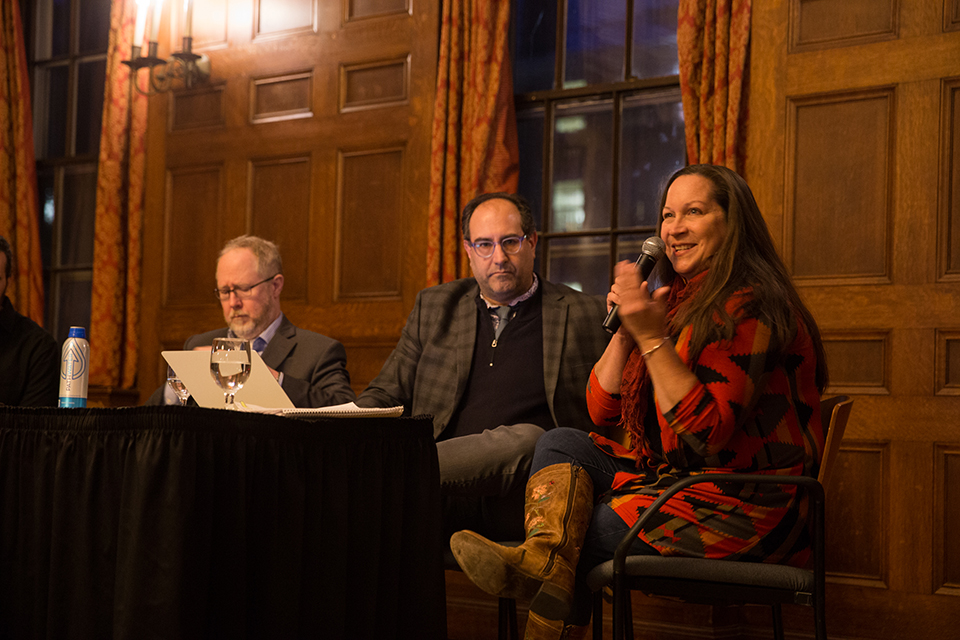 Sitting on the floor and squeezing into the back,  faculty, staff and students packed Main Lounge in for the panel, "Land and Waters Around Us: A Discussion on Indigenous Land and Acknowledgements." The event, organized by the Native American Students Association (NASA) as a part of both Native American Heritage Month and No Hate November, discussed the importance and complexity of land acknowledgements.
The four panelists included two Bowdoin professors—Assistant Professor of Anthropology Willi Lempert and Associate Professor of History and Environmental Studies Matthew Klingle—as well as Darren Ranco, associate professor of anthropology and coordinator of Native American research at the University of Maine, and Maria Girouard, a Penobscot historian and environmental and social justice activist.
Two of NASA's leaders, Sunshine Eaton '22 and Amanda Cassano '22, opened the event with a prayer and introduction. Lempert then took over as moderator, beginning the conversation with a discussion of what a land acknowledgement is.
Land acknowledgements, a practice increasingly common in many parts of the world, typically include a recognition of the indigenous people who once and often continue to occupy the land on which institutions like Bowdoin were built.
"Land acknowledgments provide that opportunity for us to think critically about our place in history and just remember the people that used to be here," Girouard said.
However, the panelists emphasized that a land acknowledgement is more complicated than a quick statement mentioned at the beginning of an event.
The goal of the panel, in Lempert's view, was to reveal the complex reality of an issue that people might imagine as one-dimensional.
"There are complex issues about [land acknowledgements] being prescribed, where you have people saying them who perhaps wouldn't say them if they had a choice," Lempert said.
Ranco also gave advice to those presenting land acknowledgements: "Don't just do it. Don't just perform it. Engage in the community building; do the work," he said.
The panelists also discussed the importance of acknowledging the current relevance of colonialism and issues of Native underrepresentation.
"Colonialism is a current and an ongoing process," said Girouard. "These colonial acts of land seizure are not a thing of the past. They are very much current and present-day."
Klingle, who specializes in environmental history, elaborated on the importance of reminding non-native people of this current relevance.
"Indigenous people have not disappeared, contrary to the vicious and still ongoing trope of the so-called 'vanishing Indian,'" said Klingle. "If anything is to be done in a positive sense of land acknowledgements for non-native audiences, it is to remind people who are listening and participating that native peoples are very much present."
The panel also centered on the question of "Who land acknowledgements are for?" Although the answer is complicated, both the panelists and NASA students emphasized their  appreciation for the recognition that comes with the presentation of land acknowledgements.
"I hope this panel brings awareness to [land acknowledgements'] importance, and what they do for Native people especially, and how it makes us feel," said Eaton. "It makes us feel appreciated."
By sponsoring more events surrounding indigenous groups, NASA hopes to spark more conversation and increase the visibility of Native students on campus.
"Native students at Bowdoin are either invisible at worst, or misunderstood at best. Land acknowledgements would be an effective way of bringing conversations about indigeneity to Bowdoin College," Cassano said. "It might not be a perfect solution—it certainly won't be—but we want people to consider on a regular basis what it means to the history of this land and the current politics of indigenous peoples living in what is known as the state of Maine right now."
Audience members also reflected on the importance of learning more about the complexities of Native issues.
"I need to know more about [land acknowledgement] and I need to do my part to make this situation better," said Keaghan Duffy '23. "And a lot of that, I think, just comes from listening to indigenous people speak."