Volleyball stumbles, but does not fall, in early-season matchups
September 13, 2019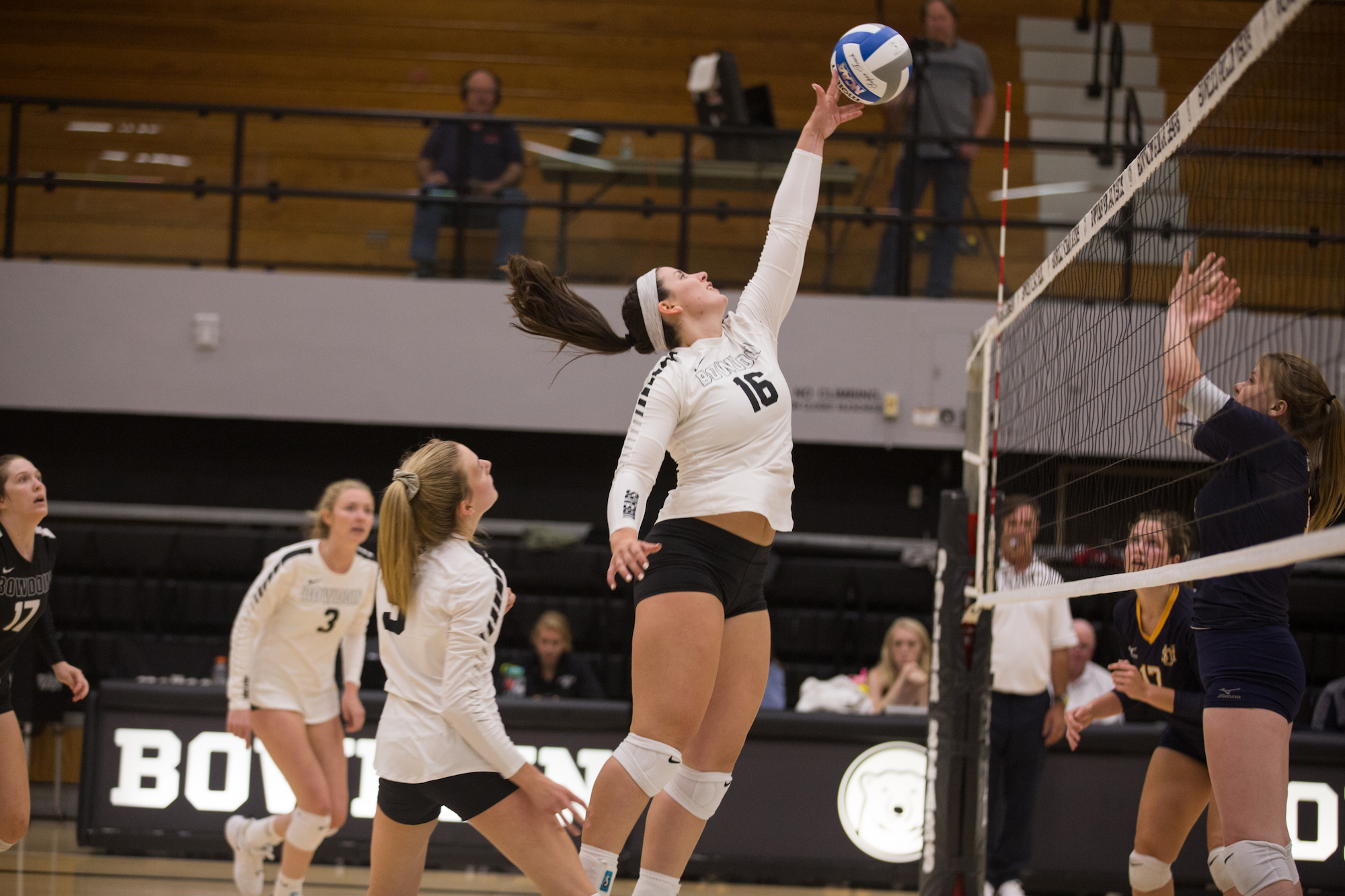 Bowdoin volleyball began its season last weekend with a hiccup, dropping two of three matches at the Wesleyan Invitational. The team opened its home schedule on Tuesday, beating the University of Southern Maine three sets to one to bring its record even at 2-2.
Bowdoin's first loss of the tournament, a five-set battle against Wellesley, marked the team's first regular-season loss since September 22, 2018. Last season, the Polar Bears went 10-0 in conference play and 28-2 overall. In the postseason, they claimed a NESCAC championship before falling to Babson in the Sweet Sixteen round of the NCAA tournament.
Bowdoin returned all but three players from last year's championship squad and entered this season ranked 23rd among Division III programs in the American Volleyball Coaches Association (ACVA) poll. The team fell out of the AVCA's top 25 after losses to unranked Wellesley (3-2-0 overall) and to 12th-ranked Wesleyan (3-0-0 overall, 3-0-0 NESCAC) this weekend.
"It was definitely a learning opportunity for us," said captain Caroline Flaherty '20. "We jumped into some really tough competition and played some nationally-ranked teams the first weekend, after only having practiced for a few days together."
Wesleyan has emerged as the Polar Bears' perennial NESCAC rival and is improving every year, said Flaherty. The Cardinals suffered their only in-conference loss of 2018 at the hands of the Polar Bears and finished second to Bowdoin in the NESCAC regular season standings.
"They've turned their program around in recent years, and their coach has done a really good job of recruiting players, so they definitely have been strong and will continue to be strong," said Flaherty.
The rivalry will continue in Middletown on September 20, when Bowdoin and Wesleyan face off in the first in-conference game of the season.
"It's really exciting for us," said Flaherty. "Obviously we wanted to beat them [last weekend] and we didn't, but we learned a lot from that loss."
Unforced errors, more than untouchable competition, hindered the team's start, said Head Coach Erin Cady.
Bowdoin surrendered 26 attack errors and 12 service errors in its loss to Wellesley and 24 attack errors and five service errors in its loss to Wesleyan.
"We played really, really good volleyball. It's now just figuring out how to minimize unforced errors," said Cady.
Amidst an otherwise unremarkable weekend of play, Flaherty gave her teammates a reason to celebrate when she landed her 1,000th career kill in the opening set of a 3-0 victory over Rhode Island College. Flaherty is the sixth player in program history to reach the milestone.
"I didn't even know [I was approaching the mark]," said Flaherty. "At the end of last season it was something that was brought up, that I was close, but over the summer I forgot about it … then everyone started celebrating and cheering."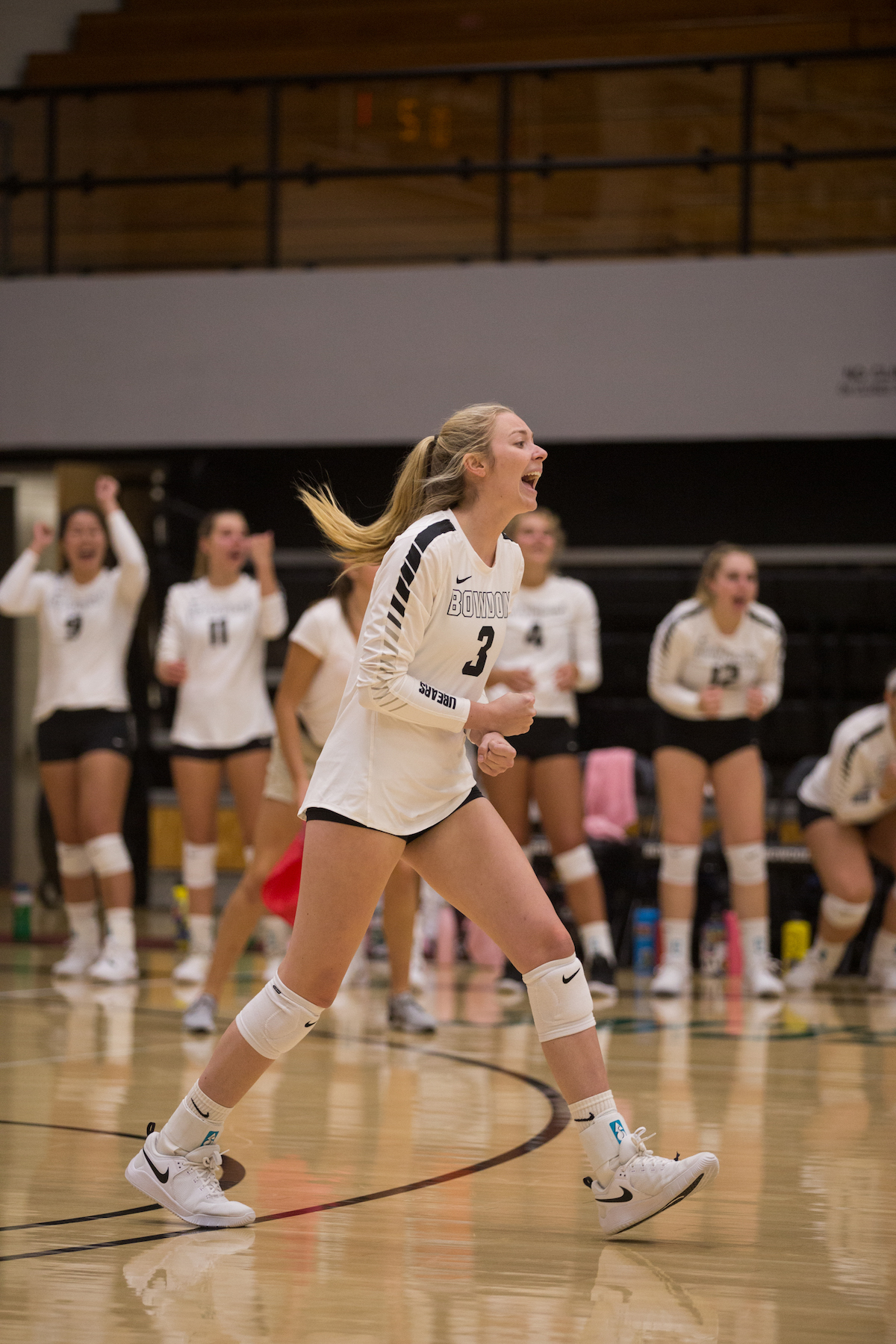 Flaherty currently sits fifth on the team's all-time career kill list with 1,010. She trails the all-team leader, Christy Jewett '16, by 390 kills. In 2018, Flaherty connected with 342 kills.
"She's been phenomenal and is definitely working toward that [record]. It speaks loudly for who she is as a player," said Cady. "Reaching that milestone is really hard to do."
Bowdoin will travel to Cambridge this weekend for the MIT Invitational, where the squad will face off against Wellesley, MIT and Babson, in a rematch of last year's NCAA Sweet Sixteen matchup. The team's first in-conference home game of the year will be against Williams on October 4.
Caroline Flaherty '20 is a photographer for the Orient.