In wake of Hurricane Dorian, Bowdoin sophomore returns to Bahamas to represent his country
September 13, 2019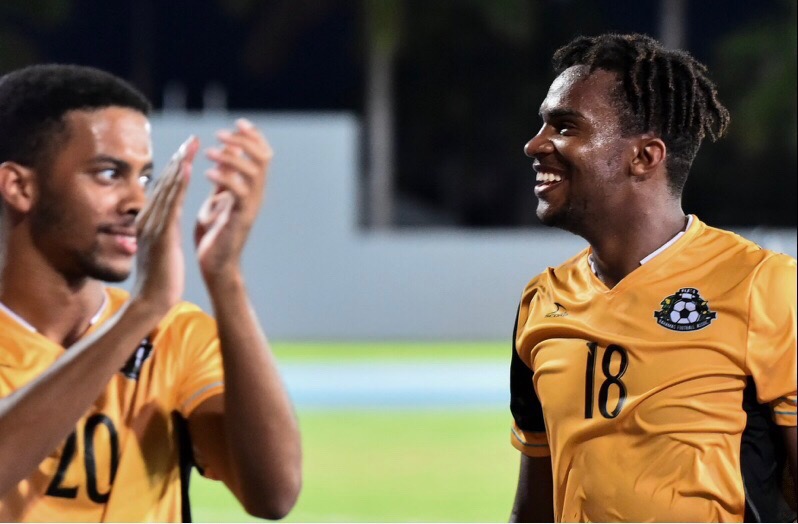 When Logan Russell '22 stepped onto the soccer pitch on Monday evening, it wasn't at Pickard Field. In fact, it wasn't even in the U.S.. Rather, Russell strode out of the tunnel in front of thousands of fans at Thomas Robinson Stadium in Nassau, the Bahamas, to make his debut for the Bahamian men's national soccer team.
The Bahamas defeated rivals Bonaire 2-1 in the group stage of the Confederation of North, Central American and Caribbean Association Football's (CONCACAF) Nations League. Russell, a member of Bowdoin's varsity soccer team, played the full 90 minutes.
Russell's journey to his senior  debut was not linear. While living on New Providence, he played for the Bahamian Under-15 and Under-17 national teams, but after moving to the United States for high school and college, the call-ups stopped.
"I wasn't called up—I wasn't on the radar. And then they got a whole new coaching staff," Russell explained.
The new assistant coach was Russell's youth coach at his club in the Bahamas, and they reestablished their relationship quickly.
"I got a call one afternoon, and it was a number I didn't have. Luckily I answered it, and it was him," said Russell. "He was like, 'I want you to … come down for training camp this summer.'"
Russell spent the last month of his summer training with the national team before returning to Brunswick for preseason.
The match against Bonaire was the first for the Bahamas since Hurricane Dorian, and the significance was not lost on Russell or his teammates. Before the game, the team visited one of the makeshift shelters constructed to house refugees from the Bahamian islands hit hardest by the storm. They helped families move their belongings into the shelter and distributed food and water.
"They were happy to see us and so it was … cool to help them get their mind off of what's going on. It was good to see some people smile," Russell said.
In turn, many of the people from the shelters supported the team in the game, said Russell.
"When we won, seeing them really happy and proud and for an hour and a half—they could maybe forget about what was going on in their lives," Russell added.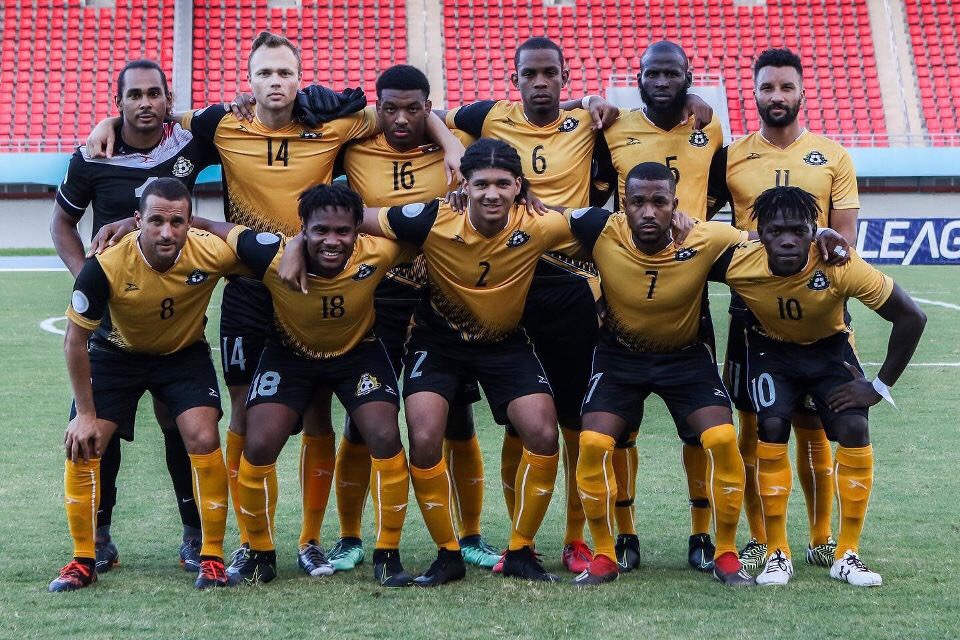 Russell's cross-continental trip was a brief one. He left Brunswick on Friday and spent the night at his home in Nassau before checking into the team hotel the following morning. He spent Saturday and Sunday training, reviewing film and meeting with coaches before the match on Monday.
Just hours before kick-off, Russell learned that he would be playing in an unfamiliar position. Russell admitted feeling nervous, but hearing the encouragement of some of the more senior members of the team calmed him before kickoff.
"[My teammates] said, 'Hey, I know this is your first time playing a different position than you're used to. Just relax. Have a good time and try to enjoy it,'" Russell said. "And so when all the guys told me that it, it kind of calmed my nerves."
A week later, Russell is still wrapping his head around the experience. "To think that there are kids who would kill to have the opportunity that I had, when I put it in that perspective, it's like, wow, dude, like this is kind of wild," said Russell.
Russell said he realized the gravity of the moment when his coach chided him for recording clips of a pre-game training session for his YouTube channel.
"[The coach was] like, 'This isn't a high school game, dude. This isn't a college game. You're here to play for your country,'" Russell said. "When he said that, I was kind of shocked. I was like, 'You're so right. I should be focusing on the game.'"
On October 10, the Bahamas will face off against the British Virgin Islands in the second match of the group stage. That match will be pivotal to their chances of topping their Nations League group. Russell will learn in the coming weeks if he will be invited back to the team's roster for that match.
If the Bahamian team is able to win its group, it will have a chance to qualify for the 2021 Gold Cup, the most prestigious cup competition for CONCACAF members. Regardless, advancing from the group would provide Russell with the opportunity to go head-to-head against professional players from Europe's top leagues.
"Another dreamland—who knows? A fairytale story happens. We play against the United States!" said Russell. "It's unrealistic, but imagine."