Women's rugby team evolves as sport expands nationally
September 13, 2019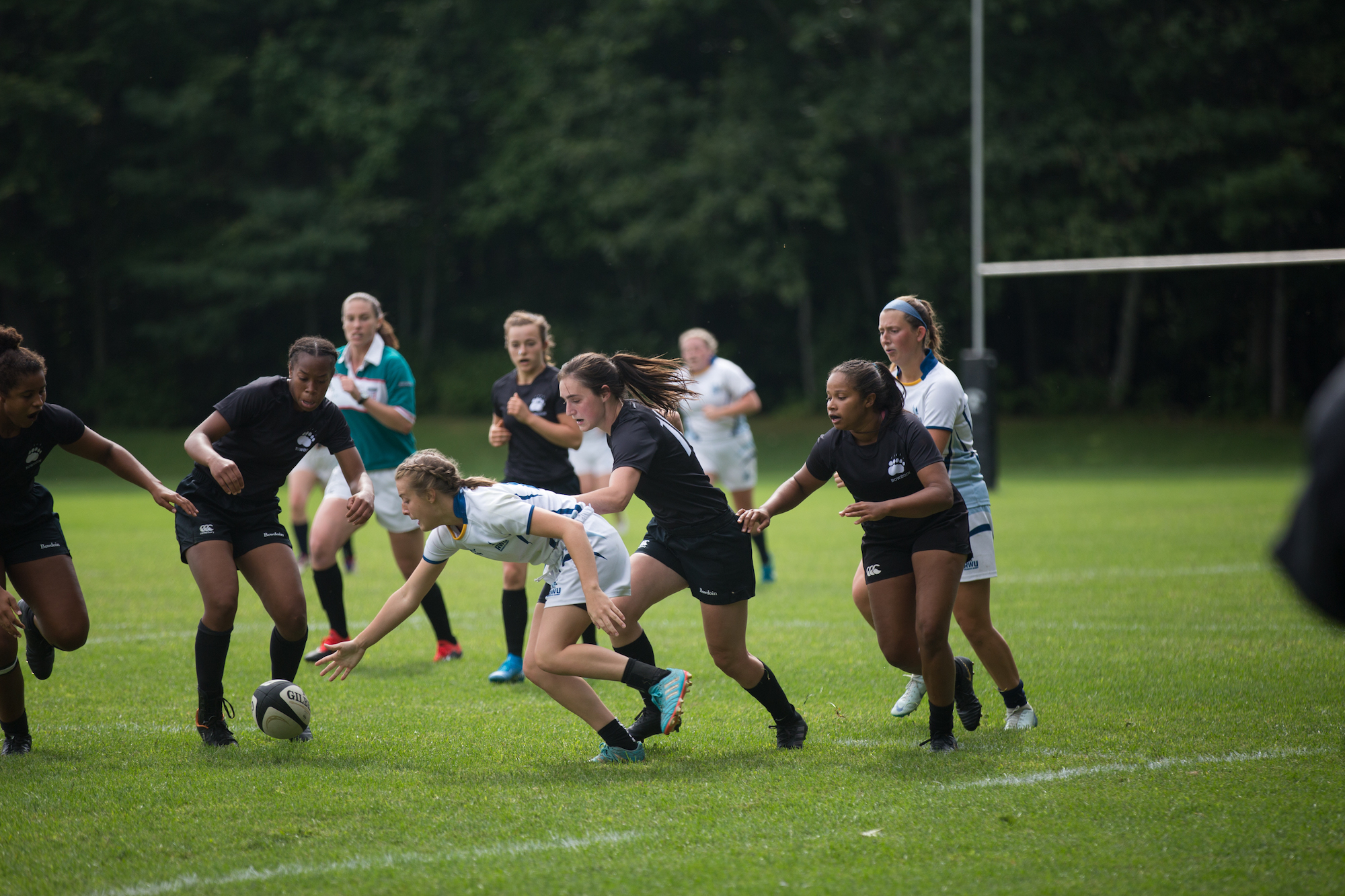 On September 7, the Bowdoin varsity women's rugby team opened their season with an emphatic 76-0 thumping of Roger Williams University. For the team, one of the College's most successful teams over the past few decades, these landslide victories have been somewhat commonplace.  After years of dominating the New England collegiate rugby circuit, the team moved to the National Intercollegiate Rugby Association (NIRA) conference in 2016, in search of a higher caliber of competition. As women's rugby experiences a boom in growth and popularity across America, the Bowdoin team continues to face a higher standard of play—and continues to excel regardless.
For the majority of the program's history, Bowdoin played in the New England Rugby League, a conference that was composed mostly of club teams. In 2010, at the behest of USA Rugby, the collegiate game split into conferences determined by which colleges a school's other varsity teams played. Bowdoin was placed into the NESCRC conference, composed of many of the same schools as the NESCAC.
"Bowdoin won that conference every year, sometimes going undefeated, and winning the conference championship every year. We were very successful, and there's nothing wrong with that, but [we] wanted to be challenged more," said Head Coach MaryBeth Mathews. Indeed, over the five years the NESCRC conference existed (2011-2015), Bowdoin compiled a win-loss record of 41-2 in regular season games.
"Three years ago, there were enough varsity teams—especially in the northeast—that we were able to form what's called the NIRA…which is a conference of all NCAA varsity teams," said Mathews.
The new conference, composed of sanctioned programs that recruit players more aggressively, has yielded significantly stiffer competition. Over the past three years, programs from the University of New England, fall 2018 Division II national champions Vassar College and Norwich University have all defeated the Polar Bears, even putting them on the other side of a lopsided score line. In 2016, the first year after the NESCRC was disbanded, Norwich (a Division I team with an active recruiting program) defeated Bowdoin 71-3, the Polar Bears' largest loss in years.
In response to these new challenges, the women's rugby program has evolved significantly from an internal perspective. Notably, the team has increased the size of their recruiting class.
"In the past five or six years, [it was] mostly just one or two [recruits] a year," said captain Claire Carges '20. "[However,] last year we had three recruits. I think it will continue to become a bigger thing."
This year, the NESCAC calendar allowed rugby to return to campus for preseason early because of its designation as a contact sport.
"We had an especially long preseason this year—we were the first sport to return back to campus by a day or so," continued Carges. "[That] really helped solidify our strategy going in [to Saturday's game.]"
This expanded recruiting scheme, an expanded coaching staff and the lengthened preseason have all contributed to early success this season.
"We were happy because we knew we didn't have to squeeze [our preseason] into four days, so we knew we could actually sit down and work on what we wanted to do. You could definitely see that on Saturday— [the players] knew exactly what they were doing," said assistant coach James Read.
"The key factor [last weekend] was our new offensive attack strategy that the coaches developed over the summer and that James has taught the team…which utilizes all 15 team members [in the attack]," continued Mathews. "They had been practicing it all through our preseason, and this was their first chance to actually do it in a game and against a real defense."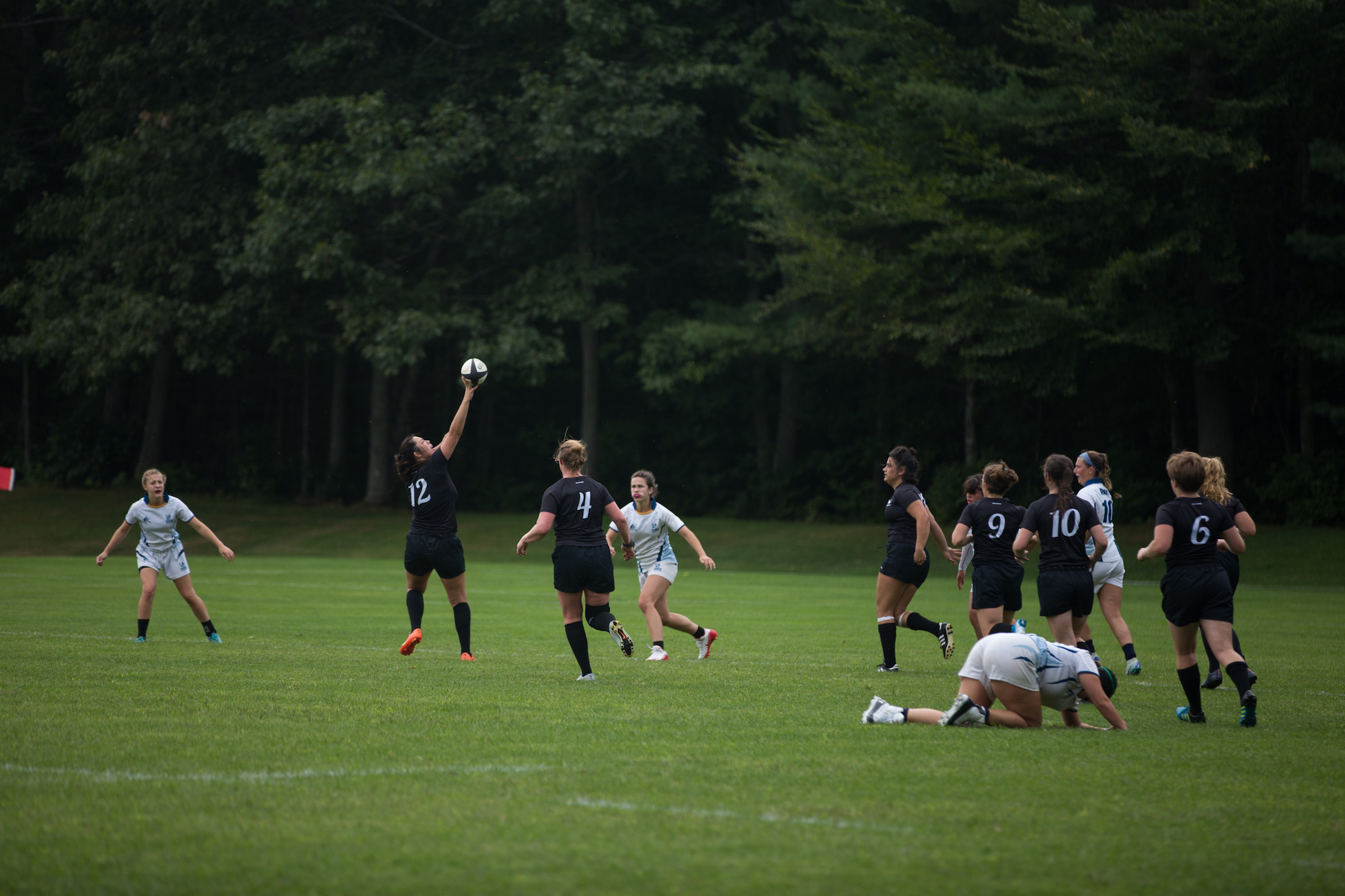 As rugby—and especially women's rugby—grows exponentially in America, the level of competition in the collegiate game will only get more challenging. Mathews described the #sprintto40, the tagline for the campaign to reach 40 varsity collegiate rugby programs, at which point the NCAA will officially recognize women's rugby as a sanctioned sport with a national championship.
"The landscape of collegiate women's rugby is always evolving," said Mathews. "I might say in five years [I expect the NCAA to adopt women's rugby.] Many are looking at it and when a couple more key schools go, there will be a domino effect."
As the game grows, the standard of competition grows with it. In recent years, programs from schools such as Vassar College and the University of New England have proven challenging adversaries, defeating the Polar Bears a combined four times over the past four years.
Despite the ever-changing landscape across women's collegiate rugby as a whole, the Bowdoin team has never faltered from its mission of inclusivity. "We need walk-ons, otherwise we wouldn't have a full team," said Carges. The team is known across campus for welcoming any and all newcomers to the sport, and for its welcoming and supportive atmosphere.
"[Inclusivity] is why we've had tremendous success," said Mathews. "It's the very nature of the competitive level of this team. [When we value] inclusivity and diversity, supporting each other, and accepting others, the wins seem to take care of themselves."
Faced with another challenging schedule this year, the team will once again be tested in its fourth year competing in the NIRA conference. Guided by their core values, however, there is no compromise in expectations from anyone within the program.
"You look at all these years of student-athletes at Bowdoin who have played rugby," said Mathews, pointing to photos of past teams on the walls of her office, "and I'm not sure … they remember the record or the scores. But they remember the confidence, the lifetime friends, the resilience and the fun they got out of being on the team."