Men's soccer prepares for Amherst rematch
September 6, 2019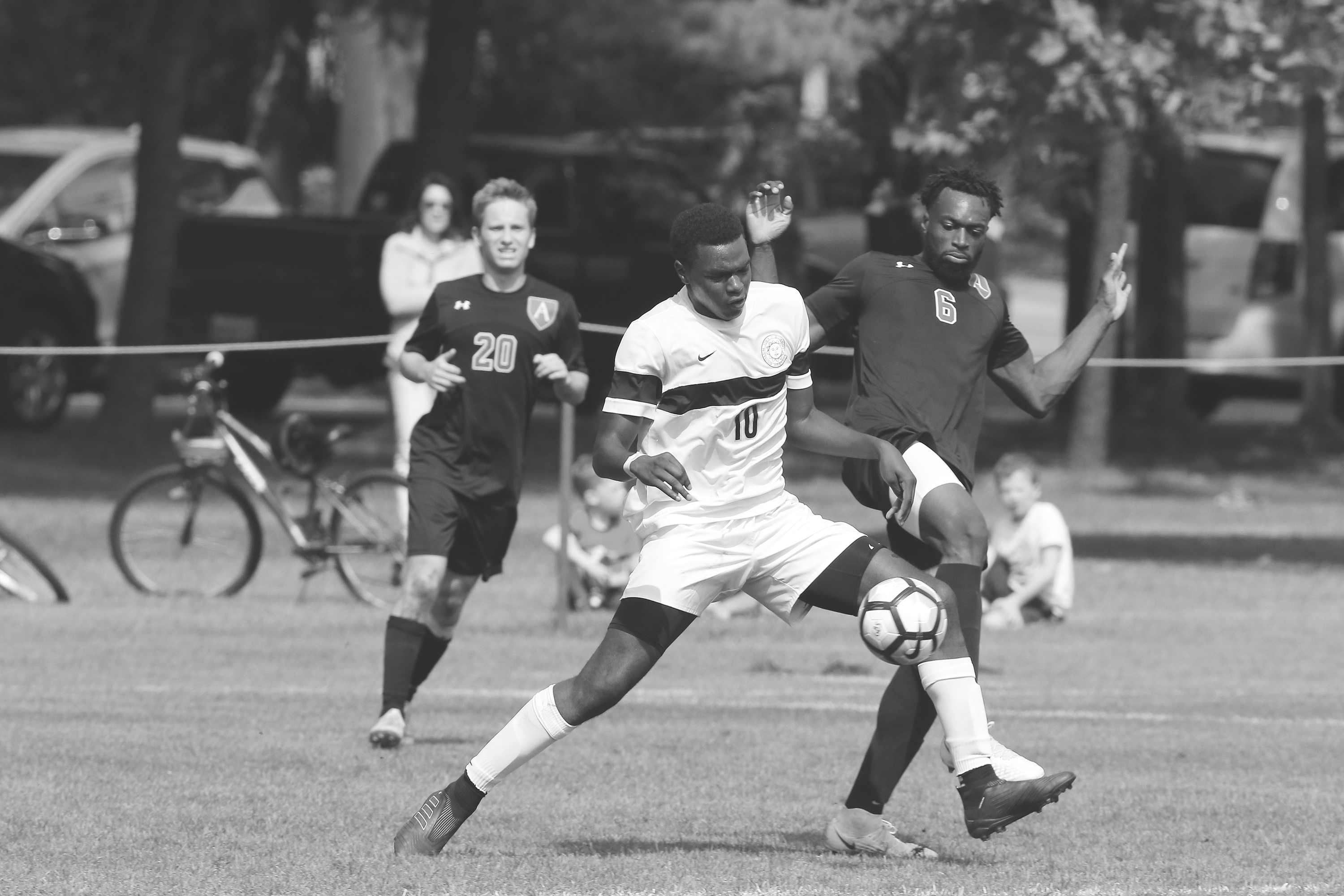 This Saturday, the men's soccer team will face its longtime Achilles' heel, Amherst. Bowdoin has not beaten Amherst since 2014, when the Polar Bears beat the Mammoths in penalty kicks in the NESCAC championship. Before this, Bowdoin's last win against Amherst was in 2010. No team in the last 18 years has eliminated Bowdoin from the NESCAC tournament more times than Amherst, including a heartbreaking 1-0 defeat in last year's tournament.
But these losses were, by and large, close and often decided by a single goal. Many on the Bowdoin team knew that after the loss in the NESCAC tournament, it could have easily been Bowdoin celebrating instead of Amherst. As Head Coach Scott Wiercinski explained to the Orient, while there were positives to be taken away from that game, losses are always hard to swallow.
"We were either one mistake away from losing the game, or one good play away from winning the game," Wiercinski said. "So [a 1-0 loss] can be encouraging in a lot of ways, but losing a game is never satisfying. It keeps you hungry to come back and to try to get better."
The Amherst men's soccer team has been known to play rough, brutish soccer— Wiercinski and all three captains mentioned the word "physical" when describing Amherst.
"It really is trial by fire, especially for the first years coming in having not played a NESCAC game," said captain Justin Miller '20. "They come in and are instantly thrown in there … having them be able to have composure and not get flustered when they have four Amherst guys who are all 6 feet tall running at them full speed [is vital.]"
"[Playing such a physical team,] you need to be ready and mentally prepared to think out everything you're going to do," Miller continued. "Every pass, every tackle, needs to be completed with a lot of meaning and investment."
But, as captain Max McPherron '21 conceded, Amherst has recruited more technically gifted players recently, as opposed to the tall and physical players they historically have pursued. This could change Amherst's style of play. As Amherst's first NESCAC matchup of the season, the Polar Bears will be the first test for the Mammoths' new class of recruits.
Last year's tournament defeat is a relatively fresh wound for the team, but the Polar Bears' captains remain optimistic. They're confident not only that Bowdoin has every opportunity to win this game, but also that Bowdoin is a better team than Amherst.
"We're definitely a more technical team than Amherst despite them recruiting more technical players, so the result of the game is dependent on us being able to play our style and not have them dictate the game," said Miller.
The captains all highlighted the importance the younger, less experienced players will have, both in the matchup against Amherst and throughout the season. Adjusting to the graduation of multiple key players, including All-American center-back Moctar Niang '19, will be a significant challenge for the Bowdoin squad, but there are quality players waiting in the wings to break out. Sophomores Harry Cooper, Dylan Reid and Matt Uek were named by the captains as potential breakout stars this season and will be players to watch this weekend.
Captain Jason Oliver '20 spoke bluntly when he said that Amherst celebrating after defeating Bowdoin in the NESCAC tournament "should have been us." The team is staring down an opening matchup against one of their most daunting opponents, fully aware of its unfortunate record, yet wholly confident in its ability to overcome.