Men's tennis preps for rematch against Williams
May 3, 2019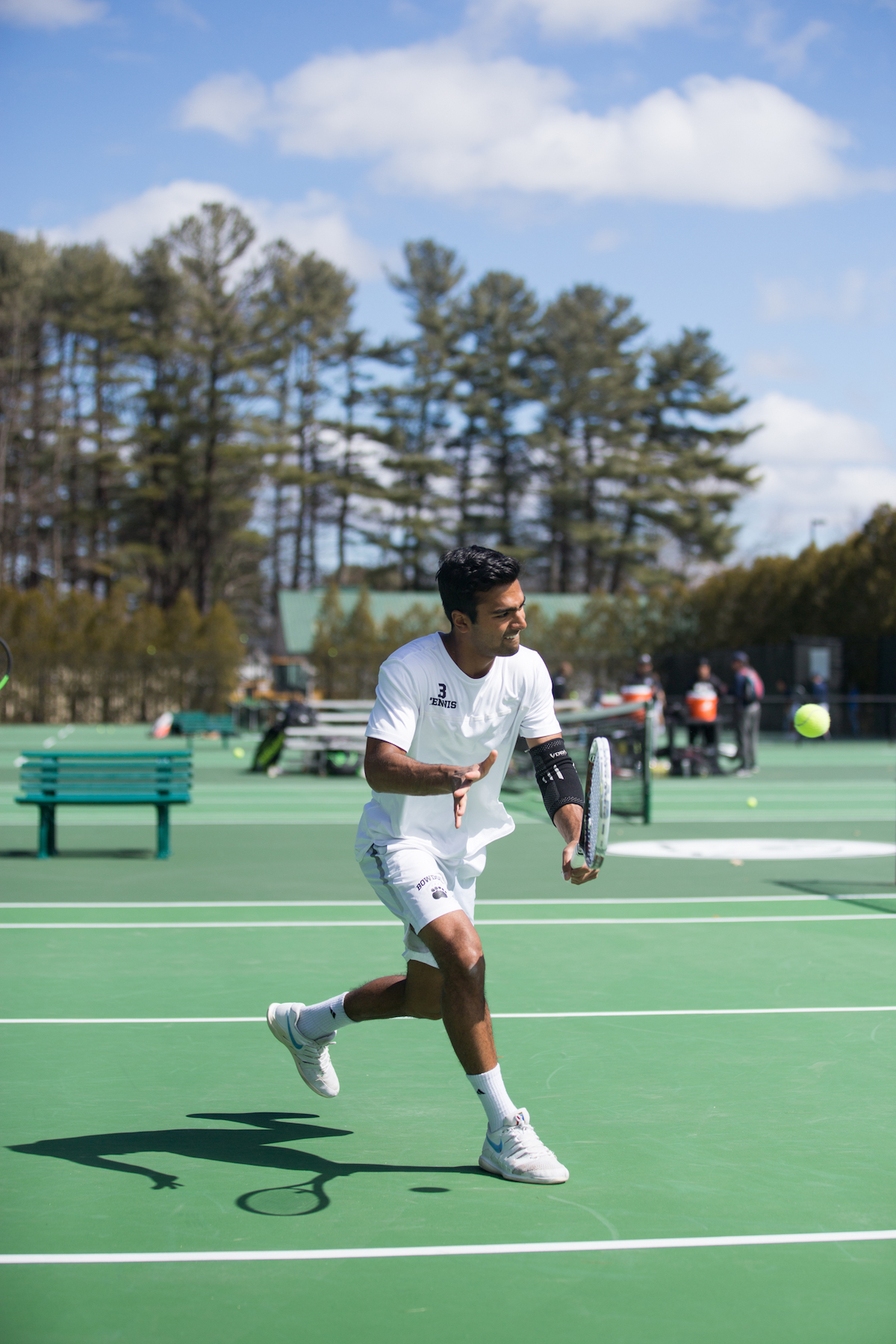 After picking up two more NESCAC wins last weekend, the third-ranked men's tennis team (15-3, 7-2 NESCAC) is heading to Middlebury today to kick off the NESCAC Championship against Williams (8-7, NESCAC 5-3).
As the Polar Bears prepare for tournament play, captain Grant Urken '19 said the championship is more of a race than the regular season, changing the team's mentality.
"Tournament play is to decision rather than completion," Urken said. "We have Williams again, who we actually just played this past weekend. We're excited to see them again. They're an extremely tough team, and we were luckily able to produce against them last weekend, but our team is ready for what's to come."
Urken believes the team has continued to emphasize the "one through 11 mentality,'' where players prioritize the unit over any individual.
"I definitely believe that if we're playing our best tennis as a unit, we're one of the top competitors in the country," said Urken. "[If we] just try to focus on our own end, I think the results will show for themselves."
Despite its recent success, the team has faced a number of challenges this year, namely the graduation of three of its key players. The departure of Luke Tercek '18, Gil Ruddy '18 and Kyle Wolfe '18 left a noticeable hole in the team.
"This definitely has been a different season from past seasons," said Urken. "We've been fortunate enough in prior years to have the same base unit of our starting lineup. This year has been extremely exciting for a lot of different reasons, but one of them is that we did lose three important seniors last year, so there's definitely been a large learning curve to our team this year."
This season, the team has been focused on creating a new identity and promoting a group mentality within the team.
"We've tried to keep the same team identity [as previous years], which means maintaining a very process-oriented, blue-collar, hard-working team," said captain Jerry Jiang '19. "Every year the captains will adjust properly to the team's needs. [This year] we're a younger team, so we've tried to focus on the younger guys and how to bring more cohesiveness to the team."
Despite these obstacles, Urken believes that this emphasis on team chemistry has had an important impact on the team's success, and he is optimistic about its odds in the upcoming tournament.
"We're looking to produce the best results possible, but one of the goals we set out to achieve at the beginning of the season was to make the finals. But now I think we're just trying to continue forming our identity," said Urken. "So [we're] just trying to focus on our own end. I think the results will show for themselves."
At this point in the season, even the youngest members of the team have experienced what it's like to compete in the strongest conference in the country.
"The NESCAC is a competitive conference. Everyone is beating each other, everyone's close to each other. So at this moment, it doesn't really matter what seed we are," said Jiang. "No matter whether we've won or lost [in the regular season], it's always been pretty close. But I believe we are a team that thrives late in the season, so everyone is prepared."
The Polar Bears face off against Williams at 8 a.m. Friday at Middlebury.