Carolyn Brady '19 named first African American Miss Maine
September 6, 2019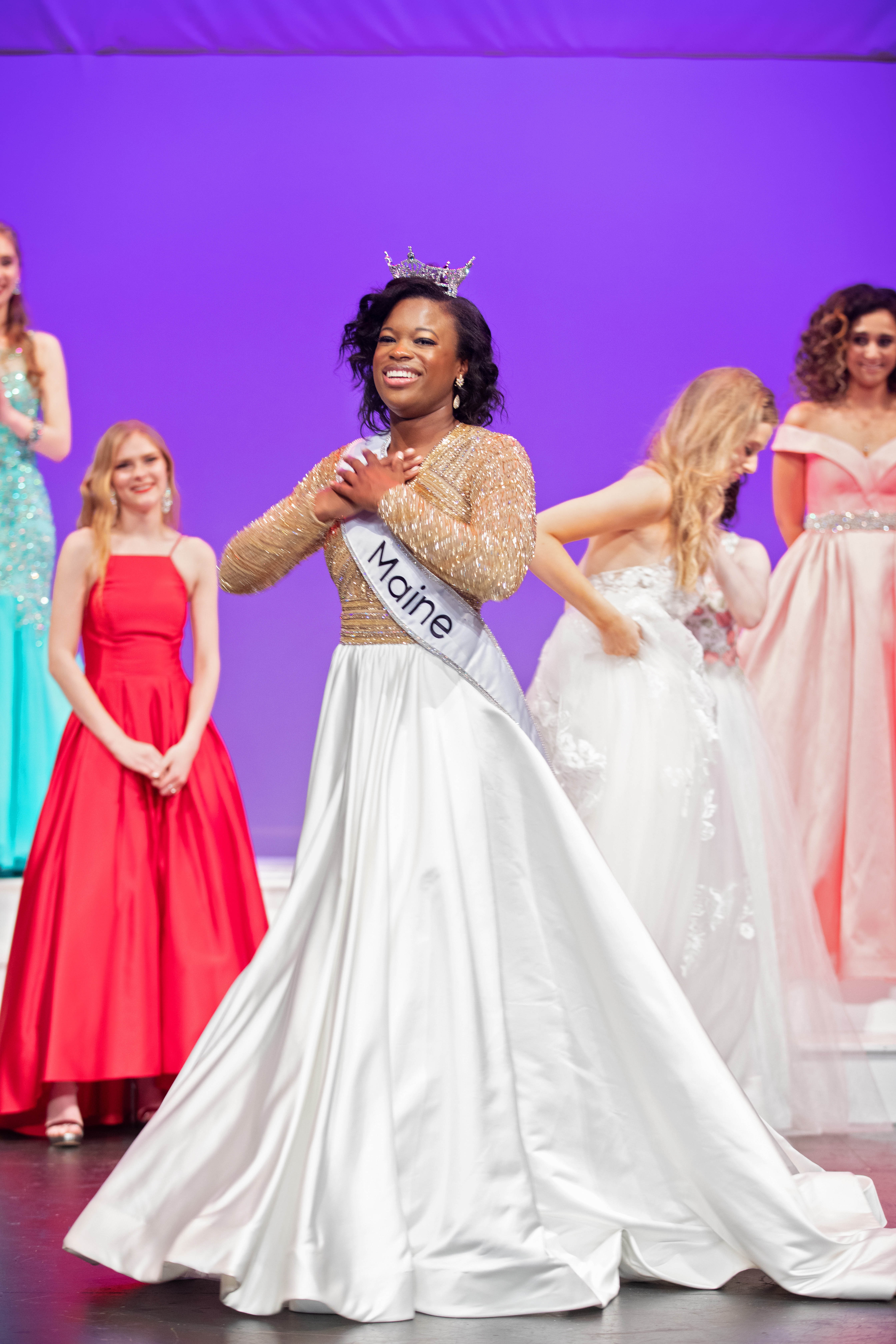 Unlike most seniors, Carolyn Brady '19 had the opportunity to walk across two stages this summer: the first, in May, to collect her Bowdoin diploma, and the second, on June 22, to collect her sash and crown as Miss Maine 2019 at the Freeport Arts Center.
Brady, a native of Philadelphia, became the first African American to be crowned Miss Maine in the pageant's 84-year history. She will compete in the Miss America competition in December.
The significance of her title was not lost on Brady.
"I hold the title in a state that's about five percent African American, if that," said Brady. "I think it really shows that we're moving toward a more diverse and inclusive standard of beauty, which is amazing, and I just feel so fortunate to be able to represent that."
A newcomer to the pageant scene, Brady began competing in Miss America pageants during her sophomore year at Bowdoin after a former contestant noticed her violin skills during a Bowdoin Symphony Orchestra performance. This endeavor, though never part of Brady's plan, has proven beneficial in numerous ways.
"It worked out so well, since I was never really expecting to continue with pageantry," Brady said. "I was sort of doing it for the one-time gig of meeting more people that were local to Maine while I was in school here, and it has blossomed into this amazing launching pad for my career."
Brady's barrier-breaking title comes amidst a turbulent year for the Miss America competition, as the show attempts to carve out a place for itself in a cultural landscape that has come to question the standards of beauty, femininity and gender identity.
After leaked misogynistic emails in December 2017 led to the resignation of Sam Haskell, the pageant's then CEO, Gretchen Carlson became the first female and former contestant to head the competition. Carlson spearheaded a controversial effort to rebrand it as "Miss America 2.0," which included renaming the event as a "competition" rather than a "pageant" and referring to participants as "candidates" rather than "contestants," as well as dropping the infamous swimsuit competition.
Despite the reform, the show has struggled to hold viewers, and the live telecast of last year's competition on ABC drew a record-low of 4.3 million viewers—a 23 percent decrease from 2017 and the program's lowest ratings since returning to television in 2011. Following continued criticism of recent reforms, Carlson resigned as CEO this June.
The changes to Miss America, however, align with Brady's understanding of fellow competitors and the way they are perceived.
"So many of our young women are doctors, scientists, college professors, leaders, and they have so many aspirations that a lot of our world leaders had 30 or 40 years ago when they were our age," Brady said. "I think that a lot of [the] pageant stigma just comes from unawareness and not really knowing what we associate with the pageant industry. The Miss America pageant, in particular, is making sure that we are more than just a pretty face."
Most importantly, Brady said, is that Miss America still provides women with a platform to help others.
Brady has spent the summer since her coronation touring the state and working with local philanthropic organizations including Catholic Charities Maine and Gateway Community Services. Her primary service project, which she is calling "Immigration Builds our Nation," highlights the contributions that immigrants, refugees and asylum seekers have made to Maine communities.
When she's not fulfilling her Miss Maine duties, Brady is working as an AmeriCorps volunteer at Howard C. Reiche Elementary School in Portland.
Brady said that her tour of the state has changed her perspective of Maine as a whole and clarified her role as its representative.
"We are huge by geographic standards but rather small in terms of population," Brady said. "A lot of parts of Maine feel a bit neglected so having Miss Maine be a part of every corner of the state and take part in meeting all of the people and representing the state as a whole seems to be really special for them."
Brady will compete for the Miss America crown December 19 in Uncasville, Conn. The program will be broadcast live on NBC.