Changing the reel and changing hands at Eveningstar
May 3, 2019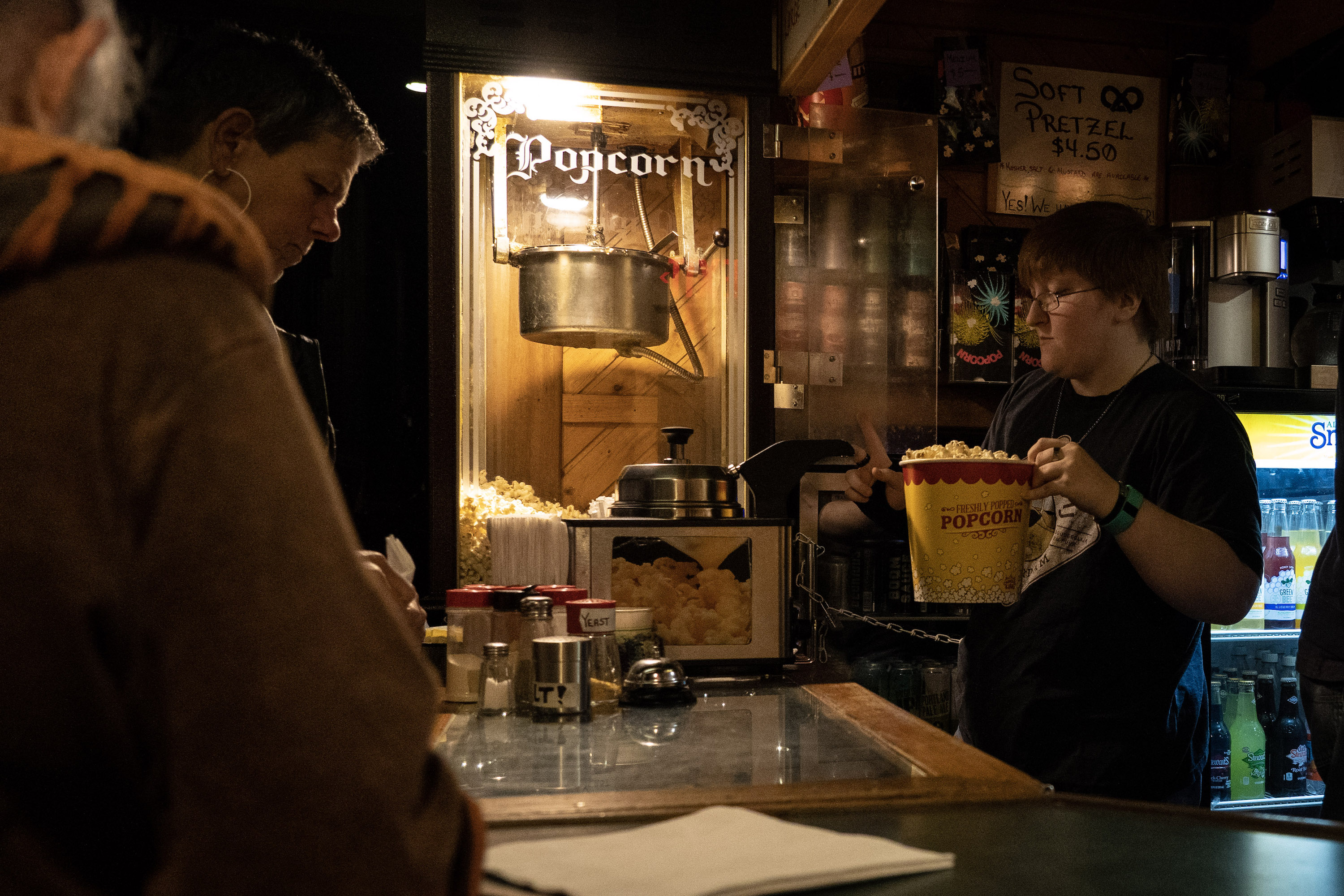 Brunswick has been home to a local cinema since 1908. The name and location of this theater have changed over the past century, but today, Eveningstar Cinema on Maine Street carries on the tradition as Brunswick's go-to specialty box office.
The establishment, however, may be in danger.
Barry Norman, the owner of  Eveningstar for the past nine years, is stepping down in May. Norman is selling Eveningstar and moving—at least temporarily—to Gloucester, Massachusetts. He cited chronic pain and the recent death of his dog as his main reasons for leaving Brunswick.
"I came here with a bad back," Norman said. "Over time, my bad back and my bad knees have [gotten] a lot worse. I'm in serious chronic pain."
Before he can sit in his desk chair, Norman must climb the stairs to his office, duck under the landing, carefully lean away from the running projector he sets up for screenings and squat to avoid hitting his head on the exposed ceiling pipes. It is clear that the office ergonomics do not ease his pain.
After deciding against operating as an absentee owner, Norman's only option was to sell the cinema. Gracia Babbidge, Eveningstar's current manager and an employee of over 15 years, expressed interest in purchasing the cinema from Norman. Although Norman believes that Babbidge is the ideal candidate, she lacks one necessity to purchase the theater: money.
Norman and Babbidge started a GoFundMe page to help Babbidge raise sufficient funds. In about 20 days, the page has raised almost $15,000 in addition to numerous donations made at the theater itself. The campaign is still about $35,000 short of its $50,000 goal. Although Norman is moving out of the state on May 15, he has not set a hard deadline by which Babbidge needs to raise the funds in order to give her more time to reach her goal.
"I know that [Norman] wants to see the cinema continue and continue to do well," Babbidge said. "One of the better chances of that happening is selling to somebody who understands the business and enjoys doing it. And I understand it, and I enjoy doing it."
Despite the presence of bigger movie theater chains and new businesses coming to the Brunswick area, Eveningstar has remained in business due to the alternative viewing experience it provides to patrons. In addition to specialized programming and independent films, Eveningstar's homey atmosphere sets it apart from its chain theater counterparts; this includes using real butter on the popcorn and placing couches in the front row of the theater. Employees also get to know the patrons.
"A lot of people, when they come out of the theater, want to talk about it. Doing that with me or [Babbidge] has been a plus," Norman said. "People like that type of rapport with local businesses. People like going to a business where you can actually say hello to the owner of the business, get to know them, be on a first name basis and actually have conversations."
Though they may only call Brunswick home temporarily, students and faculty are saddened by the potential loss of the local landmark.
"I get that it's easy to watch movies alone in your dorm room, but I can't stress how important I think it is to watch movies with other people," said Sebastian Gilligan-Kim '19. Especially with everything going on in the world and in this country right now, it's important that we have places to come together and build communities, and that's what I think is really at stake here."
The potential loss of Eveningstar follows a larger trend in the way people consume entertainment. Streaming services, like Hulu and Netflix, allow viewers to watch movies at home on a phone or computer, replacing the more intense experience of going to a theater, explained Tricia Welsch, professor and director of the cinema studies program.
"If you don't have a habit of movie-going, you're going to lose movie theaters, and this is just one of the first ones to go," Welsch said. "You're not even going to have the big multiplex if you don't start going and paying money."
Despite the trend of movie theater closures and financial burdens, Babbidge remains optimistic that she will be able to purchase the theater from Norman.
"I'm determined to make it work," she said. "I don't give up easily if it's something I really think needs to happen, and I really think this needs to happen."