Music department seeks recruitment in admissions
March 1, 2019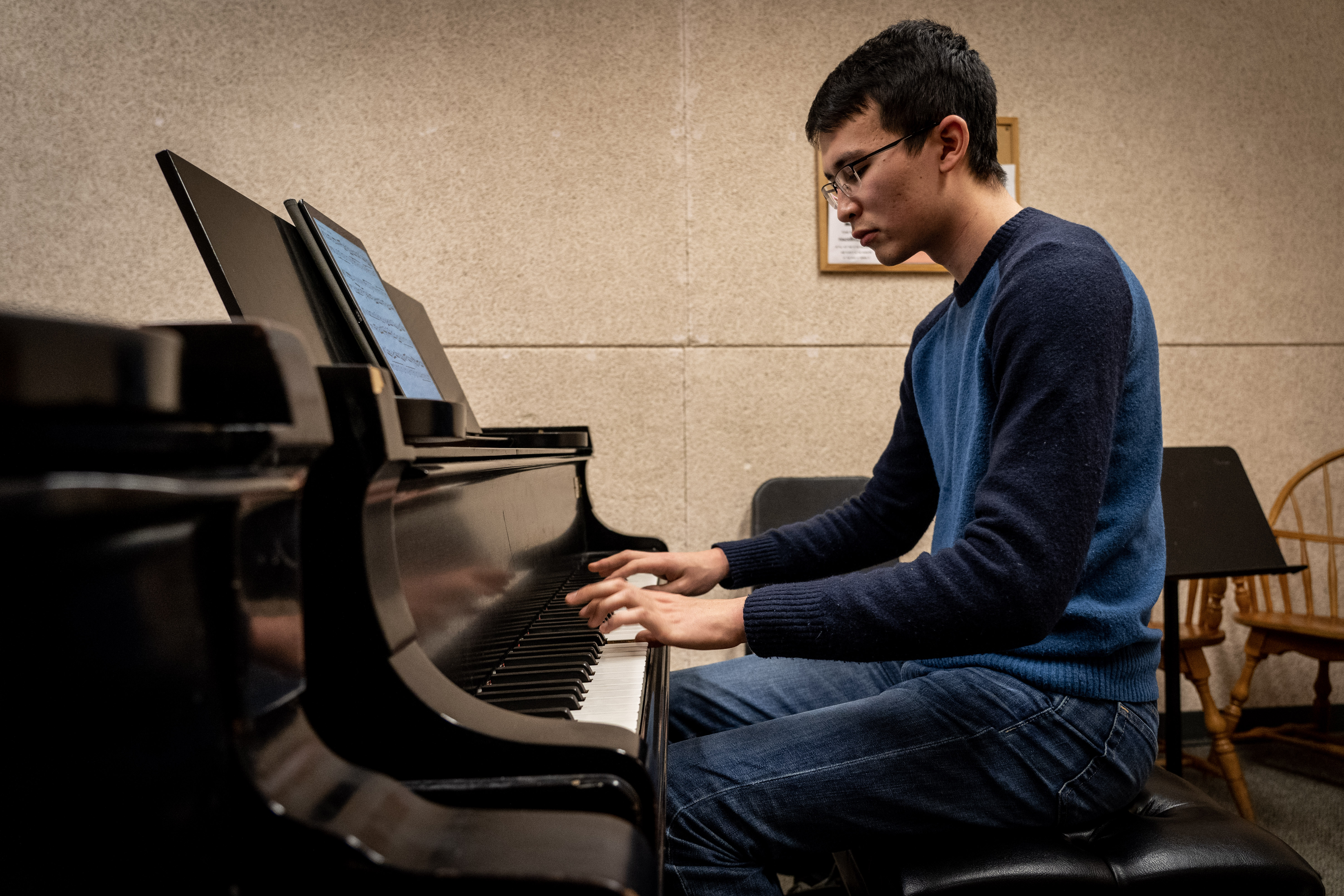 While many students step into Gibson Hall each semester, very few know the inner workings of Bowdoin's music department. Despite occasional setbacks, new efforts are being made to revive music programs and recruit students through a greater attention to musical abilities during the admissions process.
Faculty in the music department review hundreds of music-based arts supplements each year—listening to 323 in 2018—and grade the pieces on a 15-point scale. However, students' accomplishments are also evaluated on a more holistic level, in order to create balanced ensembles that represent a diverse group of instrumental abilities and musical interests.
Professor of Music and Chair of the Music Department Vineet Shende emphasized the importance of fit when looking at application supplements.
"For example, in an orchestra, you need to have a certain amount of horns, a certain amount of oboes, a certain amount of violas, etc.—without these proportions, it's almost like you're reading a text where every fifth word is blacked out," Shende said in an email to the Orient.
Ultimately, however, the music department has relatively little say when it comes to the admissions process. In fact, over the past four years, the number of students enrolled at the College who submitted arts supplements has gradually decreased. Thirty-six members of the Class of 2019, 33 members of the Class of 2020, 26 members of the Class of 2021 and 24 members of the Class of 2022 submitted these supplements to the College.
Shende hopes to see these numbers change in the future but understands the various challenges and considerations of the admissions process.
"Admissions has a lot of balls that they're juggling in terms of creating a balanced incoming class," he said. "I've been here at Bowdoin for 17 years, and we're a much more diverse student population in so many ways. Now, during that time, the amount of spaces reserved for Athletics has remained constant—about one-fifth of each incoming class; so Admissions is tasked with filling [students from] all of these additional areas within that same amount of space."
A few programs, including the chamber ensembles and chamber choir, have seen a drop in participation in recent years. The number of chamber ensembles has been cut in half mainly due to a lack of student cello players. This represents a key difficulty created by the department's overall lack of say in admissions, as it prevents them from considering the talents and skills of new students to create cohesive ensemble groups.
This being said, the admissions process does not seem to adversely affect all music programs at the College. After all, students who submitted supplements represent only a fraction of the over 200 students who participate in an ensemble program each semester. The department has actually observed a new trend of students coming out of the woodworks to join ensemble groups, despite not having submitted a performing arts supplement when they applied to Bowdoin.
The orchestra program has also grown from about 30 to approximately 70 participants over the past four years, and Jazz combos have tripled in size from two to six groups. In addition, the music lessons program has seen a threefold increase, after recently expanding its reach to students with beginner musical abilities and making lessons completely free for those on financial aid.
Shende is hopeful that the Music Department will observe continued growth among all of its programs. He champions the diverse interests of Bowdoin music students as a key component of the department's ability to thrive.
"If you look at a group like the orchestra, music majors were not the most common major by far [within the group] …  And of the 34 possible majors at Bowdoin, 30 of them are represented in the orchestra. It's interesting in that the students who are involved in our music and our ensembles tend to be well-rounded," Shende said.