Contemporary art comes alive in downtown gallery
February 22, 2019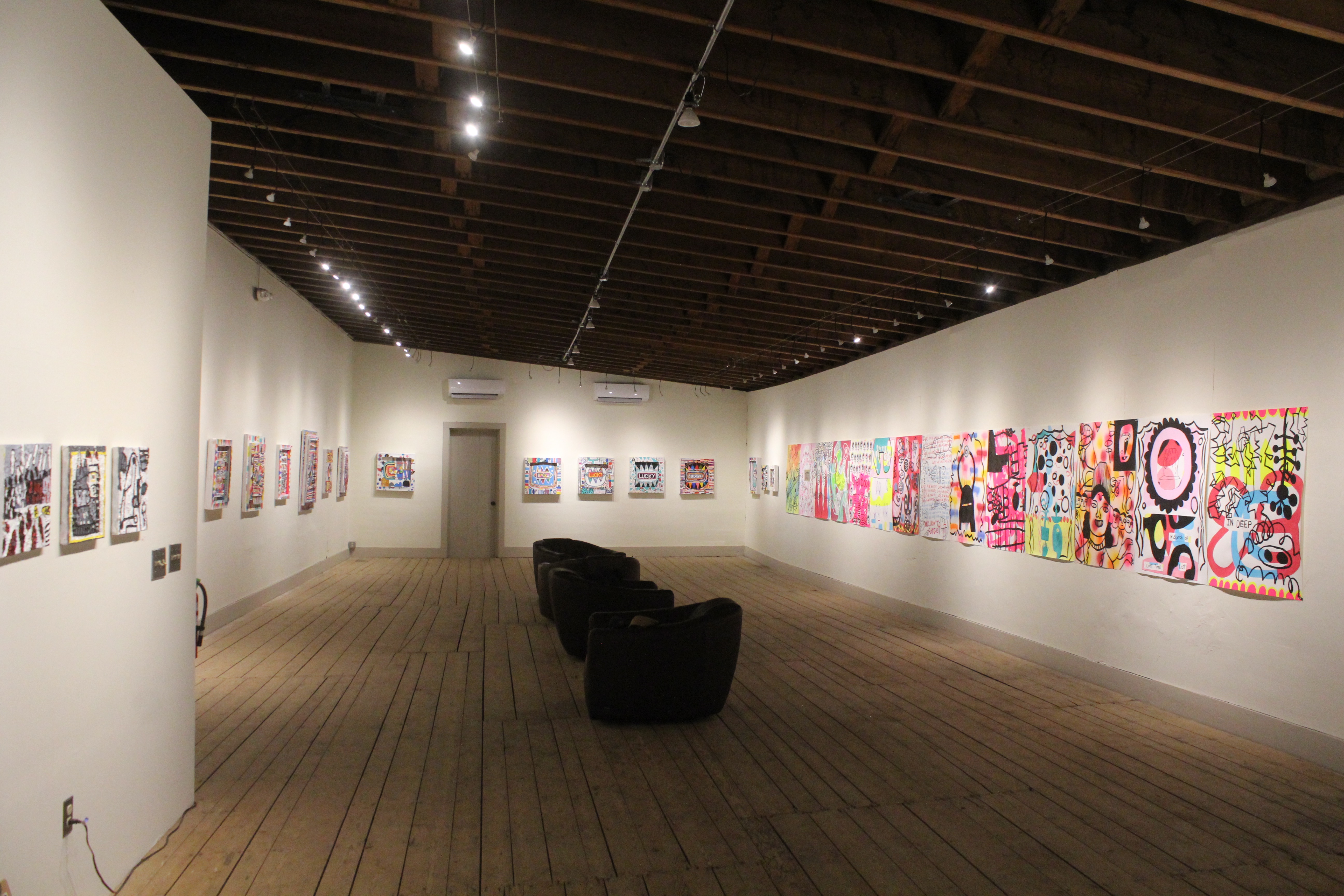 You may not think of downtown Brunswick as the hub for cutting-edge contemporary art. Yet tucked away in a former furniture shop, just mere steps from Gelato Fiasco, the Frank Brockman Gallery is filled with colors, energy, vision and creative expression.
The gallery was founded two decades ago by Brockman, who, in addition to previously running a famed Omelette shop on Maine Street, is also an artisan and art enthusiast.
"Frank Brockman—I mean, he's a real benefactor here because he allows this to happen. This is a very, very unusual space," said gallerist Mark Little.
Little, a New York-native and artist, has known Brockman for years and previously displayed art at the gallery himself. When Brockman approached him three years ago, Little traded his city life to serve as guardian to this artistic enterprise. Under Little's care, the space continues its dedication to experimental, avant-garde work.
Little seeks out all the artists he wishes to bring in, emphasizing the opportunity for people to see work they wouldn't normally see elsewhere. With pieces ranging from the bold colors and textured impastos of Deer Isle artist Katy Helman currently on view to the large-scale environmental installations by Ian Trask '05, at the Frank Brockman Gallery, one never quite knows what to expect.
"It's an organic [process] that makes it such that we give artists a chance to show when nobody's really shown," said Little. "This is an artist-run gallery and I have intimate knowledge as to what it means to make art to have it shown … You know, it's [an artistic] tribe."
As parts of Maine become increasingly gentrified, Little observed that some of the art-production has shifted to conventional landscapes favored by tourists; despite this, Brockman Gallery still insists on showing exclusively abstract work.
"There's two different types of art in Maine," Little said. "[There are the] lighthouse sort of landscapes, seascapes that appeal to …  tourists or people who have a second or third home here, but then there is serious artwork. When I say serious, I mean people are going to make [this kind of art], whether they show it or sell it or anything. They are compelled to do it."
One of the major differences of the Frank Brockman Gallery is the lack of financial concerns that plague many other galleries, as the building itself is owned by Brockman, in turn enabling its experimental practice.
"It's difficult for galleries to exist because usually they have rent or something like that. Well, Frank owns the building, so we don't have to worry about it," said Little. "So I have the opportunity to show the stuff that I want to show; it's not [that] we don't care to make a sale, but it's not a big deal."
Featuring many up-and-coming artists, Little also wishes to remove the stigma of contemporary art as distant and inaccessible.
"When people come to a gallery, it's accessible, hopefully the art work is affordable, and [visitors] get to add something to their life," he said.
Indeed, the Frank Brockman gallery could be the furthest thing from the traditional pristine white box. Not shy to reveal the markings of time, the squeaking floors, high wooden beams and textured walls imbue the gallery with a sense of warmth and informality.
"And what's great about this [space] is that the walls are very gnarly. That's part and parcel of it … The walls speak for themselves," said Little.
"This is a space [a lot like] 1970s Soho, New York," he added. "People don't leave when there's an opening here. It's a hub and other artists meet other artists … It's a meeting ground and things happen."
Little described the gallery as an artist's living room, which captures it perfectly. It's comfortable and inviting, while still being just the right amount of "niche"; Little does not belabor the need for publicity.
"We want to have people find us … it's a matter of effort. We don't flog it. And we don't really advertise in magazines," Little said. "We'd like to be a surprise."