Fire causes more than $10,000 in damage
February 22, 2019
Students were evacuated from Quinby House Monday morning after a fire broke out in a student bedroom. Tristan Young '21, the resident of the room, was taken to the Maine Medical Center for treatment for second- and third-degree burns on his right hand, but has since been released.
Due to water damage, the floors must be replaced, and the walls must be completely dry before repainting. The damage to both the room and the basement, which sustained water damage as well, comes out to an estimated $10,000 to $14,000.
Fire alarms went off at Quinby at 4:52 a.m., with Bowdoin Security arriving on the scene two minutes later. Within 10 minutes, both the Brunswick Fire Department and the Brunswick Police Department arrived to find that the building's sprinkler system had suppressed the flames.
According to Director of Safety and Security Randy Nichols, Young had been awake at 4 a.m. when he placed a large, burned-out candle next to his college-issued trash can beside his bed. Investigators believe that Young's hand fell off the bed and knocked over the trash can, causing tissues to fall into the candle. Young woke up with his hand in a three-to-four-foot flame.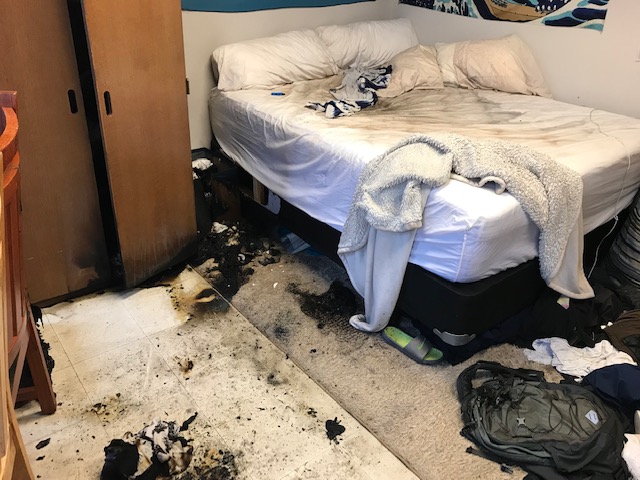 "He thought he blew [the candle] out. Who knows. It ignited," Nichols said. "It probably took several minutes to catch if it was an ember, and if it was a flame, it wouldn't have taken long. But you can imagine how quickly a pile of tissues is going to go up."
Young attempted to extinguish the fire by dousing it with water, but eventually was forced to evacuate and receive medical attention when the sprinkler directly above the fire was activated.
"Fortunately, we've got some really good fire suppression sprinkler systems in place here, and that really saved the day," Nichols said.
The other residents of Quinby House were evacuated to neighboring MacMillan House until Quinby was reopened at noon, allowing time for an investigation to take place and for the fire system to be reset.
Young has been discharged from the hospital and has returned to classes. According to the doctors that treated Young, a plastic trash bag melted around his hand, protecting him from sustaining worse injuries.
Young's room will be uninhabitable for about a week, according to Nichols.
"We hired a professional crew to come in," Nichols said. "They had to work that day and the next day, and they were even over there again today."
Candles and other flammable materials, such as fireworks, incense, lighter fluid and gasoline, are not permitted in campus residence halls. Nichols hopes that accidents such as this may demonstrate to students the importance of these regulations.
"Any open flame or anything like that is just strictly prohibited," he said. "We have to think—Quinby House and many of our buildings on campus are wooden structures."
Ultimately, however, Nichols stresses how fortunate he feels that the situation was not worse.
"We're just glad he's safe," he said. "I'm not here to criticize anything he did. We're all just so delighted that he's safe and sound [and] here with us today."