Students inspire with live music at the Children's Center
February 8, 2019
Take a peek into the Bowdoin Children's Center, and you might see a student plucking the strings of an acoustic guitar, the notes sweetly melodic, a mother with a sleeping infant strapped to her chest and a toddler at her side, swaying to the music, listening with curiosity and wonder.
The Bowdoin Children's Center, tucked behind Coles Tower, shares an intimate relationship with the College. Faculty and staff bring their children, aged between 12 weeks and five years, here during the school week. Psychology students work as interns, sitting quietly and jotting notes or interacting with the kids. Student musicians come, once a week for a half hour at a time, with their guitars and ukuleles and bassoons, to share the magic of live music with the young kids.
"Mellow Music for Munchkins"—the tradition of inviting students to practice their instruments at the Children's Center—began three years ago. The program sprung from a desire to create real, sensory experiences for the children, according to Director Martha Eshoo.
The opportunity for children to hear music while at the same time watching its production is a powerful developmental experience that allows them to begin recognizing the sounds of individual instruments, and to more deeply understand the connections between themselves and their environment.
"That interactive, hands-on kind of experience brings the material into their brain in a way that's really concrete, and tactile," Eshoo said.
Meanwhile, the kids are having a blast. Eshoo laughs as she recalled the children's reactions to the music.
"We notice the children pretending that they're playing instruments. Someone will pretend they're playing a guitar, or the harp, or, I'm sure the bassoon," said Eshoo. "We've never had an instrument here like the bassoon, so that will be interesting to see."
Kai'olu DeFries '19 has brought her ukulele to the Children's Center for four years to play for the kids. She believes live music has a powerful ability to affect the children.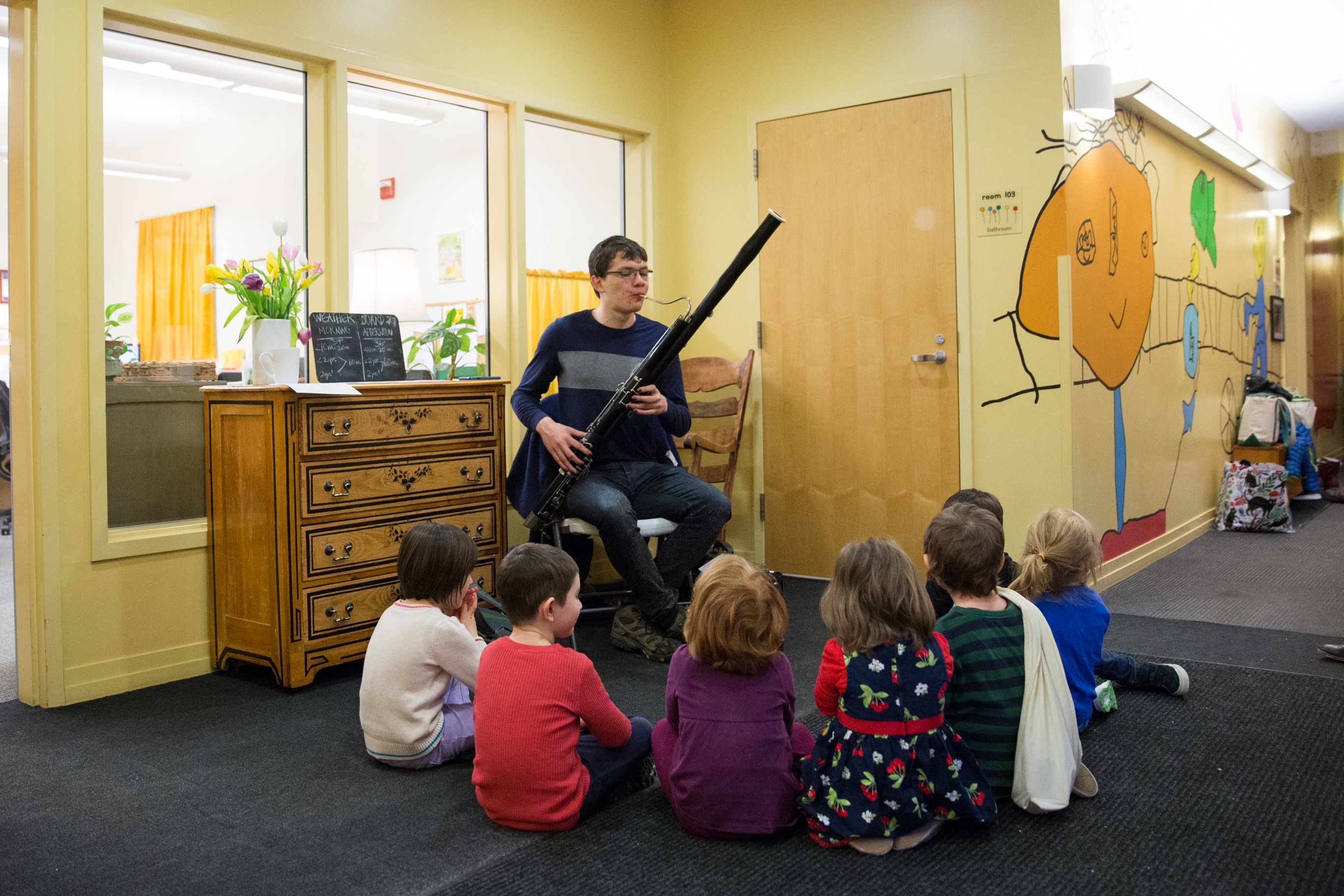 "Sometimes music helps to recenter their focus from a quarrel they might have had with another child or from a fall to the notes of the songs," DeFries said. "At other times it's something they have to be pulled away from as their family members prepare to take them home."
Visiting Assistant Professor of German Andrew Hamilton, who takes his son, Benjy, to the Children's Center, can speak to how his son's interest in music has been kindled by the program. Benjy received a ukulele for his third birthday after first being exposed to the instrument by a Bowdoin student.
"The ukulele player in his classroom so inspired him that he takes a spiral bound book, just like the one where she has her songs written down, goes into a quiet corner, lays a Jacob's ladder across his chest and sings Leonard Cohen songs to himself," Hamilton said.
Through the program, the children experience a wide range of musical styles, from classical guitar patterns to Hawaiian ukulele songs and even folk and R&B. Students who come to play their instruments are invited to play anything they like, whether they choose to practice a difficult piece they're trying to master or just play from a selection of songs for a half hour.
The music program is only one example of an effort to create more connections between Bowdoin students and those of the Children's Center. Students are also invited to come speak foreign languages to create an immersive language experience for the kids, and the preschoolers often visit art shows at the Edwards Center for Art and Dance, as well as the museums on campus, and find themselves in the midst of vast collections of new and exciting forms of art.
The Children's Center bridges the divide between its tranquil nursery and the artistic vigor of this campus. And it does so in the most natural possible way: through the universal language of music, enjoyed by those of all ages.
"'Without music, life would be a mistake,'" Hamilton said, summoning the words of Nietzsche. "True words, Fred."