Polar Bears prepare to meet Mules on the ice
January 25, 2019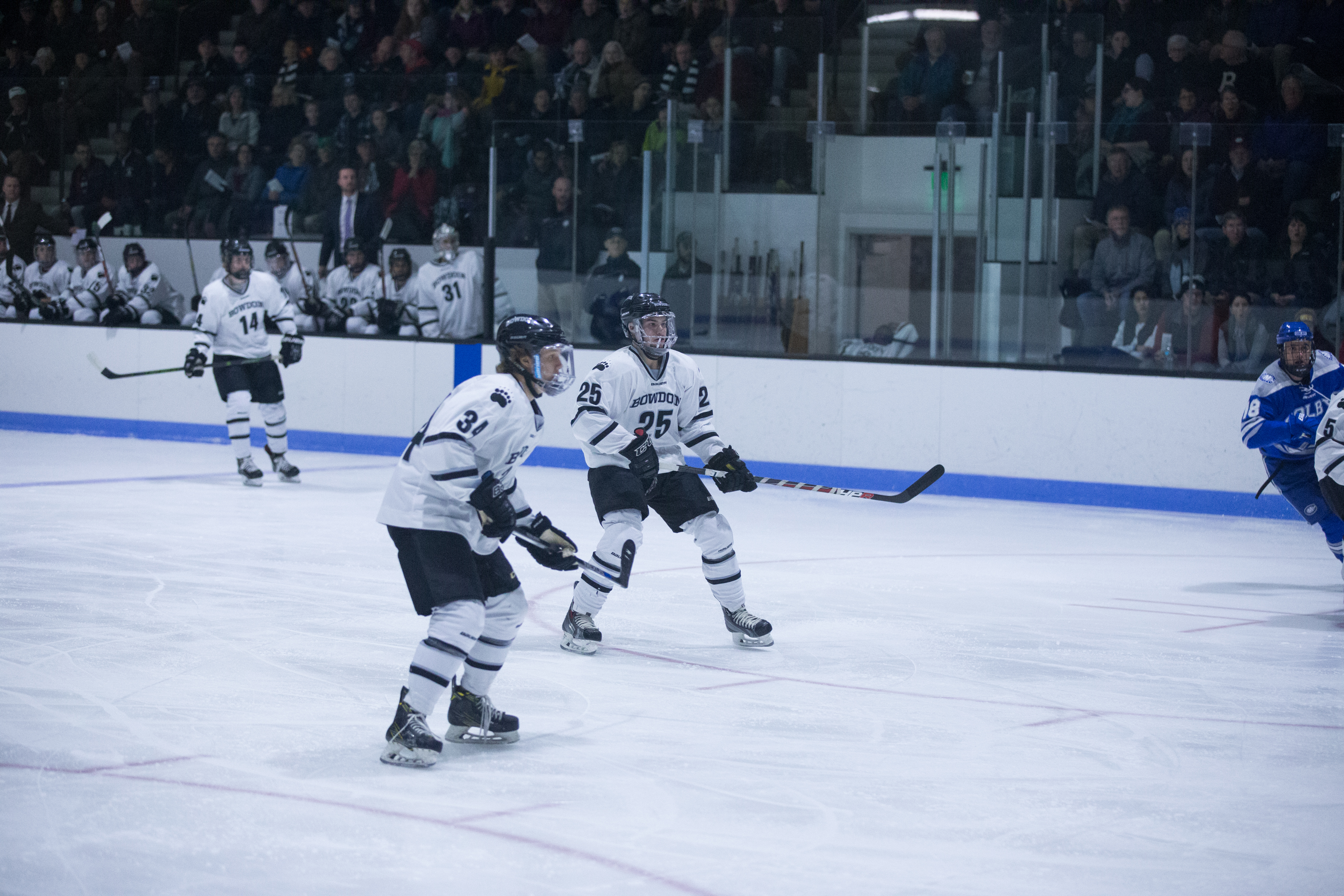 This Saturday the men's hockey team (6-9-2, 3-7-1 NESCAC) will battle rival Colby (6-7-3, 3-6-2 NESCAC). It is the 212th meeting of the teams.
The rivalry kicked off in 1922, when the Mules beat the Polar Bears 2-1 in the teams' first ever matchup. Over the years, the Bowdoin-Colby rivalry has become ingrained in the College's culture.
"[The game] is no bigger from a stat kind of standpoint than any other game, but it definitely feels a lot bigger because we get the whole support of the school," said captain Pat Geary '20. "To have them come out and support you makes you [feel] special and makes it feel like a monumental game."
The players hope to bring energy, determination and confidence come Saturday, which Head Coach Jamie Dumont, who has been leading the program since May 2016, believes will contribute to the team's success.
"The biggest thing for us is we want to play to our strengths and be confident. We have as much talent as anybody, and we have to continue to believe in ourselves and trust each other," said Dumont. "From a team perspective, we have skill and speed but it can't be a one- or two-man show. It [has] to be all 22 guys in the lineup, every night, contributing."
This year, the team has added a lot of younger players to its lineup. Although inexperienced players can prove fatal to a hockey season, underclassmen such as Albert Washco '22—who has started in 17 games and scored eight goals—have risen to the challenge.
"[Washco] has been just lighting it up, scoring a lot of goals," said Geary. "He's been very productive for us offensively, so we've relied on him."
The team hopes the crowd's energy will propel them to score quickly and play good defense.
Captain Chris Wallace '19 believes that the team will benefit from sticking to its game plan. Wallace explained the Polar Bears defensive strategy consists of a non-traditional three back and forecheck—a defensive strategy used to regain control of the puck.
"Defenders jump in the rush and forecheck from above the puck as opposed to below," said Wallace.
Defenders jumping in the rush means that the Polar Bears will skate into the offensive zone rather than hanging back, and they will use forechecking to skate at the opponent head-on while angling him to the side to prevent him from scoring.
The Polar Bears know the effect an excited crowd can have on the game.
"The second you score and you feel the building erupt, it's one of the greatest feelings," said Geary. "It's why a lot of us play hockey. We dream of playing in front of big stands and big crowds, and this is probably the biggest crowd that we play in front of. It's really easy to feed off [that] energy."
Constant support from the Brunswick community has helped the team's prosperity this season.
"At a lot of our games we are supported by the community as opposed to the students, so we get a lot of locals who live in Brunswick that come to our games," said Wallace. "It's a nice feeling to be able to step on the ice come January when all students are home and still have people at the game. It's a great feeling to be supported."
In addition, the team's community on and off the ice has helped build cohesion and improve its quality of play.
"It's a sign of what Bowdoin hockey is all about: it's a brotherhood and it's a family at the end of the day," said Dumont. "Everybody in that room should be pulling for each other and trusting each other in or on the lineup. [It's] something that we preach from day one."
Bowdoin will face off against the Mules at 7 p.m. on Saturday. There are currently no remaining tickets for the game, but a limited number may be available at Watson Arena when doors open at 6 p.m.