Polar Bears of all skill levels find a home on the slopes
January 25, 2019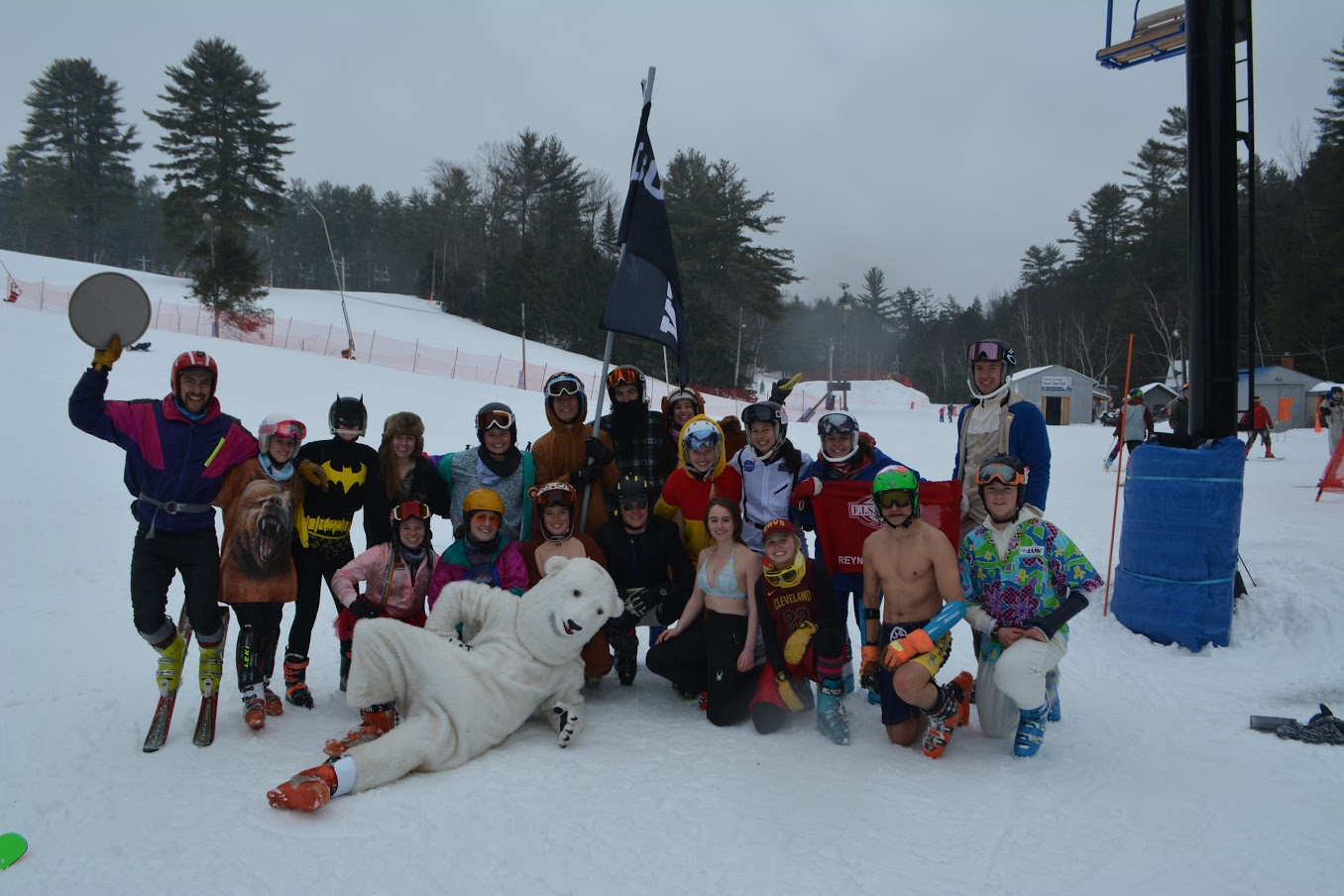 As Bowdoin students return to the campus tundra post winter break, many look to nearby ski slopes hoping to take advantage of the weather.
Bowdoin's coastal location offers access to three of New England's premier ski resorts—Sugarloaf, Sunday River and Loon Mountain—are all within 120 miles. Eric Hall '20 is a co-leader of the Ski and Ride Club, which helps coordinate free van rides for Bowdoin students to the mountains.
"We get a lot of interest," said Hall. "There's usually more people that want [a ride] than we're able to offer [spaces]."
Hall, who has been skiing since he was six, got involved with the club his first year, because he needed a way to get access to the nearby mountains without his own car. Since then, he has helped the club fulfill its mission statement to "provide [Bowdoin students] with the opportunity … to take advantage of Maine winters."
Many skiing initiatives at Bowdoin cater to skiers at all levels.
"A lot of people have skied a lot, but for some people, it's their first weekend or they're coming up for a lesson," Hall said. "It's a good, wide breadth of experience."
The club alpine skiing team is another group aimed at helping students utilize Bowdoin's location. Izzy Austin-Green '19, an experienced figure skater throughout childhood with no previous ski experience, found the learning curve to be steep when she joined the alpine skiing team. However, she recalled how being a part of the team allowed her to learn how to ski alongside friends in a fun way.
"[Skiing] is supposed to be fun," said Austin-Green, "but there [also] are a lot of people [on the team] who do take it really seriously and who are very good ski racers."
Will Rackear '22 is one of those racers. He came to Bowdoin with extensive alpine skiing experience, having raced competitively with a club team in Bromley, Vermont since the age of six. For him, however, the alpine ski team offers more than just a way to continue racing competitively.
"I always [liked] skiing, because I enjoy doing it with friends," said Rackear. "Competition wasn't my only focus. The ski team is a great group of people, and I really enjoy hanging out with them and skiing with them."
Beyond the programs offered by the school, some students with a passion for skiing find their own ways to pursue it. For track and field runner Jack Richardson '19, as for many other students, skiing provides a way to "unwind" from a busy semester.
"[For me], track is all about … going out, competing, and trying to win, whereas skiing is just about going out with friends and having a good time," Richardson said.
Richardson, in some ways, has gone above and beyond in pursuit of his passion for skiing. Last spring, Richardson drove with his cousin along the Powder Highway, a 630-mile loop in British Columbia. He described this trip as a "pinnacle skiing experience," because this route "receives some of the best snowfall of anywhere on Earth."
The ten-day trip started in central Idaho and culminated with two days of helicopter skiing near Revelstoke, British Columbia. Helicopter skiing, or heli-skiing, is when the skier is brought by helicopter to the peak of a mountain before skiing back down.
According to Richardson, heli-skiing allows access to some of the longest routes anywhere, and the tops of these mountains generally have some of the best powder snow, making for some incredible skiing. Moreover, because of the lack of obstacles, almost every run Richardson skied was a near 3,000 foot vertical drop.
"The cost is so immense that I probably won't be able to [go heli-skiing] for another decade or so," Richardson said. "But I thought, 'I'm probably not going to be back in British Columbia for a while—let's just go for it. [Those were] definitely the best days of my life."