The flatlander's guide to the election
October 26, 2018
This piece represents the opinion of the author.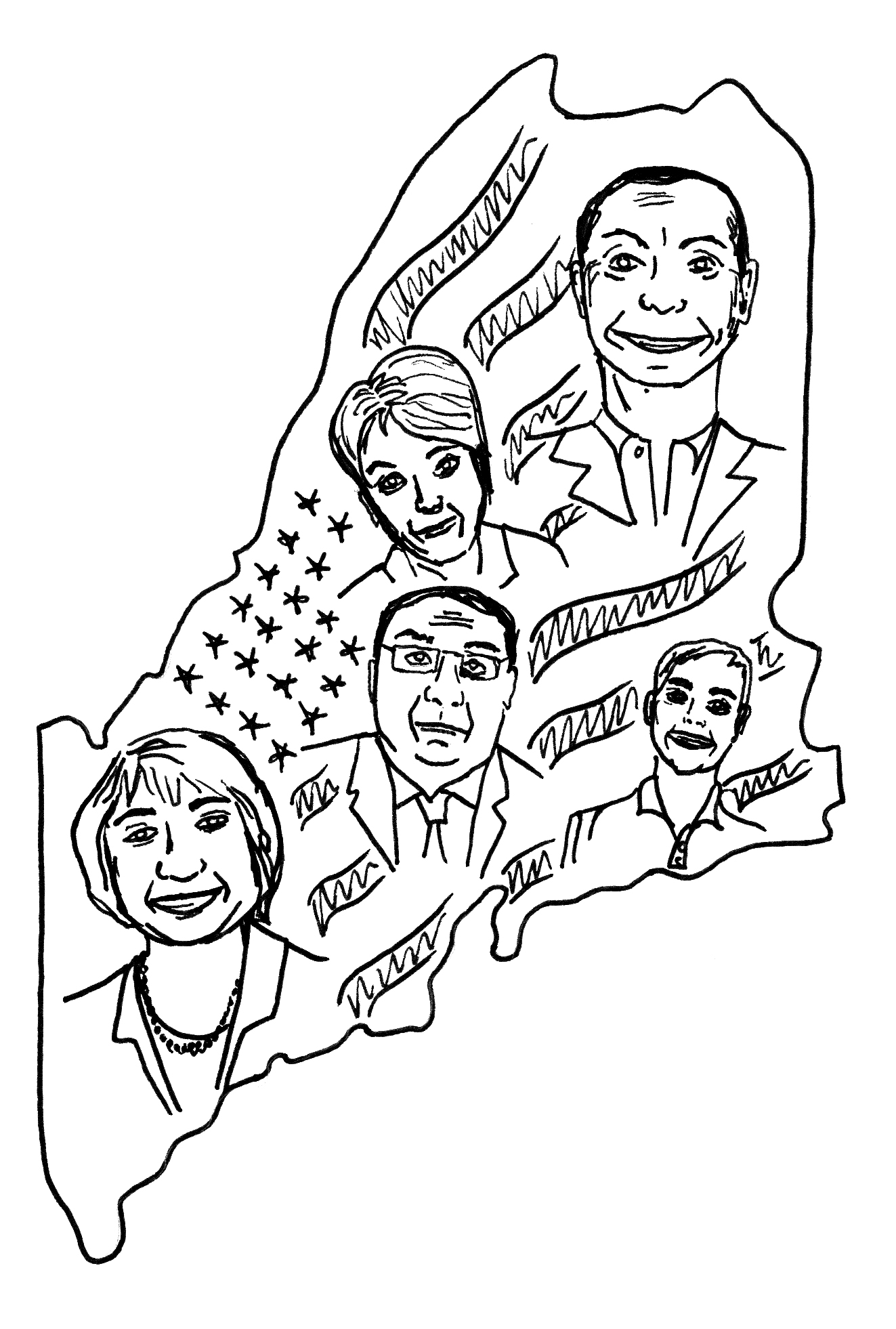 On November 6, Maine voters will head to the polls to elect a governor, two congressional representatives, one senator and a host of municipal and state-level candidates, as well as to decide the fate of several referenda. Since some of you may be voting in Maine for the first time this year or otherwise haven't voted in a Maine gubernatorial election, I'd like to use this space to go over the most important aspects of the upcoming elections, specifically the ballot measures as well as the gubernatorial and congressional races. This is an important year for politics in our state, and all Bowdoin students, as residents of Maine, should be informed about the candidates and issues on the ballot, even if they aren't voting here. Consider this your crash course on Maine's elections—I hope that all of you will read this and no matter your political persuasion, do some research of your own and get out and vote on Election Day.
Ranked-Choice Voting: 
Adopted by popular referendum in Maine in November 2016 and reinforced by another referendum this past June, ranked-choice voting allows voters to rank as many candidates as they choose in one particular race by order of preference. Weaker candidates are then eliminated and their votes redistributed to the remaining candidates until only two remain. This is a much more democratic method than the first-past-the-post elections previously employed in Maine, especially in a state where multiple candidates and viable independents are common. Unfortunately, due to a clause in Maine's constitution, the governor and other candidates for state office currently cannot be elected by ranked-choice voting. Nevertheless, voters will have the chance to choose both a U.S. representative and a U.S. senator using this system in November. I used ranked-choice voting in June's Democratic gubernatorial primary and found it pretty straightforward, despite claims to the contrary. I encourage you to try it out, but you can always just vote for one person instead if that's what you prefer.
The Referenda:
Maine elections typically feature several referenda, also known as ballot measures, which include citizen initiatives (introduced by petition) and bond issues. This year, Question 1, a citizen initiative, asks voters whether they want to establish a new government-funded homecare program in Maine. Questions 2 through 5, all bond issues, ask voters whether they want to put money towards water quality improvement, public infrastructure improvements, infrastructure improvement in the University of Maine system and upgraded facilities in Maine's community college system. These all sound good on paper, but vote carefully—the state government has struggled to implement past ballot measures such as Medicaid expansion and accepting too many of these proposals can dramatically increase the state's debt.
Senate and Congressional Races:
In the battle for the U.S. Congress, incumbents Chellie Pingree (D) and Bruce Poliquin (R) will defend their seats, while Senator Angus King (I) will also seek re-election. I'm just going to go ahead and say it: Pingree and King are going to win their races. The first is a Democratic candidate in the heavily Democratic first district, and the other is a mustachioed former Maine governor who loves Joshua Chamberlain. What's not to like? Bruce Poliquin, on the other hand, should be nervous. His Democratic challenger, Jared Golden, is a young Marine Corps veteran and Bates graduate who has worked for Senator Susan Collins and has served in the Maine House of Representatives since 2014. Golden has a bold vision for building Maine's economy, fighting climate change and moving towards universal health care. Given Poliquin's weaselly nature, from his dodging of reporters to constantly siding with corporations, I wouldn't be surprised if the second district has had enough of him. I, for one, am kicking myself for changing my registration from my hometown in the second district to Brunswick, because I can't vote for Golden here. You can't vote for him either, of course, but we can cross our fingers. It will be a close race, with polls showing the two candidates even or Poliquin with a slight edge.
The Governor's Race:
This is it. The main event of the election. Four candidates are on the ballot, including Maine Attorney General Janet Mills (D), businessman Shawn Moody (R), Maine State Treasurer Terry Hayes '80 (I) and businessman Alan Caron (I), all seeking to replace blowhard Republican incumbent Paul LePage. Having survived the elections of 2010 and 2014, I can assure you that this one is much tamer. The differences between the two frontrunners, Mills and Moody, fall mostly along party lines, while Hayes' positions align more with the Democrats and Caron's have elements of both parties. Mills has the most detailed and comprehensive platform of all four, which includes everything from implementing Medicaid expansion in Maine, to addressing climate change and promoting renewable energy, to allowing Maine's Wabanaki tribes a greater say in state government. Moody hopes to reinforce Second Amendment rights, slash taxpayer-funded abortions, curb illegal immigration and reform what he calls Maine's "failed" referendum system. Hayes has a vision similar to Mills but with a stronger emphasis on bipartisan cooperation, and Caron focuses mostly on bolstering Maine's economy and reducing inefficiencies in government. All of the candidates more or less agree on creating economic growth, prioritizing infrastructure improvements, fighting the opioid epidemic and protecting the environment, and they all have similarly modest backgrounds. Of these four, I believe Mills would be the best fit for Maine, especially in light of her detailed plan to deal with climate change. Should she (or Hayes, for that matter) win, she would also be the first female governor in our state's history. Only two polls have been conducted so far, and they show either a virtual tie between the frontrunners or Mills with a slight edge over Moody. This will be a nail-biter for sure, but whoever emerges victorious will certainly be a welcome change from LePage.