Kavanaugh: an attempt to be fair
October 19, 2018
This piece represents the opinion of the author.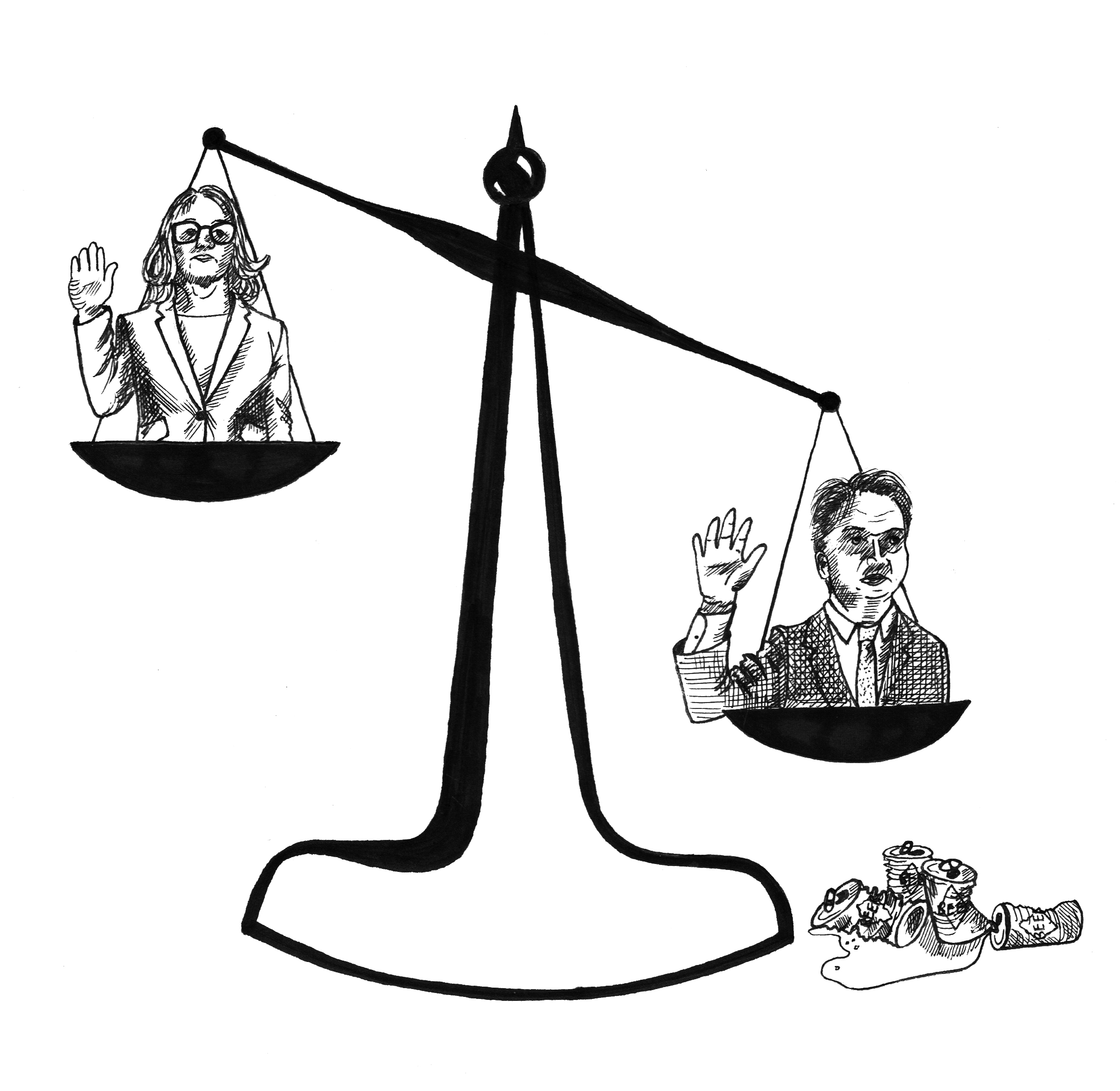 I'll start with the three things that might be most helpful to know. For starters, I know that I identify as a conservative Bowdoin student. It's nothing to write home about, but being a conservative person influences the activities that I am part of on campus, and it affects the way that I think about certain topics. Second point: I know I am here to talk about Brett Kavanaugh (as the title suggests). Finally, I know that there are several ways in which the combination of the first two things can be interpreted in the worst possible way. Knowing this, I'll try to remain balanced and fair.
I understand that, to people on both sides of this issue, this was a game of high stakes. For many people against Kavanaugh, this was an issue larger than deciding whether or not he was qualified for a Supreme Court appointment. This was an issue of whether or not women who bring forth accusations of sexual assault should be believed, and whether or not their testimonies should produce impactful social and political change. To individuals who supported Kavanaugh, this was a case where an otherwise qualified candidate experienced ridicule for an offense that he was not guilty of. Depending on your priorities, either side can be pretty compelling.
Initially, I had no idea how I felt about this hearing, so I looked to Sens. Susan Collins (R-ME) and Lisa Murkowski (R-AL), as both of them are individuals who best represent my beliefs. However, in a move that surprised some more than others (me included), Murkowski and Collins took opposing stances. This left me in a bit of a strange situation, so I gave the issue more thought. Here's what I came up with:
I do not think Christine Blasey Ford was dishonest, and I disagree with the idea that Ford is somehow benefitted by her decision to accuse Kavanaugh. Even if Kavanaugh hadn't received confirmation, Ford's decision to come forward will impact her for the rest of her life, and that's not a fate someone chooses lightly. I don't believe that sexual assault is ever justifiable, and I understand why Kavanaugh's confirmation might be concerning for many people. However, I'm not sure about my place in the #MeToo movement and other associated movements, or if my personal experiences should influence how I feel about this hearing. Those are both things I cannot answer. But, speaking for myself, I also know my belief in Ford is partially motivated by the pre-existing opinions I have of Kavanaugh. I won't go into detail, but I think there are better conservative Supreme Court candidates out there. These biases do not allow me to truly respect Ford's experiences or testimony, nor do they allow me to take Kavanaugh's defense seriously.
I concluded that I have to examine a less partisan source to reach my conclusions. While people may disagree, I believe the FBI and associated organizations are credible, less biased sources of information. My trust in the FBI affects how I feel about the Mueller investigation, and it affects how I feel currently. While the FBI's investigation could not support Ford's accusation, it seems as if limitations were placed on the FBI that prevented them from being thorough. To me, this is very concerning, if not highly suspect. Therefore, I cannot approve of Collins' decision to confirm Kavanaugh, and I cannot believe that Kavanaugh is innocent. I know that this might not be the majority opinion amongst conservative individuals (or Senators), but it is where I stand.
McKenna Thomas-Franz is a member of the class of 2019.